Luxury. Opulence. Extravagance.
These are the words we typically associate with Dubai – and the same words that make it a real estate haven for high-net-worth individuals (HNWIs). From glamorous penthouses to palatial villas, it's no secret that Dubai is home to some of the most upscale properties in the world.
At present, Dubai is currently witnessing a huge appetite for luxury properties among investors and homeowners alike. Given that real estate is one of the strongest facets of Dubai's economy, buying luxury apartments and villas is indeed a lucrative investment option. With newfound interest from investors in Europe, particularly Russia, how have global events, from conflicts to pandemics, affected the luxury real estate market in Dubai? Let's take a look at the current market, go over the benefits of investing in luxury properties and walk you through the following areas to invest in Dubai luxury properties:
Palm Jumeirah
Dubai Hills Estate
Dubai Marina
Downtown Dubai
District 2020
Market Insight: Dubai's Luxury Property Market in 2022
With heightened demand and soaring transactions, the luxury real estate market in Dubai is currently thriving. Dubai's luxury neighborhoods have seen significant increases in property prices over the past couple of years, particularly for villas.
In terms of the luxury market as a whole, 2021 saw a surge in Dubai real estate activity, recording a 40% jump in prices compared to 2020. This could be attributed to investors and homebuyers shifting toward better quality properties and bigger homes with more amenities, like outside space, to enjoy a more convenient post-pandemic lifestyle. As per a Knight Frank report, the value of villas has risen 21.2% since the start of the pandemic.
Now, what's interesting is that the luxury real estate market was initially struggling at the height of the pandemic. Consequently, fewer high-end units were developed, bringing a shortage in the supply of Dubai luxury real estate. However, interest from HNWIs has since globally increased as Covid fears are subsiding, following the UAE's effective pandemic response. As a result, this high demand for luxury properties from this influx of HNWIs has been outstripping the supply and boosting the luxury property market, with units now trading at a premium on the share transfer. Off-plan properties are also selling out within days of being listed.
In fact, many luxury homeowners are delaying their plans of selling properties as prices are expected to increase even more – particularly in areas such as Palm Jumeirah and Dubai Hills.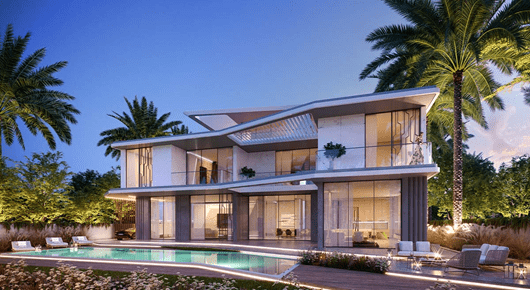 Why Invest in Dubai Luxury Real Estate?
First things first, Dubai offers superlative value for luxury real estate, boasting major property developments where investors are spoilt for choice. That said, Dubai's most attractive offering remains the diversity of prime investment properties, from lavish villas to fully-serviced apartments. Moreover, albeit the city's opulent lifestyle, Dubai remains highly affordable, with units priced considerably lower compared to other cosmopolitan cities in the world.
An ideal location for business, part of Dubai's growing charm for investors is its global connectivity, giving businesses the best of both worlds – the east and the west. Not only that, Dubai is incredibly investor-friendly, with the government implementing foreign ownership schemes, transparency initiatives, and long-term visas for real estate investors.
Additionally, Dubai's income-tax-free system and the absence of further levies on property purchases are also attractive to investors. All this, along with healthy returns, a growing population, and an excellent standard of living make buying luxury properties in Dubai a lucrative investment decision.
So, where are Dubai's top areas for luxury properties?
1. Palm Jumeirah
Located on the Jumeirah coastal area near Dubai Media City and Al Sufouh, the palm tree-shaped island is one of the most popular areas to invest in Dubai luxury properties. Indeed, as the epitome of everything luxury, there's no shortage of beachside apartments, bespoke villas, malls, restaurants, entertainment venues, and hotels.
Over the years, Palm Jumeirah has been one of the best performing areas for luxury real estate, as well as the most sought-after community for luxury holiday home investments in Dubai, as it offers tourists incomparable retreat-like privacy and serenity. Additionally, Palm Jumeirah apartments are the most in-demand in Dubai, following Downtown Dubai. Palm Jumeirah villas, on the other hand, are the most expensive to own in Dubai.
According to the ValuStrat Price Index, which measures Dubai's residential capital value performance, Palm Jumeirah villas remained the most preferred choice among HNWIs as their capital value rose by 35%%, crossing their 2014 peak levels by 5.3%. The ValuStrat also reiterated a similar finding for Palm Jumeirah apartments in terms of performance.
Further, Palm apartment transaction prices increased by 43% since Q1 of last year, whilst Palm villas saw average transaction prices rising by 26% over the past year. Despite this drastic increase in prices, demand will remain high, especially with it being one of the few freehold areas that give residents private beach access.
2. Dubai Hills Estate
Situated on Al Khail Road, Dubai Hills Estate is one of the largest property developments in Dubai and is the first phase in the groundbreaking Mohammed Bin Rashid (MBR) City project. Dubai Hills Estate is an extensive luxury residential community comprising villas, low-rise apartments, and townhouses. The family-oriented area features lush greenery, with an iconic backdrop of the Burj Khalifa, as well as Dubai's glittering skyline.
With a wide variety of properties ranging from contemporary apartments to family-friendly villas and a plethora of recreational facilities, the community caters to all types of residents. It has a prime location near Dubai's major hotspots – Downtown Dubai and Dubai Marina. Dubai Hills Estate is also known for its 18-hole championship golf course, nature trails, resorts, and the upcoming Dubai Hills Mall.
Due to limited supply, Dubai Hills Estate property prices have also increased considerably. There's been significant growth in demand over the past year and average transaction prices are up 12.8% YoY.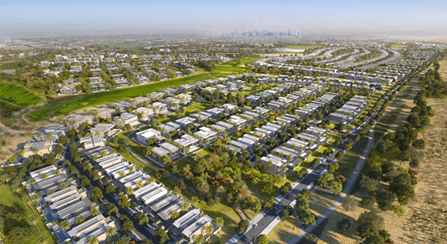 3. Dubai Marina
Dubai Marina is home to luxurious townhouses, exclusive high-rise apartments, and an abundance of dining and retail locations, right at the heart of 'New Dubai'. The Marina enjoys a stunning waterfront location, encircled by a promenade that stretches over the artificial canal. Dubai Marina also has direct access to districts like Dubai Harbor and JBR, as well as major attractions like Ain Dubai on the nearby Bluewaters Island.
Dubai Marina also performs incredibly well for short-term holiday rentals, as tourists choose to stay in the area because of its top-notch amenities, and entertainment options, while still maintaining close proximity to major commercial hubs.
As of Q1 2022, real estate activity in Dubai Marina has been making a healthy resurgence, with both prices and the number of transactions on the rise, with prices particularly almost touching pre-pandemic levels. Demand for Dubai Marina is still at a high, and there are a number of upcoming projects that are expected to hand over throughout the year. As a result, demand will continue to increase, meaning a Dubai Marina property would make a profitable investment, which is compounded by the limited supply entering the area.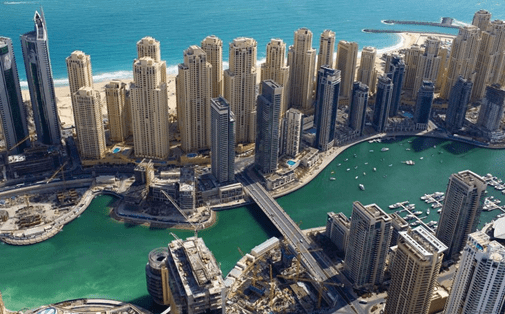 4. Downtown Dubai
Home to the Burj Khalifa and The Dubai Mall, Downtown Dubai screams opulence. A chic district offering an unmatched luxury living, Downtown Dubai is known for its high-rise apartments and dazzling nightlife. Unsurprisingly, the area has the highest number of expensive apartments in all of Dubai. This is due to the neighborhood's proximity to major tourist attractions and several metro stations.
Downtown Dubai is one of the most transacted areas for off-plan properties this quarter (8.8%). There has also been increasing demand for prime properties in Downtown Dubai, with the area's average property prices seeing a year-over-year growth of over 24%.
Overall, there are very few opportunities for new supply to come to market, meaning this demand will continue to outstrip supply.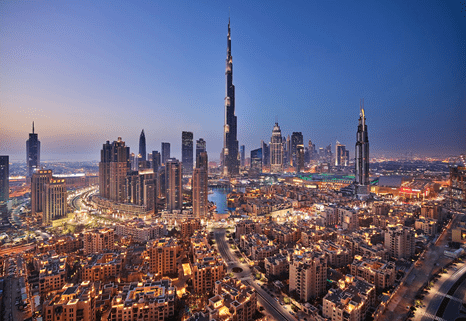 5. District 2020
The most expensive area of Dubai, Expo 2020, is set to become the foundation for upcoming District 2020 development whereby at least 80% of the infrastructure will be reused, converting it into a human-centric and sustainable mixed-use community with a wide range of residential and commercial spaces.
The district will be built as a 15-minute smart city, whereby everything will be accessible in under 15 minutes by foot. The self-supporting community will resemble a "city-in-a-city", promoting balance and wellbeing with flexible spaces to live, work and explore. In fact, residents and employees can still experience some of Expo 2020's grandeur and iconic landmarks, like the observation deck Garden in the Sky, or even attend concerts at Al Wasl Plaza. In terms of residential units, District 2020 will offer a range of modern apartments, including one to two-bedroom high-end loft apartments, urban-style studios to two-bedroom flats and affordable co-living apartments.
Apart from boosting the residential property market, District 2020 will also develop Dubai's commercial market, with many believing it to become the Emirate's next major hub. Dubai World Trade Center activities are likely to be shifted to the area's Convention and Exhibition Center, supporting the innovation-driven economy and ultimately attracting more businesses and expats.
In terms of investments, District 2020 will attract a higher level of interest from buyers and investors, both local and foreign, especially as it's a location that's already internationally popular.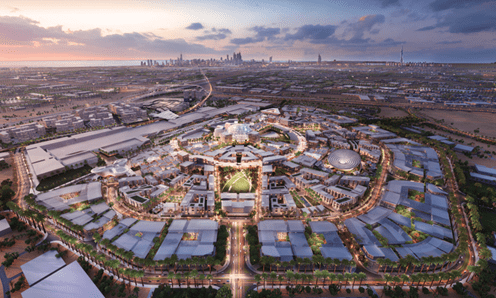 A Positive Outlook
Dubai's luxury real estate market is set to continue its high momentum further into 2022, supported by escalating demand and interest from the international elite. Brimming with new opportunities for buyers and investors, the luxury market's future looks bright.
Even if you couldn't afford owning real estate entirely by yourself, you can invest in Dubai properties with crowdfunding platforms, like SmartCrowd, from as little as AED 500. Visit our website to check out our latest properties available in the most sought-after communities including luxury areas, like Downtown and Dubai Marina.
Disclaimer: This blog is intended solely for educational purposes and shouldn't be treated as financial advice. We suggest you always conduct thorough research, perform your own due diligence and consult with financial advisors to assess any real estate property against your own financial goals.