Though Expo 2020 has now closed its doors, like a phoenix rising from the ashes, a new property hotspot is born! In true Dubai fashion, District 2020 is the future vision of the expo site, set to carry the legacy of the successful world fair by evolving into a smart and sustainable city.
The new urban community will promote economic diversification and benefit major sectors, including IT, startups, and, of course, real estate. So, what can we expect from District 2020? And how will this new development impact Dubai's property market? Let's find out in this blog!
What is District 2020?
Nestled between Dubai and Abu Dhabi, District 2020 will evolve from Expo 2020 into a world-class multifunctional city centered on its urban community of an estimated 145,000 people. It will foster an innovation-driven business ecosystem that embraces cutting-edge technology to promote industry growth.  
That said, District 2020 will focus on four key growth industries and disruptive technologies, such as the Internet of Things (IoT), Artificial Intelligence (AI), big data, and blockchain, in an effort to provide a human-centric lifestyle catering to all needs.
Additionally, these growth ambitions will also contribute significantly to the Dubai 2040 Urban Masterplan, as the $8 billion development will play a major role in becoming a model 'green' community for sustainable urban development in Dubai. Not only that, physical and mental health is a top priority for the city, as District 2020 will serve as the region's first WELL Certified community, focusing on residents' well-being and encouraging a balanced and active lifestyle.  
Ultimately, District 2020 will use state-of-the-art innovation, science, and sustainability to create a cleaner, safer, healthier, and hassle-free environment to live and work in. In order to do so, it will employ the above technologies, along with academic institutions, research and development (R&D) centers, incubators, and accelerators.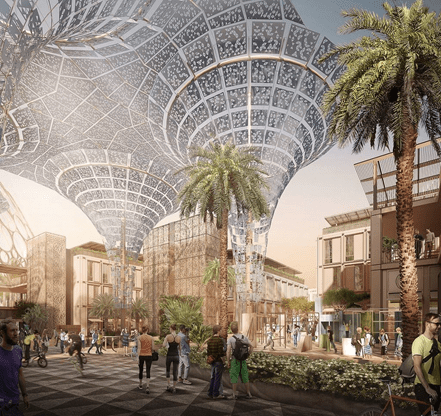 What will District 2020 look like?
One of the development's key objectives is to retain at least 80 percent of Expo's existing infrastructure, converting it into an integrated, self-supporting mixed-use community that will continue to attract ex-pats, businesses, and investors from all over the globe. One such example is the Sustainability Pavilion which will become the Terra Children and Science Center, a museum and educational facility showcasing the site's smart and sustainable capabilities.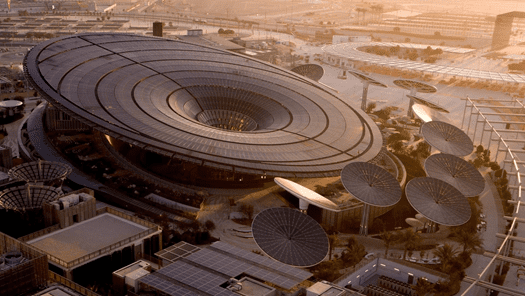 In terms of living and working space, a total of 260,000 square-meters of repurposed Expo buildings will provide a wide range of residential and commercial properties, including homes, offices, retail spaces, innovation labs, as well as R&D centers. For housing, District 2020 will offer a range of modern apartments, including:
One to two-bedroom loft apartments
Urban-style studios to two-bedroom flats
Affordable co-living apartments
Moreover, District 2020's future residents will reside in the UAE's first 15-minute city, whereby everything, from offices and retail shops to restaurants and leisure facilities, will be accessible in under 15 minutes on foot. The reason behind this smart mobility is to make living car-free, connecting people via pedestrian pathways, cycling tracks, gardens, and sustainable transport networks.
Tenants can expect to move into apartments by the end of this year. And, best of all, residents and employees can still experience some of Expo 2020's grandeur and iconic landmarks, like the observation deck Garden in the Sky, or even attend concerts at Al Wasl Plaza.
How Will District 2020 Impact the Dubai Real Estate Industry?
As we've witnessed, Expo 2020 has been a gamechanger for Dubai's economy, particularly the real estate sector. This is evident by the increase in property prices, as well as the surge in demand for residential units, particularly short-term rentals, both regionally and internationally – and this isn't going to change.
In fact, the Dubai property market is expected to benefit exponentially from this transition, as District 2020 will help promote Dubai's residential and commercial markets. In line with the city's objectives, District 2020 will bring together key growth industries, like real estate, alongside enabling technologies – such as augmented reality, big data, and the internet of things to expedite property deals.
This is promising as real estate investments will now be made in a cutting-edge digital ecosystem, with ultra-fast internet connectivity and a 5G mobile network. Plus, it's also ideal for digital innovators and start-ups, especially since District 2020 will fixate on giving international startups a platform for scaling up, drawing more and more people to the area.
In terms of investments, District 2020 will increase supply and attract a higher level of interest from buyers and investors, both local and foreign, especially as it's a location that's already internationally popular. The areas located close to Expo 2020, namely Dubai Production City and Dubai South, will also continue to be impacted by this development.
Apart from boosting the residential property market, District 2020 will also develop Dubai's commercial market, with many believing it to become the emirate's next hub. Dubai World Trade Center activities are likely to be shifted to the area's Convention and Exhibition Center, ultimately attracting more businesses and expats.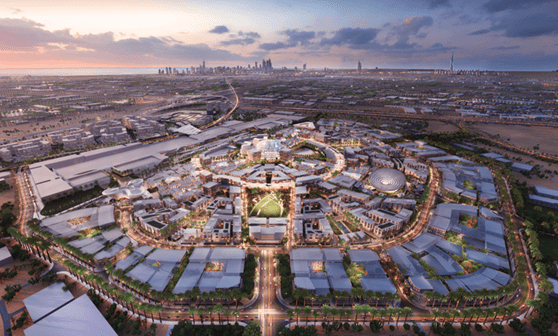 In a nutshell
As we've seen with previous world expos, many sites turn into white elephants as they serve no purpose post-event. Still, Dubai is unlike any other city, as it's maintaining Expo 2020's legacy by incorporating the site into a wider urban development.
By utilizing the majority of Expo's infrastructure for District 2020, Dubai is setting an unprecedented example for more human-centered cities in the future. This move is not only going to positively impact the real estate industry but the overall economy since it will boost commercial activities in the areas near the Expo site.
Indeed, Expo 2020 was a way for the UAE to make a more meaningful impact on the world, and branch out from its reputation as a glitzy, cosmopolitan hub. With District 2020 underway, the 'city-in-a-city' will surely fulfill Expo's founding vision by building a future-forward, smart and sustainable community.