After nearly a decade in the making, Expo 2020 has arrived! With over 25 million visitors expected to attend the event, the spotlight is now firmly on Dubai. It's estimated that Expo 2020 would boost Dubai's economy by a staggering $23 billion, which is about 24.4% of overall GDP. From hospitality to tourism, many sectors stand to benefit from Expo 2020 – especially in the short term. However, the one sector that will reap the long-term benefits of Expo 2020 is Dubai's real estate sector. The Dubai South area, in particular, looks to be one of the greatest beneficiaries of Expo 2020 and a smart real estate area to invest in.
Close to Expo 2020
Ever since the announcement that Dubai will be hosting Expo 2020, the UAE government has invested billions of dollars to develop the area around the Expo site, one of them being Dubai South. The area was previously nothing but desert and thanks to the UAE government's visionary leadership and decision-making, it has transformed into one of the most developed areas in the country in order to facilitate Expo 2020. 
Dubai South has the unique advantage of being one of, if not the most, closest areas to the Expo 2020 site, giving it an absolute advantage over other property hotspots. If you're an Expo visitor, it doesn't make sense to live in faraway areas like Dubai Marina and Downtown Dubai, when you could stay close to the site in Dubai South!
Perfect for Short-Term Rentals
Having been built from the ground up to help facilitate the grand event, Dubai South is minutes away from the Expo 2020 site – making it the perfect location for short-term rental properties. Throughout the course of the event, millions of attendees will be looking for a temporary living space close to the site, so Dubai South-based short-term rentals will be in high demand, ensuring high occupancy rates and premium daily rates! 
You might be thinking, what happens to these short-term rentals once Expo 2020 ends? Well, the world-renowned Dubai World Trade Centre – which hosts hundreds of international events, conventions and conferences with millions of attendees annually – will be moved from Downtown Dubai to the Expo site, allowing short-term rentals to continue thriving long after Expo 2020 ends.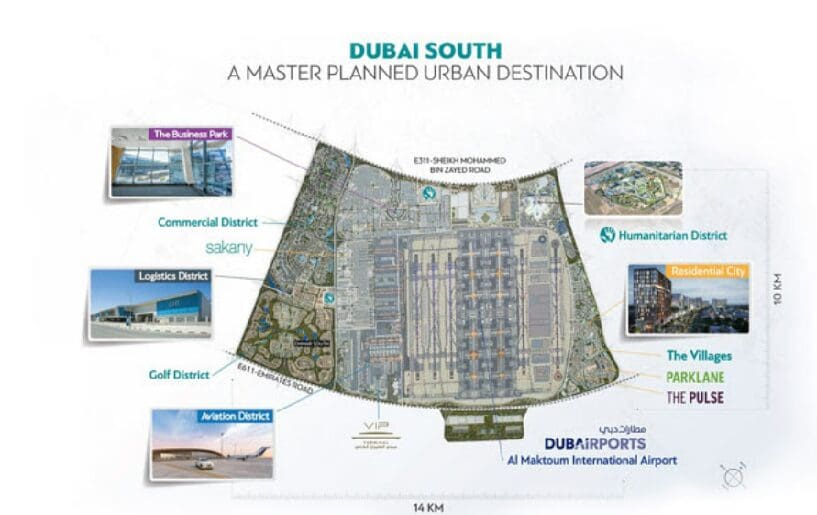 New Centre of the City
Dubai South is positioned to be at the centre of Dubai's long-term development as the city begins to expand inland, making it a fantastic place to own long-term rental properties. It's effectively a city within a city that is built to support over 1 million residents and create 500,000 jobs. Some of the major catalysts for this community's future growth and wealth generation are the newly developed commercial and residential areas, highways and public transport hubs. 
One of the biggest contributors to Dubai South's long-term development is Al Maktoum International Airport,  which is expected to become the largest airport in the world by passenger traffic with over 200 million expected travellers serviced annually when it is fully operational in the next few years.  Not only that, but Dubai South is also going to be the centre of the UAE's e-commerce industry, with a new e-commerce free zone in development that is expected to contribute AED 12 billion to UAE's GDP by 2023. Also as previously mentioned, it will be the Dubai World Trade Centre's new home, so it will become a major hub for the leisure, hospitality and commercial industries, among many others. Moreover, it will be at the centre of Dubai's 'Operation 300bn' program to boost the city's industrial sector, with Dubai Industrial City, Jebel Ali Free zone and Jebel Ali Industrial Area being close by. 
Low Price-point, for now
Not only did Dubai South benefit from Expo 2020, but the pandemic also did a world of good for the area as it allowed more off-plan property and public infrastructure projects to be completed in time for Expo 2020. As such villa transactions in the area have sky-rocketed, with more tenants and investors looking to take advantage of the affordable prices, with some properties being cheaper than AED 1,000 per square foot!
Not only this, but certain communities within Dubai South like Mag 5 also have limited upcoming supply entering the market, resulting in any future developments being priced at a higher premium. As the area develops, with the new infrastructure projects, enormous airports and increased population migration, Dubai South will look to be one of the juggernauts in Dubai's property market.
Conclusion
With the astounding success of launching the long-awaited Expo 2020, due to it being the largest and grandest event of its kind in the region's history, UAE will be welcoming a huge influx of tourists. Not only that, but it also looks to be the catalyst for a new era for Dubai, particularly its property market, as many stand to benefit from the impending investment and migration coming into Dubai. With SmartCrowd, you too can make the most of the post-Expo boom with as little as AED 500!