Without a doubt, it's hard to resist Dubai's allure as the year-round holiday destination of choice.
After all, when you think of the word 'holiday', one of the first things that spring to mind is relaxing by a pristine beach surrounded by stunning, panoramic views, with modern marvels waiting just around the corner – all of which epitomize none other than Dubai!
In fact, 2021 was a breakout year for the holiday homes sector. Tourists and digital nomads, who once flocked to Dubai's five-star hotels and resorts to escape persistent lockdowns, instead turned to the city's holiday rentals, via platforms like Airbnb, to experience the same comfort and privacy they'd have in their own homes. Oh, and not to mention the rise of domestic travel, or as it's more colloquially known – staycations!
With endless sunshine, a glittering skyline as well as exceptional living standards and safety, naturally just about anyone, from sun-seeking tourists to staycation-addicted UAE residents, would be drawn to the city! So, if you're thinking about investing in a short-term rental, we've compiled the 5 best areas for Dubai holiday homes so you can potentially earn promising returns all year round.
1. Dubai Marina
Dubai Marina is surely the most valuable holiday home hotspot – and for several reasons. Right at the heart of 'New Dubai', the Marina enjoys a breathtaking waterfront location, encircled by a landscaped promenade that stretches over the artificial canal. Dubai Marina also has direct access to districts like JBR, as well as major attractions like Ain Dubai on the nearby Bluewaters Island.
With so much to do, Dubai Marina offers tourists experiences beyond their wildest dreams. Plus, it's got excellent connectivity, with abundant public transport means like buses, the Dubai Tram and the Dubai Metro. And, in terms of stay, tourists are spoilt for choice! The prominent skyscrapers that form Dubai Marina's urban skyline are brimming with hotel apartments, amenities, and entertainment options, so tourists are bound to find the ideal holiday rental.
More importantly, it's one of the best performing areas in Dubai's property market, specifically the holiday home market. Dubai Marina properties have generated 7.49% in annualized returns for SmartCrowd investors, exceeding the 5.1% market average. With high demand and occupancy rates reaching a staggering 91% on average, it's indeed one of the premier markets for short-term rentals.
2. Downtown Dubai
It goes without saying that another top area for vacation rentals in Dubai is, of course, Downtown Dubai. This iconic neighborhood is popular for its globally-renowned attractions and landmarks, like The Dubai Mall and Burj Khalifa, and is where tourists can truly experience Dubai in its utmost glory.
As it's both a leisure and commercial hub, it's an equally convenient location for business travelers who wish to stay close to financial hubs, like DIFC, while simultaneously being able to experience superb luxury living. Tourists are also in good proximity to the airport, as well as older parts of Dubai – perfect for history buffs!
With a vibrant entertainment scene, from the Dubai Opera to the Sheikh Mohammad Bin Rashid Boulevard, Downtown Dubai brings tourists plenty of offerings! The area features theme parks, museums, along with a plethora of restaurants, hotels, bars, clubs, and leisure activities…the list goes on!
Now, due to its close proximity to some of the most iconic landmarks in the world, Downtown is naturally a pricier area, especially around Sheikh Mohammed Bin Rashid Boulevard and Armani Hotel. However, though prices are on the higher end, huge demand and high rental yields make this a great holiday home investment location.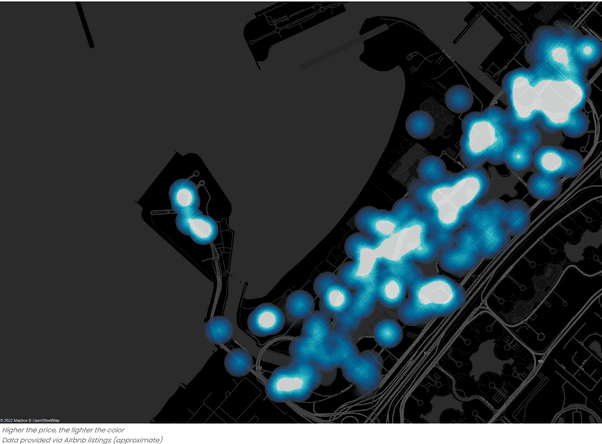 3. Palm Jumeirah
Another favorite for holiday home investments, especially for luxury short-term rentals, is Palm Jumeirah. Over the years, the world-famous man-made island has been one of the most reliable and versatile areas for holiday home investments in Dubai. Now, what makes Palm Jumeirah really stand out is that it offers tourists more retreat-like privacy and serenity, compared to other communities.
Tourists can visit the Atlantis water park, take a helicopter tour or enjoy a fine-dining experience at the Palm's Michelin-star restaurants. Also, the Palm neighbors major commercial hubs like Dubai Marina and JLT, with the Palm Jumeirah Monorail connecting several key areas, starting from the Palm Gateway station to Atlantis Aquaventure, for easy transportation.
Moreover, both luxury apartments and villas are of world-class quality, with high-rise towers situated on the trunk of the island, and villas stretched along with the fronds. From the apartments, tourists can explore two retail spots – Nakheel Mall and The Pointe – along with direct access to private beaches. Palm Jumeirah apartments are the most in-demand in Dubai, following Downtown Dubai. Additionally, Palm Jumeirah villas are the most expensive to own in Dubai, but the pandemic has created a higher demand for villas, which looks to continue well into this year.
4. Jumeirah Beach Residence (JBR)
Sun, beach, watersports, and pools, tourists love JBR because of its beachfront location, often seeking beachside accommodation to savor both Dubai's thrills and tranquility, as well as stay well-connected to the rest of the city.
Part of the Marina district, it is the quintessential holiday destination, particularly for families, as the activities are endless, like taking the world's longest zipline over the Marina or having a leisurely stroll along The Walk.
Investors would benefit from a JBR holiday home as properties in the area continue to be one of the top-performing in the Dubai property market, ranking highly due to its spacious and stylish apartments without the humongous price tag. JBR offers short-term rentals that cater to families and business travelers alike, who desire breathtaking views and a plethora of waterfront attractions, and an amenity-rich lifestyle.
The Bottom Line
Seeing that there's pent-up demand for short-term rentals, investing in Dubai holiday homes might just be your smartest move yet. And, why is that? Well, holiday homes tend to generate higher rental yields, investors can adjust rental rates during peak seasons, and, of course, Dubai's iconic developments and events will always spark visitors to the city, pandemic or not.
Since we know that holiday homes have a strong potential to generate attractive returns, SmartCrowd's got you covered! We're listing more short-term rentals in the best areas of Dubai, which you can find only on our platform! With that being said, we're offering you the chance to invest in our high-yielding Dubai Marina property, which is currently LIVE, meaning you still have time to invest!
The spacious apartment is available to investors for a discounted price to its independent valuation and is located in a sophisticated building boasting exceptional views of the picturesque Marina, as well as state-of-the-art facilities, including a pool, health club and 24-hour security – the perfect holiday home!
So, what are you waiting for? View our latest investment options here and invest in a Dubai holiday home today!
Disclaimer: This blog is intended solely for educational purposes and shouldn't be treated as financial advice. We suggest you always conduct thorough research, perform your own due diligence and consult with financial advisors to assess any real estate property against your own financial goals.