Brimming with new opportunities that attract visitors from all over the world, the Dubai real estate market is undoubtedly enjoying its golden run! With the city's impressive progress reflected in its high-end infrastructure, economic incentives and long-term visa schemes following the Covid-19 pandemic, the forecast for the rest of the year is encouraging to say the least.
In fact, developments like the 2040 Urban Master Plan are currently underway to accommodate this growth and demand for Dubai real estate, catching the eyes of international buyers, especially HNWI* investors. With much to look forward to, let's dive into some of the top upcoming projects to consider investing in Dubai in the near future!
MBR City
One of the areas that are garnering a great deal of attention is Mohammed Bin Rashid City, also known as MBR City. A vast, mixed-use project situated along Al Khail Road, MBR City shares borders with a few commercial hubs, including Downtown Dubai, Business Bay, and Design District, and is a major focal point in Dubai's future development plans.
Set to become a fully integrated 'city within a city', MBR City will host some of the city's most remarkable luxury residences, world-class hotspots, and lush open spaces. The area incorporates some popular residential projects, like Sobha Hartland, District One, Dubai Hills Estate, and KOA Canvas, and tourist attractions like the world's largest man-made lagoon and the upcoming Meydan One Mall.
MBR City's property market consists of an array of affordable ready and off-plan units, from studios to mansions, to invest in which are expected to be in high demand in the coming years, with strong appreciation potential. Given its 82.5% increase in supply expected by 2024, along with a massive influx of HNWIs entering the Dubai real estate market, price and rental yields will increase accordingly in MBR City over the next few years.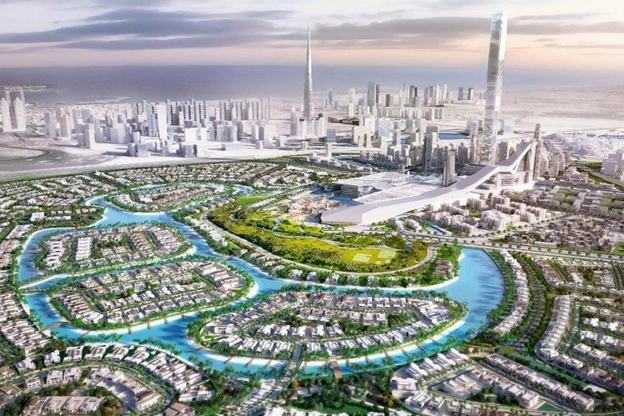 District 2020
As the saying goes, the show must go on! Indeed, as the future of Expo 2020 development, District 2020 will evolve into a smart and sustainable mixed-use community. Built with a human-centric and self-supporting approach, the district is set to be the UAE's first 15-minute city, whereby everything will be accessible in under 15 minutes by foot.
According to the Dubai 2040 Urban Master Plan, District 2020 will be an economic and commercial hotspot, retaining at least 80% of the Expo site's infrastructure, and converting it into residential and commercial spaces. In terms of residential units, District 2020 will offer a range of affordable, modern apartments and urban-style studios available in Expo Village. That said, District 2020 will attract a higher level of interest from buyers and investors, both local and foreign, especially as it's a location that's already internationally popular.
Short-term rentals will especially be in high demand, as the Dubai World Trade Center events, conventions, and conferences are likely to be shifted to the site's Convention and Exhibition Center, ultimately attracting more businesses and expats looking for temporary accommodation. Short-term rentals will continue to thrive, ensuring high occupancy rates and premium daily rates for investors!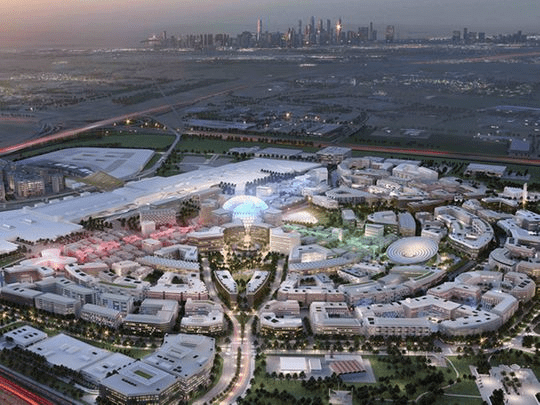 Dubai Creek Harbor
Located on Ras Al Khor Road, just 10 minutes away from Downtown Dubai, Dubai Creek Harbor is a waterfront community that offers high-end living within a green smart city. Perhaps the most notable feature at Dubai Creek Harbor is the upcoming Dubai Creek Tower, predicted to exceed Burj Khalifa as the world's tallest structure.
With views of the Ras Al Khor Sanctuary, Burj Khalifa, Dubai's iconic skyline, and the Dubai Creek Tower, Dubai Creek Harbor is well sought-after by residents looking for a luxury lifestyle at a lower price tag than Downtown Dubai. Featuring a serene atmosphere, innovative design, and an efficient transport network that includes 3 bridges, Dubai Creek Harbor is widely regarded as one of the more attractive up-and-coming communities to invest in Dubai.
As Dubai Creek Harbor is still in its infancy, early buyers would benefit from purchasing in prime locations while prices are more affordable. Considering the scale of this development, with 6965 units under construction, and a further 880 in the planning stages, Dubai Creek Harbor is expected to offer promising returns and capital appreciation, especially as its property value rises in the future.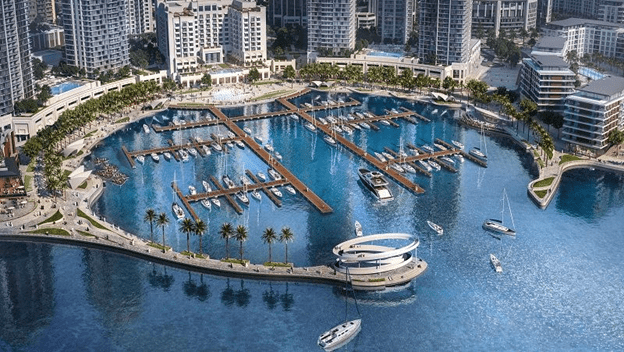 Tilal Al Ghaf
Nestled right in the heart of new Dubai, Tilal Al Ghaf is a unique, resort-style development where 'less is more'. Boasting 6,500 residential units, including apartments, luxury villas, and beach homes, the upcoming area is also defined by its sandy beaches and lush green landscape – perfect for nature-driven families.
The large-scale development's centerpiece is its stunning, swimmable 'Lagoon Al Ghaf'. Tilal Al Ghaf is also an environmentally-conscious community that features solar-powered technology, recycling, and water metering, staying true to its sustainable living commitments. The development's sustainability plan also includes walking and cycling trails, along with open green spaces.
With Dubai's property market going from strength to strength and demand for sustainable and environmentally-friendly living at an all-time high, investors can expect impressive returns at Tilal Al Ghaf over the long term!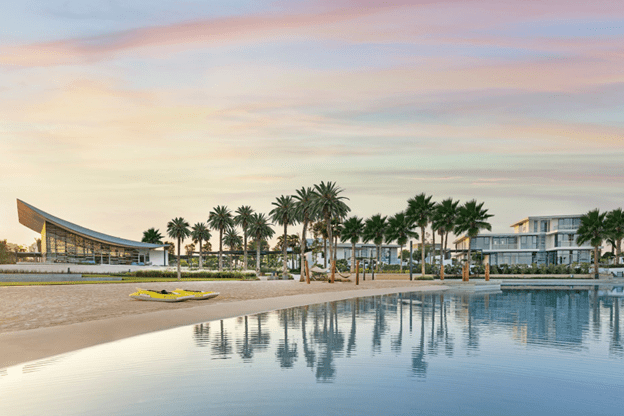 Dubai South
Dubai South is one of the biggest urban projects in the country, centered on the Al Maktoum International Airport, which will become the world's largest airport upon completion. Ever since the Expo 2020 was announced, the UAE government invested heavily in areas surrounding the Expo site – and that included Dubai South.
Dubai South is known for its more affordable properties, with the current average transaction price at 634 per square foot! Indeed, Dubai South benefited massively from Expo 2020, but that doesn't mean that it's curtains for this area. Actually, its close proximity to the former Expo 2020 (now District 2020) site and Al Maktoum International Airport, sets it up for high potential demand.
Plus, it's set to be an incredibly versatile community, great for both short-term and long-term rental properties, as the Dubai South expands inland to support a population of a million residents and create 500,000 jobs. And, much like District 2020, it will offer plenty of temporary living spaces nearby for working professionals in town for a conference. As the area develops, with new infrastructure, Al Maktoum International Airport and population growth, Dubai South looks to be one of the top property hotspots to invest in Dubai.
So, what better time to invest in Dubai than…
NOW!
Following the success of Expo 2020, the country's swift pandemic response, and the introduction of various long-term visa schemes, there's been a huge influx of tourists and expats, meaning real estate investors are reaping the benefits of owning a property in Dubai!
From the strategic centrality of MBR City to the environmentally-conscious Tilal Al Ghaf, these major projects should definitely be on your radar if you're looking to invest in Dubai! So, make sure to keep an eye out for updates on these developments, and other major areas, in our blogs and on our social media platforms. In the meantime, you can invest with SmartCrowd in some of the best properties in the Dubai real estate market, especially in Dubai South, for as low as AED 500 only!
Disclaimer: This blog is intended solely for educational purposes and shouldn't be treated as financial advice. We suggest you always conduct thorough research, perform your own due diligence and consult with financial advisors to assess any real estate property against your own financial goals.