Dubai is a city that is full to the brim with real estate investment opportunities. With Expo 2020 currently underway, international and domestic real estate investors have their eyes set on the Dubai property market – which is rapidly growing following the Covid-19 pandemic. One of the areas that are garnering a lot of attention is Mohammed Bin Rashid City, also known as MBR City.
What is MBR City?
Inaugurated by His Highness Sheikh Mohammed Bin Rashid Al Maktoum in 2015, MBR City is one of the largest mixed-use developments and freehold areas in Dubai. The area consists of popular projects like Sobha Hartland, District One, Mag Eye, Dubai Hills Estate, and District 11. 
Developed at an estimated cost of AED 30 billion, the 'city within a city' features world-class tourist attractions, leisure hubs, parks, the world's largest man-made lagoon, Meydan One Mall – which is primed to be one of the largest malls in the UAE – and over 45 million sqft of freehold property – that's double the size of Monaco!
Why is it gaining momentum in the real estate market?
One of MBR City's largest selling points for real estate investors is its central location. Major hubs like Business Bay, Downtown Dubai, Design District, and Al Qouz all border the community and are all within a 10-minute drive away. It is also close to metro stations like Business Bay station and Al Safa station, and residents will soon be able to access Etihad Rail within the neighborhood itself, once MBR city is fully completed in the coming years. There are also plans for MBR City to be directly linked to Downtown Dubai and Business Bay.
Since the start of the year, MBR City property prices have increased by 7.55% on average, with real estate investors starting to take advantage of the affordable prices for villas and apartments in the area. Moreover, the area has proven to be popular with tenants, with MBR City's population growing by 1,437% to 6,241 people in the past five years, alone. This is expected to grow further as new projects are completed and handed over, along with increased business activity in the area.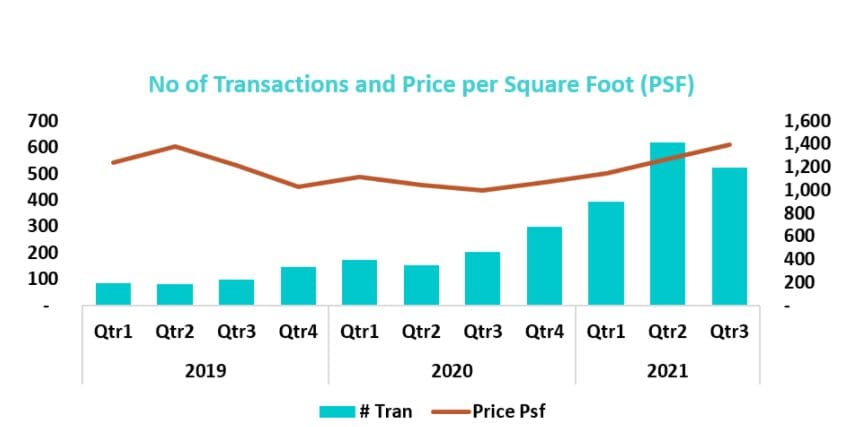 There are studios, 1-bed, 2-bed, and 3-bedroom apartments in the KOA Canvas and Sobha Hartland area, and even 4-bedroom apartments as large as 3,000 sqft in District One. As for MBR City villas, there's a mix of 2-bedroom villas/townhouses to over 8-bedroom mansions in District One and MAG Eye.
What is the long-term vision for the area?
Thanks to its central location, overall size, amenities, and property variety, MBR City looks to be the next major micro-market in the Dubai property scene. Not only that, but it's also tipped to be a major focal point in Dubai's long-term development looks to the future following Expo 2020. 
With the announcement of the Dubai 2040 Urban Plan, which is a major infrastructure and development project that is focused on sustainability, improved quality of life, and urban development, MBR City is one of the major urban centers that is at the center of the plan.
Conclusion
MBR City looks to be Dubai's next big real estate project. The area is in its early days and has already grown dramatically over the past few years, and is set to evolve into a major residential, commercial, and leisure hotspot. Its property price momentum is rising exponentially and doesn't look to be slowing down any time soon and the sheer amenities, options, and perks to living in the area make it a fantastic place to not only live but also own property. 
At smartcrowd.ae, our hand is always on the real estate market pulse, and we're always looking for investment opportunities in Dubai's hottest property micro-markets. Stay tuned for more updates on MBR City and other major areas and development projects in the UAE! In the meantime, you can invest with SmartCrowd in some of the best properties in the Dubai real estate market for as low as AED 500!