We're halfway through 2022, and things are looking up for the Dubai property market. With foreign investors pushing up property prices, as well as new initiatives and regulations further heating up the sector, demand is surging at an incredible pace. With that in mind, just about anyone would be interested to invest in Dubai!
Let's not beat around the bush, though – naturally at the top of your agenda, is the ROI! We're always searching for high potential returns, so, as a prudent investor, it's wise to study the data and identify trends before putting your money into any kind of investment. And, that's exactly what SmartCrowd does before going live with any property!
As part of our maximized returns strategy, our listings go through a rigorous selection process that narrows down the properties only to desirable areas that typically yield higher returns for investors. That's precisely why our properties have consistently outperformed the market. So, which areas should you invest in to benefit from Dubai's promising returns – the smart way?
Read on to find out the 6 Dubai areas that offer the highest rental yields, based on our results.
Jumeirah Lake Towers (JLT)
Situated right behind the Dubai Marina, JLT is a densely populated, mixed-use community of residential and commercial towers, constructed in clusters around four artificial lakes. It's the perfect blend of business and leisure, catering to all budgets and property requirements, from long-term to short-term rentals.
Because of its proximity to Dubai Marina, Downtown Dubai, and other commercial hubs, JLT has benefited from an influx of buyers and investors in demand for mid-range properties. Essentially, JLT has similar amenities to its neighbor, Dubai Marina, just at a lower price tag – making it incredibly attractive to investors with a particular budget.
Overall, JLT's investor interest and market value for its properties are growing, becoming a highly sought-after community. For that reason, it holds the position for the highest annual returns out of all Dubai areas for investors on the platform. With annualized SmartCrowd returns of 9.19%, compared to a market average of 5.9%, investing in JLT is a no-brainer!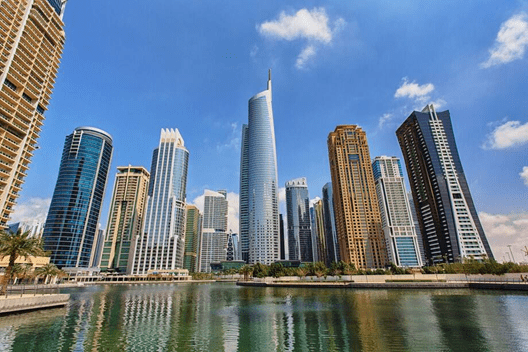 Dubai Marina
Located right in the heart of Dubai between JLT and JBR, Dubai Marina is one of the most popular, mature districts for property investments. Why is that? Well, it's home to over 200 multi-purpose residential towers, villas, and townhouses that make up the city's iconic skyline, along with stunning waterfront views, proximity to business hubs, as well as attractions like the nearby Walk at JBR, Bluewaters Island, and the Dubai Harbor.
Another key feature is the neighborhood's transport links via the large canal, stretching over 3.5km, so the sea is accessible on both sides. Not only that, there's easy access to the metro and tram stations which link to Downtown Dubai, Business Bay, and JBR making it the best-connected development in Dubai.
Such features make it one of the best areas to buy short-term rentals or premium holiday homes, as tourists tend to gravitate to such areas. Plus, the convenience and accessibility mean some residents are likely to settle here longer, making it an attractive long-term investment option as well.
Demand for Dubai Marina was reflected clearly in 2021 market data, as it ranked number one in property sales transaction volume with 7,968 transactions valued at over Dhs28.6bn. As of Q1 2022, real estate activity in Dubai Marina has been maintaining this healthy resurgence. With considerable demand still entering the area, prices and the number of transactions remain on the rise, with prices almost touching pre-pandemic levels. Overall, Dubai Marina generates and will continue to generate, some of the best-annualized returns on our platform, averaging at 8.75%, versus market returns of an estimated 5.0%.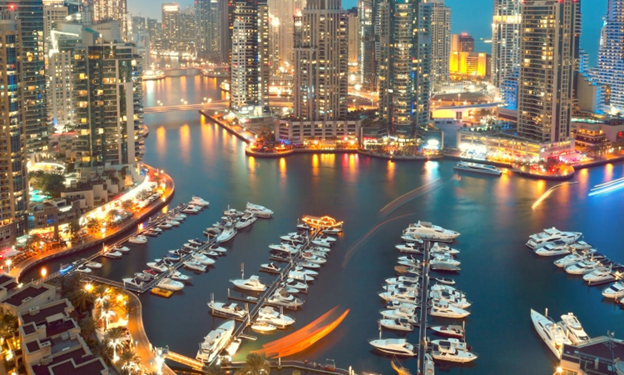 Dubai Production City (IMPZ)
Dubai Production City, formerly known as IMPZ (International Media Production Zone), is a mixed-use suburban community located off Sheikh Mohammed Bin Zayed Road. This well-rounded area merges residential, business, and leisure options for a superior quality of life – at a reasonable price.
Units for rent in Dubai Production City, particularly studio apartments, offer great value for money, due to their great amenities, quality, and freehold ownership. As a result, the area is experiencing unprecedented growth in its population, with the demand for properties, particularly studios, rising steadily, giving investors the perfect opportunity to buy property.
Another bonus? Its close proximity to the former Expo 2020, now known as District 2020! With more people, namely working professionals, expected to relocate to the future commercial and business hub, areas close to the Expo site, including Dubai Production City, will be in higher demand. Not only is it well-connected to major areas of the city, but it also has historically returned a healthy 8.31% annualized return to SmartCrowd investors, compared to the average 5.9%.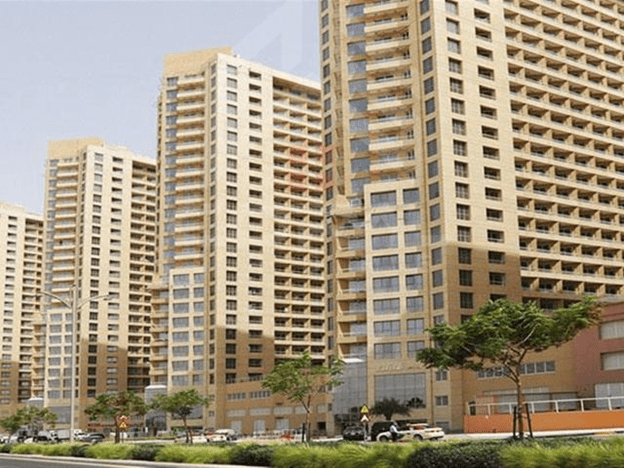 Downtown Dubai
Downtown Dubai is one of the most famous, if not the most famous, areas in the whole United Arab Emirates. Among its glitzy landmarks are the Dubai Mall, the Dancing Dubai Fountain, and Burj Khalifa, as well as business hubs DIFC and Business Bay. It has become one of the most valuable property investment areas in the UAE, with the highest average price-per-square-foot in the country.
Downtown Dubai remains a buyer's favorite, serving as one of the world's most visited tourist destinations. Known for its luxury high-rise towers and upscale community, it's performing solidly in both the ready and share transfer. With more high-net-worth individuals (HNWIs) and international executives looking to settle in Downtown, demand will continue to outstrip supply and properties will be priced at a premium in the near future.
Though some might advise against a Downtown Dubai property investment due to a market return average of 4.90%, SmartCrowd's annualized returns for Downtown Dubai properties have delivered a staggering 7.90% return to our investors – amazing stuff!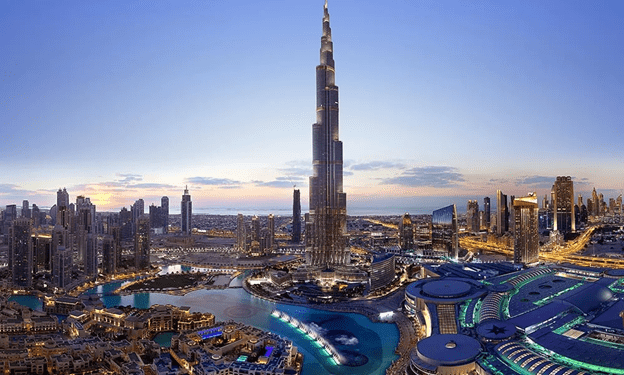 Dubai Silicon Oasis (DSO)
Recognized as one of the more affordable communities, Dubai Silicon Oasis, is a centrally-located suburb, consisting of an integrated living and working community. Buzzing with innovation, it has become the major hub and incubator for tech startups. Its connectivity to major commercial hotspots, like Downtown Dubai, Global Village, and Dubai Design District.
One of the five major urban centers of Dubai's Vision 2040 Plan, it is set to be one of the centerpieces of Dubai's long-term development, further accommodating the city's growing population and demand. Not only that, but DSO also offers free trade incentives for companies operating within its tech park. Overall, DSO greatly suits the needs of those seeking affordable residential options, especially first-time buyers searching for the best investment in the Dubai real estate market. Since it's a fast-growing area, more investors have entered the area market to capitalize on the area's high yields, as DSO remains one of the top-performing areas for net rental yields in Dubai. This is evident with SmartCrowd investors earning an annualized return of 7.62% compared to the market average of 6.0%.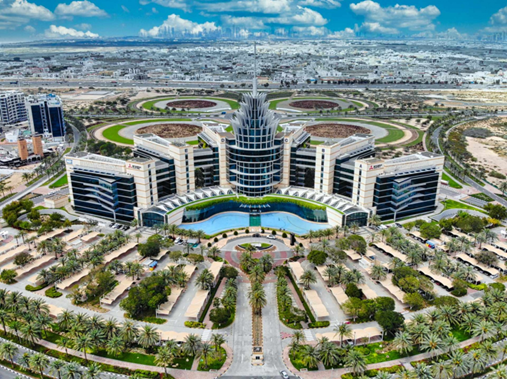 Jumeirah Village Circle (JVC)
JVC, located in the heart of 'New Dubai,' is an affordable mixed-use development that features a wide range of state-of-the-art apartments, villas, and townhouses connected by an abundance of green parks, modern amenities, and canals. It's in high demand due to its lucrative pricing, high rental yields, and prime location, offering some of the best investments in the UAE.
In fact, with JVC being an attractive destination for many expats due to an abundance of schools, parks, and fitness centers, the average price-per-square-foot (PSF) and rental yields are expected to further rise in the future.
Over the past year, the area has witnessed significant growth in its market, historically delivering one of the best-annualized returns on the platform for investors, averaging at 7.09% versus a lower market average of 5.6%. All in all, JVC is perfect for people seeking high-quality yet affordable apartments in a family-friendly urban community with a hassle-free commute to nearby commercial hubs, like the Mall of the Emirates and Dubai Marina.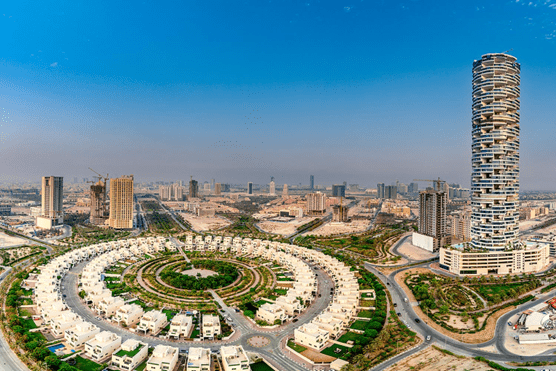 In Summary – Dubai High Rental Yield Areas
With the recent initiatives and regulations, including the flexible Golden Visa laws and the Dubai Land Department's decision to improve transparency in the sector, demand and interest from foreign buyers, startup owners, entrepreneurs, and expats will continue to bolster Dubai's real estate market.
These days, buyers who are seeking to invest in Dubai rental properties have been studying the key areas closely in order to secure profitable opportunities and achieve maximum profits. And, as you can see, there are indeed several top areas for property investment in Dubai. However, the best investment choice ultimately depends on the type of properties you're looking at. For example, when it comes to short-term rentals, Dubai Marina is a reliable choice. On the other hand, long-term rentals in Dubai Production City perform exceptionally well.
That said, we encourage you to stay up to date with the latest property trends and reports to determine the best Dubai areas for investments. Remember, returns are subject to change over time as contracts are renewed. So, it's important to avoid basing your expectations of future results on past performance!
Luckily for you, real estate crowdfunding platforms, like SmartCrowd, allow you to spread your risk and diversify your portfolio by investing in properties in all these areas, at the same time. After all, that is our mission – to enable individuals no matter their income level to easily invest in Dubai real estate. So, download our app now, check out the latest properties in these top areas, and start investing with as little as AED 500 only.
Disclaimer: This blog is intended solely for educational purposes and shouldn't be treated as financial advice. We suggest you always conduct thorough research, perform your own due diligence and consult with financial advisors to assess any real estate property against your own financial goals.