We're back with another popular question that we receive time and time again: "How do you select properties?"
You see, the properties that end up on our platform go through a LOT, kind of like getting into medical school. Admissions tests, board examinations, and sleepless nights, our properties aren't much different. So let's outline this rigorous process a little better.
SmartCrowd Selection Process
We select the properties based on our 100-point proprietary screening tool, which provides investors with the best-performing properties. Along with the help of independent third-party market valuation and empowered technology, we're able to holistically assess the overall attractiveness of each potential investment opportunity before it ends up on our platform.
But, what does this process entail?
Well, after analyzing certain quantitative and qualitative characteristics, each property then gets a score out of 100. So, the higher the score, the more likely it will be listed on our platform. Basically, for every 100 properties analyzed, only a handful meet our strict criteria and are subsequently listed onto the platform!
Now, you may be wondering what aspects we evaluate to reach such conclusions. In other words, what makes a property worthy of being listed on our platform?
Actually, there are many elements at play here, though we'll make life easier but narrowing it down to these crucial factors:
Location
Supply and Demand
Property Value
Property Type
Expected ROI
Location
An important determining factor to consider when it comes to selecting a lucrative property is its location. SmartCrowd focuses on areas that typically generate higher returns for investors. So if you're looking to invest in Dubai, you'll typically find properties in areas like Dubai Marina, JVC, or Downtown Dubai, for example, listed on our platform.
That said, amenity-rich communities with close proximity to greenery, scenic views, and transport links factor prominently into our property valuations. Our specialized team particularly looks at properties in upcoming commercial hubs as there's increased demand for them. Additionally, good social infrastructure with schools and healthcare services is always a bonus!
We also consider future prospects, ensuring that the property will continue to have a favorable location over the years, as well as offer a good return on investment.
Supply and Demand
SmartCrowd looks at all types of real estate data, and that includes conducting a supply and demand analysis for the property's location. One way we get a sense of a specific location's supply and demand is by analyzing supplementary data, like real-time traffic data, as well as DEWA (water and electricity) activation and deactivation requests in the building and surrounding area.
Generally, the ideal area for an investment property is one that has low supply and high demand. As in such areas, renting out or reselling the property would be easy. That said, some of Dubai's most popular areas have continued to be leading areas for property investment because of low supply and high occupancy rates, increasing asset prices, and thus returns.
Nowadays, the strong demand for small units in Dubai's property market makes it a better investment option. That's why most of the properties listed on the platform are either studios or 1-bedroom apartments.
Property Value
We study the market from A to Z (and from Z to A) to fully gauge what the market prices and rental trends of a specific area will look like not just today, but also in the future. After all, a key consideration is the property's overview, and long-term planning documents can show us how the area is expected to evolve over the investment period.
For example, a peaceful area may become a noisy manufacturing facility in just a matter of years, and this is important to note when selecting a property, as such a scenario would diminish the property's value. We also visit properties in person to conduct a physical inspection of the property and take note of anything of interest such as furnishing, view, and wear and tear, if any.
Generally, our properties outperform the market from both a purchase value and rental yield perspective, as we evaluate units by a third party, so we ensure you're getting the property at a fair market value (or below). If a seller's list price is still over its market value, we simply don't move forward with the opportunity. However, if they're flexible, then we aim to negotiate the price down to the appraised price, or below.
Property Type
From ready to off-plan properties, holiday homes to long-term rentals – each type of property caters to a different investment goal and risk appetite. That's why SmartCrowd doesn't limit users to a single category of properties.
For example, we make sure holiday homes in Dubai Marina, affordable units in JVC, and long-term rentals in Downtown Dubai are all listed on our platform. We give you the flexibility to choose what type of property and contract serves your needs best. However, ready-sale properties are in more demand now.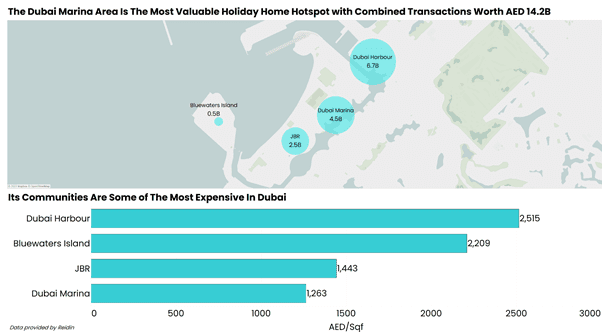 Return on Investment (ROI)
ROI is an important metric, measuring the expected returns relative to the cost of the property. That said, a strong ROI means a healthy profit, and therefore a lucrative investment.
ROI pretty much relies on all the above:
Property type – Apartments in particular perform better as Dubai's low-mid income population has a budget geared towards smaller, affordable living.
Property size – Studios and 1-bedrooms tend to yield better returns than larger units. Additionally, the resale of smaller units is faster and offers a better value compared to larger-sized properties.
Maintenance costs – Service charges (on a per square foot basis) and maintenance costs can materially impact overall returns.
Affordability – Affordable areas usually perform better, like JVC, as people look to rent properties in the area due to their good quality and attractive price tag.
Bottom Line
We know that investing in real estate is one of the biggest decisions you will make. There's no doubt that it can be overwhelming with a host of things to consider (and a bunch of technical jargon) – and that's why we do the work for you. After all, our mission is to enable more and more individuals to easily access and invest in Dubai real estate.
More importantly, our whole platform is built on transparency, which is why we provide all our data-driven market analysis and third-party due diligence reports to our investors when an opportunity goes live, all so they're able to make informed decisions.
Now that you've found out how we select our properties, it's up to you to decide if SmartCrowd is the property investment platform for you. That said, what's great about our platform is that you're able to diversify and invest in various types of properties, so you can spread your portfolio risk and maximize returns.
So, with a chance to build a second income, why not check out our platform now? You can start investing with as little as AED 500 only.
Disclaimer: This blog is intended solely for educational purposes and shouldn't be treated as financial advice. We suggest you always conduct thorough research, perform your own due diligence and consult with financial advisors to assess any real estate property against your own financial goals.