If there's anything Dubai loves, it's breaking records. And the Dubai real estate sector surely didn't disappoint! The emirate welcomed the New Year with record-breaking transaction sales throughout 2021, particularly in the luxury, villa, and ready property segments. Exciting stuff!
All in all, it's been a great past year for the city. Dubai's property market was driven by its strong rebound from the Covid-19 setback, the introduction of several visa reforms, as well as the launch of Expo 2020. That being said, it certainly comes as no surprise that investors are eyeballing the best properties in Dubai more than ever, which begs the question: where should one invest in Dubai real estate right now?
After all, a strategic location should always be the number one priority when it comes to buying a rental property because investors are after rentability, healthy returns, and capital appreciation. So, in this blog, we'll walk you through the 5 best areas to invest in Dubai for ready-sale properties in 2022.
1. Dubai Marina
Located right in the heart of Dubai, Dubai Marina is one the most sought-after districts. It's home to over 200 multi-purpose residential towers, villas, and townhouses that make up the city's iconic skyline, and remains one the most popular, mature areas to buy the best properties in Dubai.
In 2021, Dubai Marina ranked number one in property sales transaction volume with 7,968 transactions valued at over Dhs 28.6 billion. It's essentially a seller's market to invest in ready apartments, given there's currently a high demand and low supply for luxury properties in the area, especially studios. According to Reidin, Dubai Marina's price-per-square-foot also increased by 11.5% over the past year, going from AED 1,210 in January 2021 to AED 1,349 by the end of the year.
Properties in Dubai Marina will continue to be a lucrative investment opportunity in 2022 thanks to its stunning waterfront views, proximity to business hubs, as well as attractions like the nearby Walk at JBR, Bluewaters Island, and the upcoming Dubai Harbor. Such features make it one of the best areas to buy short-term rentals or premium holiday homes for tourists to gravitate towards. The high quality of life also means some residents are likely to settle here longer, making it an attractive long-term investment option as well.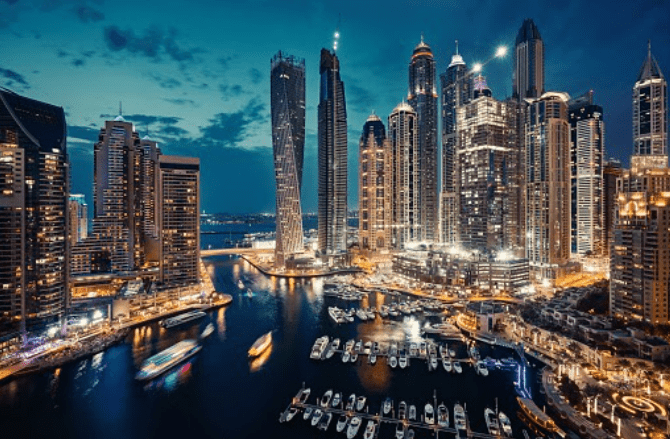 2. Business Bay
A well-integrated commercial hub, Business Bay is yet another attractive option to consider for Dubai property investment. Neighboring Downtown Dubai, it's known to have well-developed infrastructure, a great transport network and plays a pivotal role in making UAE a major business destination.
It comprises more than 240 high-rise towers and luxury facilities, split equally between residential and commercial properties, as well as high-end malls, restaurants and hotels.
Since it's one of the fastest-developing areas of Dubai, the demand for its properties is rising accordingly. Owing to Downtown Dubai's limited supply, investors are flocking to nearby areas with available supply, such as Business Bay. Good property types to consider investing in Business Bay are studios and one-bedrooms, as the upcoming supply is limited but the demand for them is high regardless.
The average price-per-square-foot for Business Bay apartments has appreciated by 10.8%, averaging at AED 1,311 in 2021. The property prices are also lower compared to Downtown Dubai, but with potentially higher yields, so be sure to crack a deal here!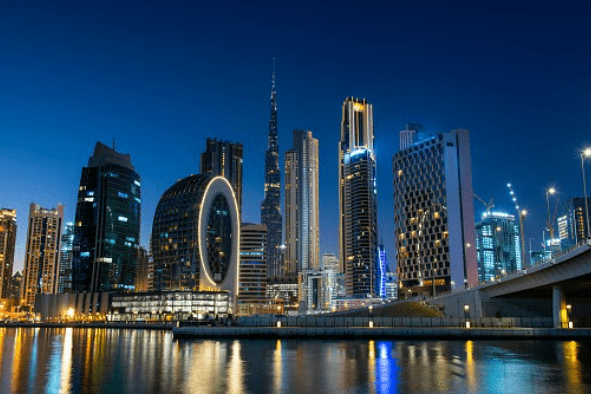 3. Palm Jumeirah
The distinctive palm-shaped island, Palm Jumeirah, is ever-evolving with its ultra-luxury residential properties, consistent development, and steady asking prices, even serving as a second home for many wealthy expats. It's equally popular for buying apartments and villas, making it one of the most reliable and versatile real estate investment locations in Dubai.
With stunning views overlooking the Arabian Gulf, the area was intended as a tourist attraction and a holiday destination, hence why you can find many restaurants, hotels, and resorts in this area. Palm Jumeirah offers luxury long-term residential units but is also performing well in the holiday home rental market as we're seeing an upward trend towards short-term and holiday lets by investors across Dubai.
This past year, Palm Jumeirah showed a 15% increase in apartment prices in 2021, with the sales transaction volume increasing by a whopping 131.1%. Phenomenal!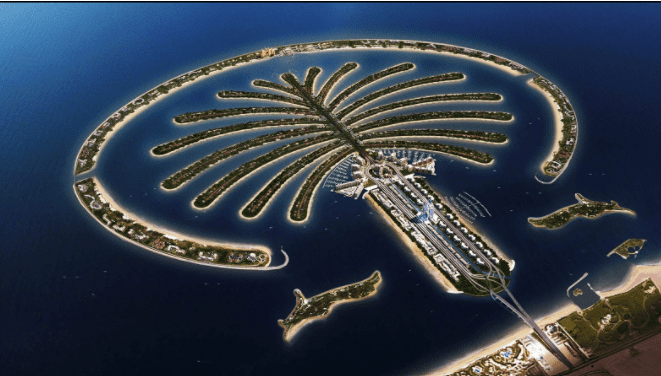 4. Jumeirah Lake Towers (JLT)
Now, this area's a climber! Jumeirah Lake Towers is a densely populated area comprising residential and commercial towers constructed in clusters around four artificial lakes, situated right behind the Dubai Marina.
Properties in JLT offer similar amenities to those found in Dubai Marina, just at a lower price tag, making it an ideal investment in Dubai for investors with a budget. You can expect to find a high number of expats here, particularly families, thanks to its access to neighboring commercial areas. The Metro passes through JLT, while Sheikh Zayed Road connects it with Abu Dhabi, so easy transportation is also a plus.
JLT is also another area that's benefited from an influx of buyers and investors in demand for mid-range properties because of its close proximity to Downtown Dubai and other commercial hubs. JLT's investor interest and market value for its properties are growing, with its price-per-square-foot up by 8.86% from 2020 to 2021.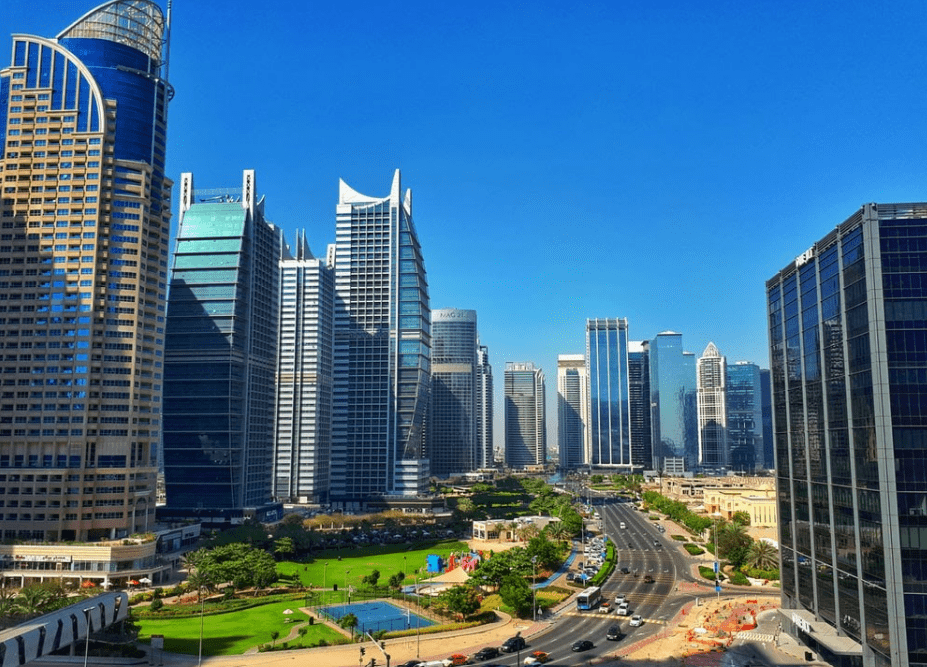 5. Downtown Dubai
Burj Khalifa, 'nuff said. Jokes aside, Downtown Dubai remains a buyer's favorite, serving as one of the world's most visited tourist destinations thanks to major landmarks like Burj Khalifa, the Dubai Fountain, and the Dubai Mall. Known for its luxury high-rise towers and upscale community, it's performing solidly in both the ready and share transfer, despite limited supply.
Prices are predictably on the higher end of the spectrum, with prices jumping by more than 17% in the past year, with the highest average price-per-square-foot in the country averaging at AED 1,964. But, if you manage to nab a property with views of the Burj, you'll generate promising returns in one of the most iconic areas in the world.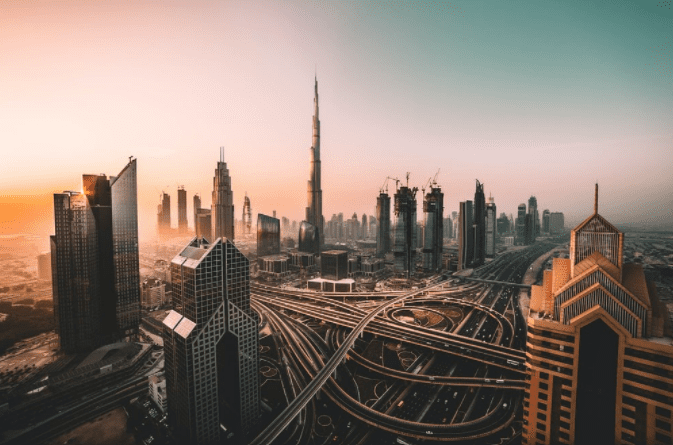 Top 5 Villa Areas To Invest In Dubai:
For those following the villa market, this one's for you!
We've seen a higher than ever demand in the villa sector, spurred on by post-pandemic remote work culture, as well as the lower service charges compared to apartments. Villas have been performing exceptionally well as investors and end-users want bigger homes and more facilities to live, work and play. This means that prime location prices will continue to appreciate this year, with Palm Jumeirah topping the list as it remains a strong luxury favorite among buyers thanks to the area's ready supply variety and stable property values. It is believed to be the area that has the best real estate to invest in in terms of prime properties.
The remaining four areas with villa communities prospering in the ready market include Arabian Ranches and Dubai Hills Estate, which have luxury villas at lower prices than Palm Jumeirah, as well as even more affordable areas: Damac Hills 2 and Jumeirah Village Circle, all of which present good investment opportunities for villas.
Palm Jumeirah
Arabian Ranches
Dubai Hills Estate
Damac Hills 2
JVC (Best real estate to invest in affordable category)
With a new launch of completed villas in 2022, there's set to be a significant increase in sales volume and value across the board.
In a Nutshell
Choosing the best areas to invest in Dubai real estate is key to generating healthy returns. There are several top areas that present the best real estate to invest in beyond this list, so it's important that you keep up with market trends and do your research well in advance to know which areas meet your real estate investment needs.
Given that these locations are currently trending, smartcrowd.aeuses a real estate crowdfunding model to give you the opportunities to invest in as many properties as you like. This means that you're able to invest in properties in all these areas for as low as AED 500.
Disclaimer: This blog is intended solely for educational purposes and shouldn't be treated as financial advice. We suggest you always conduct thorough research, perform your own due diligence and consult with financial advisors to assess any real estate property against your own financial goals.