Busy and booming, the Dubai real estate market is currently benefitting from an influx of foreign investors who are snapping up the city's prime properties. Thanks to the emirate's government-led initiatives, like the golden visa reforms, as well as strong capital growth, high rental yields, and rapid development, Dubai continues to be a magnet for property investments.
This demand was more clearly reflected in H1 2022 data, which saw 43.2k transactions worth AED 115 billion, marking a year-on-year growth of almost 60% in volume and 87.8% in value, setting a new record for transactions in the emirate. With such figures, anyone would want to take advantage of the city's thriving real estate market, so keep reading to find out the 5 best areas to invest in Dubai ready-sale apartments.
1. Dubai Marina
Nestled right between JLT and JBR, Dubai Marina is one of the most popular, well-established communities for Dubai investment properties and has remained a firm favorite among investors and homebuyers in the luxury segment. Home to over 200 mixed-use residential towers, villas, and townhouses that constitute the city's iconic skyline, Dubai Marina is known for its breathtaking waterfront views, scenic promenades, and connectivity to commercial hubs.
This sought-after area is also brimming with dining, leisure, and retail spots, and residents can enjoy close proximity to major tourist attractions, including the nearby Walk at JBR, Bluewaters Island, and the Dubai Harbor, so it's no wonder many people end up settling here. It's also one of the best areas to invest in premium short-term rentals, or holiday homes, as tourists tend to gravitate to such popular, yet convenient, areas.
Overall, demand for Dubai Marina properties was evident in H1 2022 (Source: Reidin), as it was one of the top transacted areas, with soaring demand and high occupancy rates (85.6%) due to its limited supply, making it a seller's market. That said, Dubai Marina has generated some of the best-annualized returns on the SmartCrowd platform, averaging 8.22%, versus an average market return of an estimated 6.1%.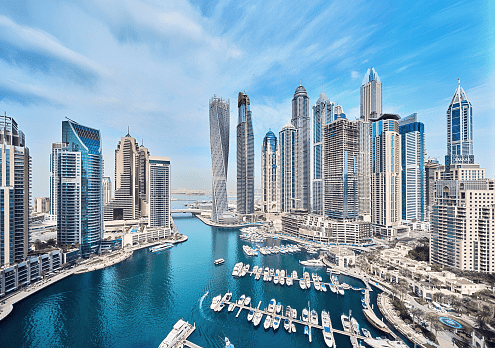 2. Jumeirah Lake Towers (JLT)
Built around four artificial lakes, JLT is a densely populated business hub located in the heart of Dubai, right behind Dubai Marina. The mixed-use community consists of residential and commercial towers that cater to all budgets and property needs.
Because of its proximity to Dubai Marina, Downtown Dubai, and other major commercial hubs, JLT has benefited from an influx of buyers seeking mid-range properties, resulting in a high occupancy rate of 85.7% (Source: Reidin). Considering JLT has similar amenities to its neighbor, Dubai Marina, it's become a popular area for more affordable Dubai investment properties. Not to mention, JLT is a well-connected development, situated between two metro stations, Jumeirah Lake Towers and Damac Properties.
JLT is known to appeal to all, with 600 retail outlets, over 300 restaurants, and cafes, 5 hotels, child-care facilities, outdoor activities, educational institutions, and much more. The area has a growing investor interest and holds the position for the highest annual returns out of all Dubai areas for SmartCrowd investors. With annualized SmartCrowd returns of 8.55%, compared to a market average of 6.2%, JLT is a sure place to crack a good deal.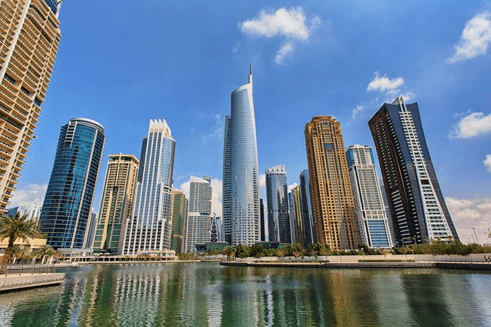 3. Jumeirah Village Circle (JVC)
Located in the heart of 'New Dubai', another area known for its affordability is JVC. JVC is a mixed-use development that features a wide range of state-of-the-art apartments, villas, and townhouses connected by an abundance of green parks, modern amenities, and canals. It's in high demand due to its prime location and profitability, offering some of the best property investments in the UAE.
According to H1 2022 market data, JVC has continued to be the most attractive option for those looking for reasonably-priced flats, and this is apparent with its 84.9% occupancy rate (Source: Reidin). Moreover, there is a 19.8% predicted increase in the supply of residential units by 2023, which is drawing in more ex-pats, and, in turn, investors. Over the past year, the area has witnessed significant growth in its market, historically delivering one of the best-annualized returns on the platform for investors, averaging 7.18% versus a market average of 5.8%.
All in all, JVC is perfect for people seeking high-quality yet affordable apartments in a family-friendly urban community with a hassle-free commute to nearby commercial hubs, like the Mall of the Emirates and Dubai Marina. With that in mind, the average price-per-square-foot (PSF) and rental yields are expected to further rise in the future.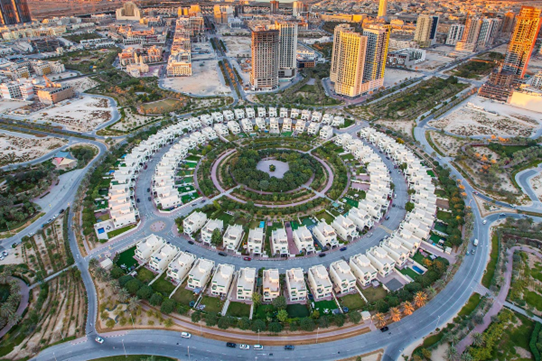 4. Downtown Dubai
The most famous area in the UAE, Downtown Dubai, remains a buyer's favorite, serving as one of the world's most-visited tourist destinations. Known for its luxury high-rise towers and upscale community that surround the Burj Khalifa, Dubai Fountains, and The Dubai Mall, Downtown is a solid performer in both the ready and share transfer.
It goes without saying that Downtown is a top area for short-term rentals in Dubai as tourists can truly experience Dubai, and its globally renowned landmarks, in its utmost glory. With more high-net-worth individuals (HNWIs) and international executives looking to settle in Downtown, demand will continue to outstrip supply, and studios, with their limited supply, will be priced at a premium in the near future.
Now, due to its close proximity to some of the most iconic landmarks in the world, Downtown is naturally a more expensive area, especially around Sheikh Mohammed Bin Rashid Boulevard and Armani Hotel. However, with Downtown property prices jumping by nearly 15% in the past year, a surge in demand makes this a great area to invest in Dubai.
Plus, if you manage to snap up a property with views of the Burj, you'll generate promising returns on platforms like Airbnb. SmartCrowd's annualized returns for Downtown Dubai properties have delivered a 6.52% return to our investors, compared to a market average of 5.2%.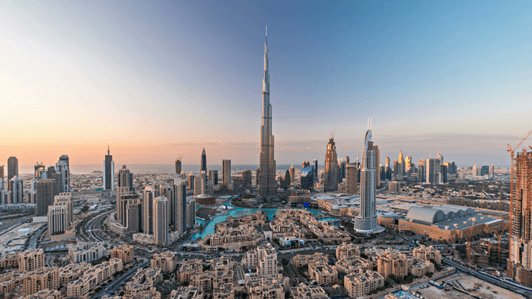 5. Business Bay
Neighboring Downtown Dubai with a prominent canal-side location, Business Bay is yet another attractive option to consider for Dubai property investments, as it has been a top performer in H1 2022, and the most transacted area so far this year (Source: Reidin). The trendy, mixed-use community is known to have well-developed infrastructure and a great transport network, playing a pivotal role in making UAE a major business destination, much like NYC's Manhattan.
Since it's one of the fastest-developing areas of Dubai, the demand for its properties is rising accordingly, hence why new supply will be entering the market. By offering high-end amenities and a fast-paced premium lifestyle in a central location, Business Bay has also become a sought-after short-term rental destination.
Owing to Downtown Dubai's limited supply, investors are flocking to nearby areas with available and upcoming supply, including Business Bay. Good property types to consider investing in Business Bay are studios and one-bedrooms, as the upcoming supply is limited but the demand for them is high regardless. Property prices are also lower compared to Downtown Dubai, but with potential rental yields between 6-7% for SmartCrowd investors, it's definitely an area to keep under your radar.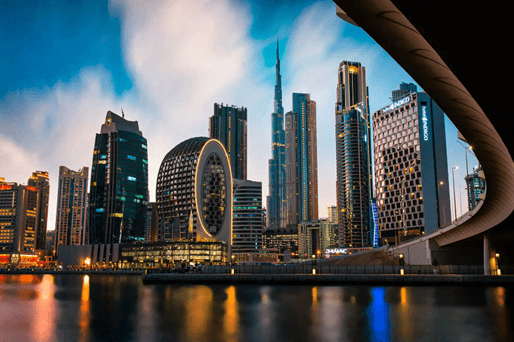 Is It Time To Invest In Dubai?
As we recently ended the first half of the year on a record-breaking note, things are certainly looking promising for the Dubai real estate market. With escalating foreign demand driving up property prices and new initiatives further heating up the sector, just about anyone would be keen to invest in Dubai!
So, have you invested in properties located in any of the above areas before? If not, don't worry, we've got your back! Simply download our app and check out the latest properties LIVE on our platform. We're currently listing properties located in the following areas: Downtown, JVC, and JLT, and, given that these are all in trending areas, SmartCrowd uses a real estate crowdfunding model to allow you to invest in as many prime properties as you like.
This is an excellent opportunity to invest in Dubai investment properties, and you could even invest in all these areas from as little as AED 500 in order to diversify your portfolio with a mix of luxury and affordable rentals, and get the best of both, or all, worlds! As always, it's important that you keep up to date with market trends and do your research well in advance to know which areas meet your property investment needs.
Disclaimer: This blog is intended solely for educational purposes and shouldn't be treated as financial advice. We suggest you always conduct thorough research, perform your own due diligence and consult with financial advisors to assess any real estate property against your own financial goals.