Many investors often wonder whether to opt for ready or off-plan properties. Over the years, we've seen demand for each swing either way depending on market trends. While each property type certainly has its pros and cons, 2021 saw a stronger appetite for ready properties in Dubai, constituting 68% of real estate transactions according to data provided by Reidin, which we can largely attribute to the pandemic.
Though we're currently witnessing a resurgence of off-plan property sales in 2022, we're well aware that such real estate activity may still fluctuate greatly depending on the Dubai real estate market conditions. And that's why it's important as ever to carefully consider each property type, along with market trends, especially since all investors have unique financial objectives and risk appetites.
In this blog, we explore both property types and explain how ready properties align better with our maximized returns strategy.
Ready vs. Off-Plan Properties
As the name suggests, ready properties are fully constructed, typically in prime areas, and adhere to all requirements imposed by governing authorities, meaning they are available for immediate occupancy. When it comes to ready properties, the property is entirely under your control, so you can immediately rent out your property to generate rental income. More importantly, there's no waiting game (which could amount to years), as they've already been built.
Some downsides of ready properties include being costlier than their off-plan counterparts, as buyers are required to pay the entire amount upfront, so there's less payment flexibility. Additionally, remodeling costs are excluded, and there are limitations in terms of interior modifications.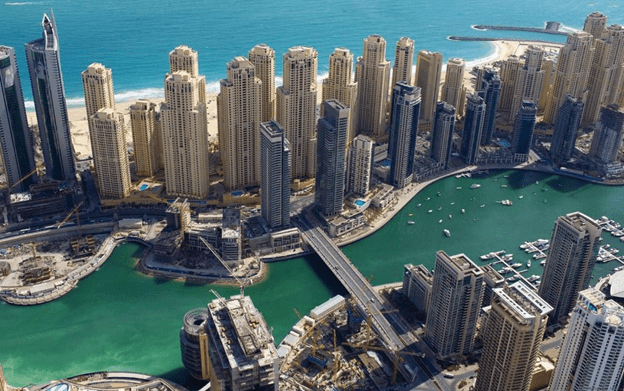 On the other hand, off-plan properties are those that are still in construction. Essentially, off-plan properties have a 'buy now – pay later' model as investors are only required to make an initial downpayment of 20 to 50%– which is comparatively less than that for a ready property.
There are also attractive incentives and flexible financing plans in place for investors looking into off-plan properties. However, investors should keep in mind that the property is seldom ready for occupancy for up to three years.
Though off-plan properties can potentially be worth the wait, some cons include the lack of control you have over the property until handover. This means that there's no return on investment until construction is complete. Other things to consider are delays, cancellations, risk of sub-par quality, as well as a decrease in property value due to market fluctuations.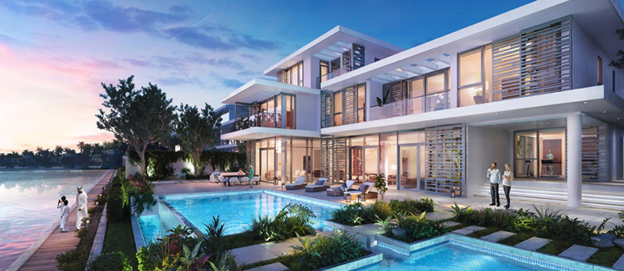 Why Ready Properties?
Indeed, there are two sides to every story and, as you read above, there are clear advantages and disadvantages to investing in ready or off-plan properties. However, we'll take a look at why there's more optimism for ready properties. Though there's no denying the appeal of off-plan properties, ready properties align better with our maximized returns strategy, and here's why:
First off, off-plan properties were actually the go-to option for many investors pre-Covid, resulting in 52% of transactions in 2019. But what we witnessed thereafter since the pandemic, and more notably in 2021, is that the off-plan market underperformed when investors started looking heavily towards less risky ventures, being ready properties.
Though property prices are often an advantage when it comes to off-plan sales, there are other factors at play. Generally, there is an element of risk associated with an off-plan property, more specifically delays, cancellations, market fluctuations, and failure to meet expectations – which is exactly what happened over the course of the pandemic.
Investors also took advantage of the critical undersupply in popular areas (think Downtown, Dubai Marina, and Palm Jumeirah), affordability, economic recovery, and the then-upcoming Expo 2020. Additionally, this preference for ready properties hinted a newfound level of cautiousness towards any value-depreciating factors, such as the pandemic.
In Dubai, ready properties are often in prime locations, complete with surrounding infrastructure, giving them an advantage over off-plan properties. That's why we list prime rental properties on our platform so that you receive an immediate return on your investment and avoid any disappointment.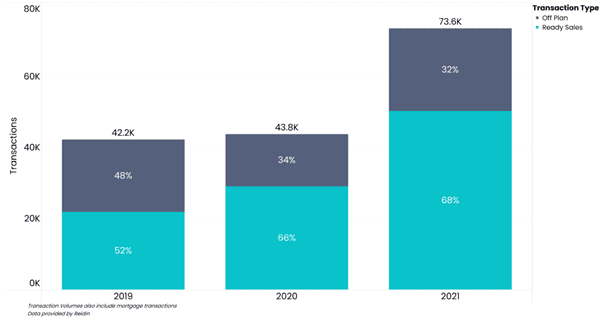 There's definite peace of mind in knowing exactly what you're purchasing and receiving steady returns from it, especially in today's uncertain geopolitical and economic climate. While purchasing an off-plan property may seem like a cost-effective way to enter the Dubai real estate market, there's always a looming element of risk, as we saw during the pandemic, where many projects were delayed indefinitely and even canceled. Such variables and unknowns ultimately affect your return on your investment.
When you're in the process of making a property investment in the UAE, it's imperative to consider the current market conditions and outlook, so you're able to find an investment opportunity that aligns with your financial goals and risk tolerance.
After all, investors want to ensure that their property performs well, and that's why SmartCrowd's strategy sticks with listing ready properties in prime areas, in order to reduce potential risk and ensure maximum returns to our investors. By having both a short-term and long-term view of the market, we help you mitigate as many risks as possible when investing in Dubai real estate.
Better yet, with crowdfunding platforms like ours, investors no longer have to wait years to see returns on their investments – they can start seeing steady rental income from day one.
Start your investment journey today by downloading our app and browsing our prime Dubai rental properties!