Interest and demand for Dubai real estate from Chinese property buyers is certainly nothing new or out of the ordinary. In fact, China has consistently ranked as one of the top 10 buyer nationalities for properties in Dubai over the past 8 years, albeit a pandemic wobble that saw sudden travel restrictions, and thus lower investment rates.
As we now settle into a post-pandemic reality, we're seeing China's property prices drastically surge and rental yields fall, leading Chinese investors to escape this domestic real estate meltdown and secure a more convenient investment alternative – Dubai. Consequently, the Dubai property market has witnessed greater heights as Chinese investors find far more attractive real estate investment opportunities within the emirate.
Though the realty landscape in Dubai is still dominated by European and Indian investors, there's been a decisive return on overseas investment from China. So, in light of prolonged stress within the Chinese real estate scene, what really captivates Chinese buyers to invest in Dubai real estate as opposed to other potential property markets?
1. Strategic Location
Dubai presents a favorable business environment that attracts an evergrowing number of expatriates and tourists from all over the globe. As the de facto hub for developed and emerging markets, and the meeting point between the East and West, Dubai actually boasts a highly strategic and convenient location for investment, tourism, and trade.
For that reason, Chinese companies continue to relocate to the emirate to explore new potential opportunities, leading to a rising Chinese population in Dubai and consequent interest and demand for Dubai real estate. In fact, it is estimated that 20 percent of Chinese nationals living in the UAE are based in International City alone, which is home to the famous Dragon Mall, the largest Chinese market in Dubai.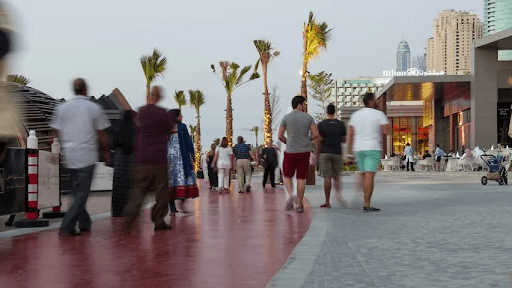 2. Affordable Property Prices
One key benefit that attracts foreign property buyers to invest in Dubai real estate is affordability. Dubai properties are actually considered to be reasonably priced compared to units in other major global cities, meaning there's something for everyone according to their budget. Even though property prices are on the rise, there's no point in waiting for housing to become cheaper, as Dubai is as affordable as it gets compared to its counterpart cities.
As real estate prices in China have escalated to excessive rates, the Dubai property market is seen as a real estate haven, offering properties of the same caliber at a much lower rate. In a recent report published by the UBS Global Real Estate Bubble Index 2022, Dubai was found to be fair valued without bubble risks, as other top cities worldwide experience inflated prices and price bubbles.
3. High Rental Yields
Rental properties in Dubai generally offer a higher return on investment (ROI) compared to counterpart cities, like London, New York, and Hong Kong. With such exceptional returns at reach, who wouldn't invest in Dubai?
Offering some of the highest returns on property investment, you can expect returns of above 6%, even reaching double digits in key Dubai communities. The demand for Dubai real estate also allows investors to charge higher rental rates, as well as sell their properties promptly, offering faster liquidity than usual real estate investments. Additionally, given that Dubai property prices are on the rise, real estate investments can potentially generate a significant capital gain for investors.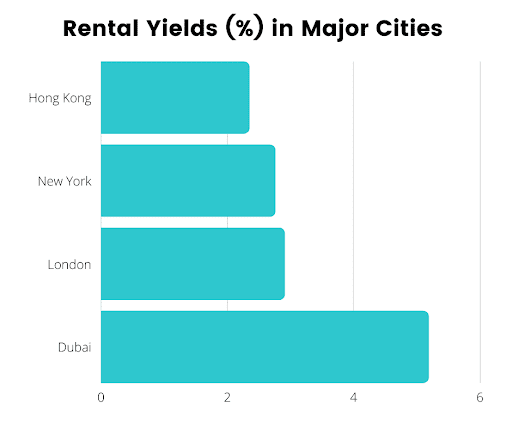 4. No Property Tax
Investing your money in Dubai real estate potentially generates a high return on investment due to a lack of property taxes. By not levying any annual property tax, income tax, or capital gains tax, on investors, Chinese investors don't have to worry about taxes eating away at their returns.
Essentially, once a property is purchased, Chinese property buyers will not pay additional or ongoing taxes in the future, only the one-off property transaction and registration fees. Needless to say, this makes properties in Dubai all the more affordable and best of all, lucrative, compared to other major global cities, where paying periodic taxes is mandatory.
5. Government Initiatives
Another aspect contributing to the heightened interest from Chinese investors in Dubai real estate is the UAE government's initiatives to strengthen ties between the UAE and China, as well as improve the real estate climate and transparency within the region.
All such improvements only boost the trust of Chinese investors and further drive investment in the Dubai real estate market. Such initiatives include the Golden Visa reforms, Silk Road MoU, the Belt and Road Initiative, and DLD presence in China. The Golden Visa, in particular, has been a game-changer as it grants foreign buyers a 10-year residency without the need for a national sponsor, along with 100% ownership of their property or business in the UAE.
In A Nutshell
With investors from all over the globe zoning in on Dubai investments, it's safe to say that the emirate's real estate market is internationally recognized as a rewarding investment. It's expected that even more Chinese investors will be encouraged to enter the Dubai property market thanks to the booming tourism industry, attractive prices, high rental yields, favorable business environment, and strengthening ties between the UAE and China.
All such conveniences only pave the way for Chinese buyers to view Dubai as the ultimate destination to diversify their investment portfolios and escape the real estate crisis back home. Also contributing to Dubai's appeal is the presence of digital crowdfunding platforms, such as SmartCrowd, which allow anyone, regardless of where they live, to invest in Dubai.
By allowing investors to purchase fractional shares of properties from the comfort of their own homes, whether based in the UAE or China, just about anyone can own a property in Dubai with the tap of a button. Be the first to know about all the best investment opportunities within Dubai by downloading the SmartCrowd app!