Dubai has always retained a unique luster and appeal to investors worldwide. After all, the city is known to be a global and regional business hub, which is why European investors, in particular, have been eyeing up the Dubai real estate market more than ever before.
Interestingly enough, as per data from the Dubai Land Department, British, French, and Russian investors topped the list of foreign nationalities investing in Dubai real estate last year, right after Indian citizens. What's more, European nationals constitute the second-largest demographic of users on the SmartCrowd platform, with British, Italian, and Russian nationals representing a significant portion of foreign property investors.
However, European nationals aren't only investing in properties abroad in order to diversify their portfolio, they're also looking for a secure way to shield their assets. Needless to say, the number of European investors from Russia and its neighboring countries is set to increase in light of recent events, as wealthy Russians are flocking to Dubai in order to dodge tight sanctions imposed on them.
So, from the average European investor looking for everyday cosmopolitan convenience to high-net-worth individuals (HNIs) seeking ways to secure their wealth, all roads lead to Dubai! With that being said, what really makes European investors gravitate towards the Dubai real estate market? Let's find out in this blog!
Why Do European Nationals Invest in Dubai?
If we're talking strictly numbers, then, of course, a high return on investment (ROI) is a compelling enough reason to invest in Dubai. Investment properties in Dubai offer rental yields typically above 6% on average, even reaching double digits in key Dubai communities, which is pretty much unheard of in many mature markets, like London or Singapore. And not to mention attractive capital appreciation!
So, we get it, Dubai properties can potentially generate a significant gain for investors. But besides looking to benefit from strong returns, there are indeed many other reasons as to why Dubai attracts European investors.
Overall Stability
For starters, Dubai has a relatively stable economy and presents a favorable business environment, attracting an ever-rising number of tourists, ex-pats, and, ultimately, investors.
Because of its strategic location, the emirate is also the de facto hub in the region for both developed and emerging markets, an element that is well-utilized by European investors. Being the meeting point between New York in the West to Tokyo in the East, Dubai offers a wealth of opportunities and incentives to foreign investors compared to major European cities.
Not to mention, Dubai was the only undervalued property market in the world compared to cities like New York, Hong Kong, and Paris, and the only one to be classified in a lower risk category than it was last year, according to the most recent report by UBS.
Livability – A Major Selling Point
Dubai is globally recognized as one of the best cosmopolitan cities to invest in, offering an unmatched standard of living compared to major European cities, like London or Paris. Coupled with its world-class infrastructure and requisite security measures, it's no wonder European investors are investing in Dubai properties.
Additionally, European expats not only enjoy living in Dubai due to its convenience, safety and security, but they also invest in the Dubai real estate market as it's highly transparent and regulated. Essentially, investors' interests are heavily protected, giving European investors considerable reassurance that their investment in Dubai is secure.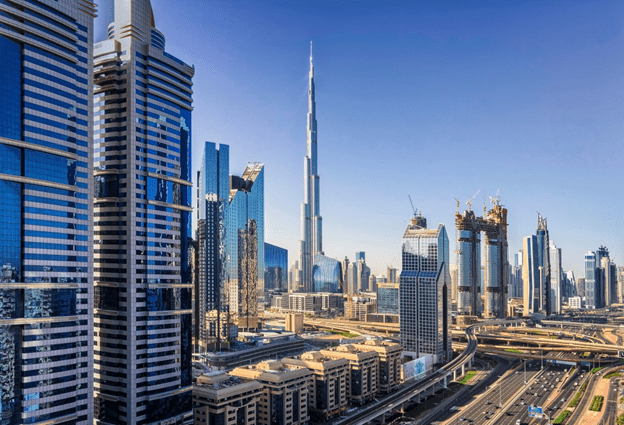 Less Hassle
Previously, foreign real estate investors were quite reluctant to invest in Dubai properties because of the nature of their visas. Nowadays, more investor-friendly policies have come into place, like the long-term residency permit, making investing in Dubai easier than ever before.
European real estate investors can now be granted a resident visa if they make a minimum investment of AED 1,000,000 for a freehold property, given that the property is ready and not under the mortgage.
And what else is Dubai known for? Well, not levying any property tax on investors! Meaning European investors don't have to worry about taxes eating away at their returns, as Dubai has no annual property tax, income tax, or capital gains tax, making it a more lucrative investment option. Put simply, there's a lot less worry and much more ease involved when it comes to investing in Dubai!
Accessibility
One of Dubai's main benefits that make investing all easier is the fact that it has more affordable properties in comparison to its counterpart cities, meaning there's something for everyone according to their budget.
In fact, investing in Dubai real estate is even more accessible these days thanks to online crowdfunding platforms like SmartCrowd, which aim to make investing in Dubai available to anyone regardless of income level. So, middle-class European nationals are able to invest in income-generating properties just as much as HNIs do!
By allowing investors to purchase fractional ownership of properties from the comfort of their own home, whether based in the UAE or Greece, anyone can own a property in Dubai at the click of a button. Investors can enjoy an all-digital experience with access to financial property market reports, allowing them to gauge how well the Dubai real estate market is performing.
In Brief
It's blatant that European investors are making a big impact in successful industries like tourism, agriculture, transport, fintech, and, of course, real estate, among other sectors. After all, foreign direct investments (FDIs) by European nationals further boost and diversify Dubai's ever-evolving economy.
Moreover, a successful post-pandemic strategy and an impressive expo 2020, among other initiatives and openings, have defied all odds for the real estate sector, and have instead shone a spotlight on Dubai's booming status, cementing the city's position as a top global investment option.
In terms of real estate investments, European nationals have been taking the opportunity to either diversify their portfolios or shield their wealth from sanctions by investing in Dubai's real estate, thanks to its stability, livability, ease, and accessibility. By using real estate investment platforms (REIPs) like SmartCrowd, European investors can now enjoy an entirely digital and regulated experience with easy access to the best investment opportunities in lucrative cities, like Dubai, without the hassle or paperwork!
Disclaimer: This blog is intended solely for educational purposes and shouldn't be treated as financial advice. We suggest you always conduct thorough research, perform your own due diligence and consult with financial advisors to assess any real estate property against your own financial goals.