According to Boston Consulting Group, there are 144,959 people with a net worth of between $1 million to $100 million and 115 people with $100 million or more in the GCC. Knight Frank estimates that 31% of these high net worth individuals are likely to purchase a property this year.
SmartCrowd's Premium program offers high net individuals (HNWI) investing in the Dubai property market a bespoke experience on its digital platform, that makes real estate investing efficient and hassle-free – while also offering investment opportunities that have outperformed the market with 40% to 50% higher returns than the market average.
So, why would a high net worth individual invest with SmartCrowd Premium?
Cost and Tax Benefits
With SmartCrowd Premium, HNWIs' pay lower percentage fees for any investment that they make on the platform. Moreover, as they are investing as part of a DIFC-registered special purpose vehicle (SPV), which is essentially a company that they hold shares in rather than individually investing on their own, HNWI investors gain tax benefits and are charged less for any property taxes that they are liable for in their home country. Moreover, the UAE doesn't have any property, income, or capital gains taxes – meaning that investors can enjoy their earnings to the fullest! 
Safe and Secure
We're the first and largest real estate investment platform in the Middle East. We are regulated by the Dubai Financial Services Authority (DFSA) and Dubai International Financial Centre (DIFC) – while also working directly with the Dubai Land Department (DLD) when purchasing any properties in Dubai.
Investments are also registered with SPVs in order to isolate and securitize a property investment in a separate company. The operations on the SPV are limited to the acquisition of the property to centralize ownership to the SPV, comply with DLD limits on the number of names on a title deed and isolate the risk of the SmartCrowd platform and other properties. These SPVs protect investors from SmartCrowd liabilities, as well as protection in the unlikely scenario where SmartCrowd goes bankrupt. The SPV is registered with the DIFC and your ownership is recorded on the public register. Moreover, the SPV is also registered with the Dubai Land Department, providing a legal trail of your ownership of the property via the SPV.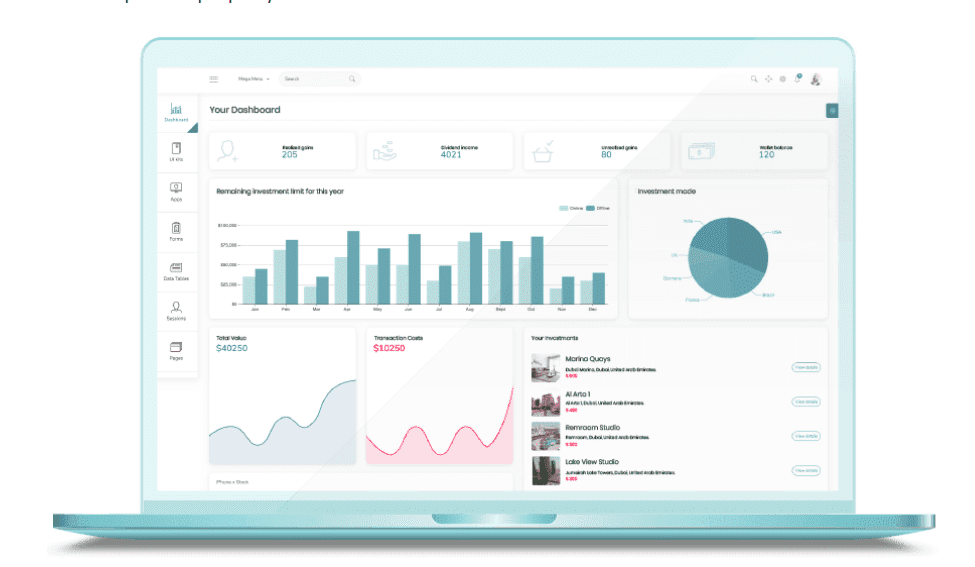 A Bespoke Experience
With SmartCrowd Premium, HNWI investors receive a customized experience to their preferences. Not only do investors receive a digital and customized dashboard – which shows their entire portfolio performance immediately – but also received regular market reports on the Dubai property market, a dedicated relationship manager who is always available.
Want to dedicate property investment to those close to you? No problem, investing is always better with friends and family. Looking beyond the Dubai property market for real estate investing? Sure! We can make it happen. 
Rigorous Property Selection
With decades of real estate and market experience, our dedicated team of analysts vets hundreds of properties in the market, but only a handful make it onto the platform. Our 100 datapoint screening tool allows us to cut through the noise and identify the best performing and highest potential properties in the market. For us, it's quality over quantity. Not only that, but SmartCrowd Premium investors also have access to our team for a tailored portfolio management experience. Whatever your needs may be, we'll devise a strategy to help optimize your portfolio's asset allocation for you, so that you can reach your financial goals. 
A Diversified Portfolio
Our platform enables investors to diversify their portfolio by investing in multiple properties for the same cost it would be to purchase one! Real estate investing is a capital-intensive industry, high-performing properties can cost hundreds of thousands, if not millions, to purchase. Why purchase one property for one million, or five for five million, when you could purchase ten, fifteen, twenty, for the same price? With SmartCrowd, our technology and platform can make it happen. 
So, there's a lot to like about investing with SmartCrowd Premium. With a minimum investment of AED 500 per property you invest in, the barriers to entry and diversification have never been lower in real estate investing! Sign up for SmartCrowd Premium today!