Dubai is one of the best cities for real estate investment. It has a wide array of real estate projects for investors, ranging from commercial to residential properties such as apartments, villas, etc. Regardless of the size of the investment, it is important to find the right location of the property to invest in as it is a primary factor that helps determine the return on investment. Today, we will share with you the 10 of the best areas to make property investments in Dubai.
Dubai Marina
Dubai Marina has remained the preferred location for real estate investors in Dubai for the past few years. The location offers a great mix of apartments, villas, and a wide range of retail outlets and dining places making it a hot favorite among property investors in Dubai. Bayut published a monthly real estate report for Dubai in January 2018 which highlighted that the asking prices for properties in Dubai Marina were stable, making it a great location to invest in property.
Palm Jumeirah
Palm Jumeirah is another evergreen favorite with real estate investors in Dubai – which also happens to top the list of best-performing luxury areas. Over the last few years, Palm Jumeirah's location and amazing projects have made it one of the most reliable locations for real estate investments in Dubai. Currently, the Palm Beach Residencies and Raffles projects are being developed which, on completion, will certainly further boost the demand for this location. Apart from apartments, the Palm Jumeirah is also famous for its luxury villas. High demand in the share transfer adds to the allure of buying a property here.
Arabian Ranches
Arabian Ranches is undeniably the most popular villa community in Dubai. It is a desert-themed development that is spread across 1650 acres of land. It features a premium golf course, and peaceful surroundings and is situated close to the Burj Khalifa and the Dubai Polo and Equestrian Club. Real Estate investors prefer the Arabian ranches due to the longevity of the off-plan projects and high demand in the share transfer.
Jumeirah Village Circle (JVC)
The Jumeirah Village Circle is a compact, gated community set in the heart of Dubai. It has a peaceful village setting with the latest amenities and houses over 2000 luxury villas and exclusive townhouses. It is an ideal place for families and has two international schools, a community center, clubs, and medical facilities. It offers easy access to all main arterial roads and to Dubai Marina and Jebel Ali. Add to it the competitive pricing of the properties, real estate investors have shown an increasing interest in this location. The rental yields on properties here are also very credible.
Dubailand
Dubailand offers a great combination of world-class entertainment, sports, leisure, and residential communities like Dubai Lifestyle City, The City of Arabia, and Mudon. While it drives Dubai's growth in tourism, the residential projects cater to the needs of property owners with style. Dubailand is famous among real estate investors for both apartments and villas. With Expo 2020 already underway, this area is attracting a lot of interest too.
Downtown Dubai
Downtown Dubai needs no introduction. Home to the famous Burj Khalifa and the Dubai Mall, it is one of the world's most visited destinations. Also known as 'The Centre of Now', Downtown Dubai is a mega-development spread across 500 acres of land. This area is famous for luxury apartments in its heart and quainter ones in the Old Town. The demand for properties in the area is expected to last with the Burj Khalifa. Even though the prices are on the higher end of the spectrum, high demand in the share transfer and high rental yields make this a great investment location.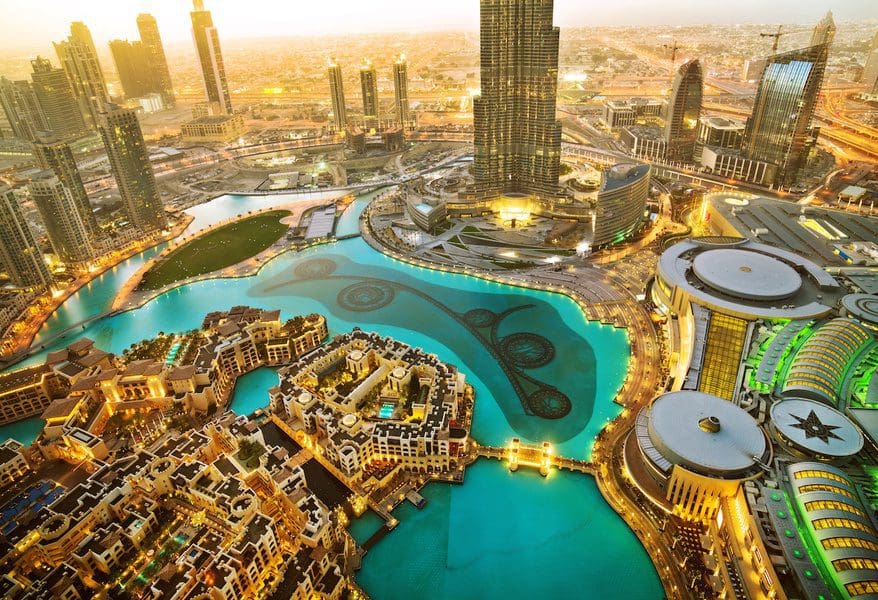 Jumeirah Lake Towers (JLT)
Jumeirah Lake Towers comprises 87 high-rise towers constructed around four artificial lakes spanning an area of around 1.35 million square feet. These towers lie between the Dubai Marina and Jumeirah Heights. The apartments are affordable and offer access to a plethora of dining outlets, bars, gymnasiums, swimming pools, fitness centers, etc. The famous Dubai Marina Mall is right across the road from JLT.
The Springs
The Springs are another established gated community of townhouses redefining modern living in Dubai. It is set amidst great landscaping and scenic waterways. Real estate investors looking to buy a villa in Dubai find this location ideal due to its proximity to schools and recreational facilities. It has over 4,800 townhouses and offers its residents access to community retail centers, restaurants, cafes, swimming pools, and more.
Business Bay
Business Bay is located right next to Downtown Dubai and extends from Ras Al Khor to Sheikh Zayed Road. It is a famous commercial hub of Dubai and has an important role to play in making the UAE a major business destination. It has more than 240 buildings comprising both, residential and commercial structures. Spread across an area of around 46.9 million square feet, nearly 22% is dedicated for residential purposes, 18% for commercial purposes, and the rest for various combined usage. It is one of the most fast-developing areas of Dubai with an ever-increasing demand for property. With major roads, schools, malls, medical, recreational, and other amenities in its proximity, Business Bay is definitely one of the best areas for investment in Dubai.
Dubai Sports City
The Dubai Sports City is located along the Sheikh Mohammed Bin Zayed road corridor and is close to the Al Maktoum International Airport. It offers a mix of residential and commercial properties along with retail and sports facilities. It is one of the first communities to embrace the Dubai Government initiative of reducing carbon emissions. As the first step in this direction, all normal sodium street lamps are being replaced by solar-powered LEDs. It also plans to create a solar farm to reduce the load on the Dubai grid and generate savings for the community.
Conclusion
There are several top areas for property investments in Dubai. However, the choice varies depending on the type of properties you're looking at. For example, when it comes to villas, Palm Jumeirah definitely tops the list. On the other hand, if you're considering properties with higher demand on their rent, JVC is a popular choice for residents – given its high affordability. In short, choosing the right area is key for a successful investment. That being said, it's recommended you keep up with the latest property trends and reports to determine where is the best area to buy a property in Dubai. Our users are constantly aware of the latest property news by reading our data-driven reports and blogs.