In Dubai, listing your rental property on Airbnb is a complete no-brainer. Why is that? Well, it was recently crowned the most profitable Airbnb city in the world! A survey carried out by a UK-based landlord insurance company, CIA Landlords, found that investors with properties in prime areas, like near Burj Khalifa, typically earn their money back in just 4 months.
So, regular victories aside, what makes Dubai the best city for short-term rental investments, widely contributing to its success on Airbnb? We explore how and why the rental market in Dubai is moving towards a more short-term model in this blog, so keep reading!
In Brief: Dubai's Short-term Rental Industry
Let's be real, not everyone can afford to invest in a property near Burj Khalifa (with SmartCrowd, though, that's no longer the case, but we'll get to that later!). However, the good news is that the short-term rental industry is booming in Dubai, mainly since the pandemic restrictions subsided and the world expo began.
With Dubai's allure as a destination where leisure meets business, short-term rentals and holiday homes have gained immense popularity rather quickly among investors and travelers alike. There's now a greater investor appetite for Dubai properties, as well as an increased tourist activity in the city, evident by the incredible growth we've seen over the past few years since holiday homes were made legal in 2016. Plus, with Airbnb and other holiday home operator services gaining momentum, this goes to show that holiday home units indeed make for lucrative investment opportunities.
What's also great about this particular industry is that it's actually a win-win for everybody! Property owners can generate even more money in rental income, especially in prime Dubai areas and during high seasons, as this space offers returns that tend to be up to 40% more than the usual long-term rental yield. Further, tourists and guests have a range of options to choose from depending on their needs, purpose, and budget. So, let's get into why investing in a short-term rental is a recipe for success!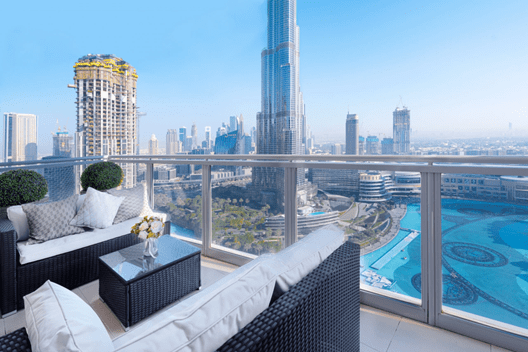 Thriving Tourism Sector
Given all the wonders Dubai has to offer, it's clear why tourism is an incredibly profitable sector for the city. After all, Dubai is a global metropolis where East meets West, drawing just about anyone to the city! Indeed, people worldwide are itching to travel after the Covid-19 pandemic, and sure enough, Dubai is certainly the place to be.
With so much going on, this move towards short-term rental has come at the right time given the consistent influx of tourists. In turn, this is undoubtedly great news for investors, as such a high demand for properties in the city means that holiday homes or short-term rental units are expected to have a high occupancy rate.
Something For Everyone
Short-term rentals are essentially designed to serve travelers visiting for both leisure and work opportunities, so there's always something for everyone! For that reason, short-term rentals are tailored to accommodate the various travel requirements and purposes, so they can operate as a holiday home or even just as a place to work.
This means visitors can now rent a one or two-bedroom apartment for the price of a single hotel room via short-term rental service operators like Airbnb, where they have more privacy and space to make their own food, do laundry and still access nearby facilities and amenities. This accessibility to just about anyone means that occupancy rates will remain high – another reason to invest in a short-term rental!
Luxury Meets Flexibility
The short-term rental market offers an unmatched level of flexibility and luxury, where visitors are spoiled for choice without having to compromise the standard of quality. Now, apartments feature more premium furniture, ample space and next-level amenities, proving to be more luxurious than a hotel in some cases!
Dubai's major commercial hotspots, like Dubai Marina, Downtown, and Business Bay, perform particularly well in terms of holiday homes, as they not only provide luxury, but also great flexibility for visitors through the accessible transport links, enticing leisure activities, and close proximity to the beach. Plus, with Dubai's ease of ordering groceries, takeout, or just about any last-minute service, it's definitely no wonder that the short-term rental market has taken off!
Attractive Incentives and Initiatives
In an effort to make Dubai the most attractive city in the world from all aspects, incentives and initiatives are constantly introduced – and it's certainly paying off! With initiatives like the successful vaccination program, as well as the expansion of the golden visa scheme, it's becoming much easier for property owners to enter the market, as well as tourists to stay in Dubai.
Residents and overseas investors are taking advantage of low-interest rates and banking regulations. Additionally, Dubai is on a mission to be the most transparent property market in the world by constantly implementing standards and measures to attain that position, effectively attracting more tourists and foreign investors to the Emirate.
In Short
In Dubai, short-term rentals certainly come with long-term rewards! However, it is worth noting that Dubai is still a long way from catching up with other major cities, like New York or London, solely based on the number of Airbnb listings in relation to tourists per year. Still, while some investors may be skeptical about investing in Airbnb properties, there's a clear demand for such units in this space, making it a profitable move to invest in Dubai.
With so many opportunities on the horizon, as well as a high influx of tourists, we can expect a considerable increase in occupancy rates. As always, it's vital to weigh up the pros and cons of investing in anything, but for those who get it right in terms of location, property, and management, then the rewards can be significant.
Luckily for you, SmartCrowd gives you the chance to own a fraction of a prime short-term rental property, or properties, on the platform! We then list this property on Airbnb, so you don't have to do anything at all. We only vet the best properties that align with current market trends, adapting supply accordingly, so you can be assured that your investment is in safe hands. By providing you with all the due diligence, independent market reports, and property valuation, you are given full transparency and control of your investments in a seamless digital investing experience.
Head over to our platform now, browse our latest properties and start your wealth creation journey today!
Disclaimer: This blog is intended solely for educational purposes and shouldn't be treated as financial advice. We suggest you always conduct thorough research, perform your own due diligence and consult with financial advisors to assess any real estate property against your own financial goals.