In recent years, Dubai has become a top destination for foreign investors seeking to purchase holiday homes and long-term rentals. At present, Indian nationals have topped the list of property buyers by nationality in Dubai, followed by European nationals from the UK, Italy, Russia, and France, altogether constituting the top 5 list.
For context, Indians typically rank first among foreign investors in Dubai's thriving property market, Brits regularly appear in the top 5 nationalities that invest in Dubai, and Russians were actively pouring money into Dubai properties in the wake of Western sanctions earlier this year.
But, interestingly enough, Italian and French foreign property investors have ranked high up in the list, representing a surge in Western Europeans investing in Dubai, and we'll be exploring some reasons why in this blog.
So, why do French and Italian buyers invest in Dubai?
Though Europeans have generally dominated the Dubai real estate market this year, we notice a significant increase from Western countries, primarily Italy and France. Western European nationals are snapping up ready properties in the luxury segment in Dubai, especially in popular areas such as Palm Jumeirah, Dubai Marina, and Downtown. Let's find out why:
1. High Return On Investment (ROI)
Compared to major global markets, like London, New York, or Hong Kong, investment properties in Dubai offer rental yields typically above 6% on average, even reaching double digits in prime Dubai areas.
This is quite exceptional compared to yields offered in its counterpart cities, which typically do not exceed 3-4%, making it a rewarding experience for Italian and French investors. Plus, average rental yields in Italy and France are 3.92% and 2.79%, respectively.
The current high demand for Dubai real estate also allows investors to charge higher rental rates, as well as sell their properties promptly, offering faster liquidity than typical real estate investments back home. Given Dubai property prices are still on the rise, investment properties can potentially generate a significant capital gain for investors.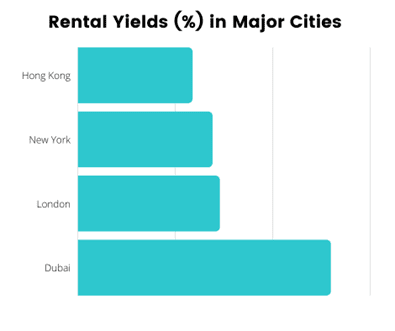 2. Golden Visas
Previously, European real estate investors were quite reluctant to invest in Dubai properties due to visa restrictions. Nowadays, more flexible and investor-friendly policies have been implemented, like the long-term Golden Visa, making investing in Dubai easier than ever before.
This, in particular, has been a game-changer as it grants foreign buyers a 10-year residency without a national sponsor, along with 100% ownership of their property or business in the UAE. This is set to entice more Western European nationals, including Italian and French investors, over the coming years, as they can now be granted a resident visa if they make a minimum investment of AED 1,000,000 for a freehold property, as long as the property is ready and not mortgaged.
Additionally, foreign buyers investing in property in the UAE can now obtain the golden visa directly through real estate developers, as the latter take advantage of the scheme as demand grows.
3. Overall Stability
Europe's geopolitical climate is driving European investors to migrate their business to Dubai and even relocate entirely. Why is that? Well, Dubai has a relatively stable economy with a strategic location.
Meanwhile, the Euro has weakened, which is the main currency of both Italy and France. On the other hand, the UAE's local currency exchange rate (dirham) has been pegged against the dollar, a rate that's been fixed since 1997, ensuring no financial losses caused by the exchange rate fluctuations.
That said, French and Italian investors would benefit and have been benefiting from the stable Dubai real estate market, as it creates a hedge against depreciating currencies like the Euro. Aside from their moving their funds to Dubai properties, investors could also certainly benefit from capital appreciation thanks to a strengthening dollar-pegged dirham, given the federal reserve maintains its aggressive monetary policy.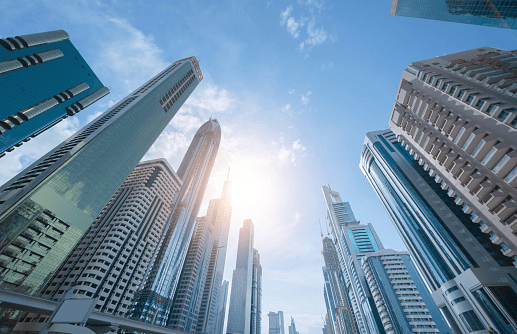 4. Tax-free Haven
What also sets Dubai apart in the eyes of Italian and French investors is the fact that the city doesn't impose any property tax on investors! Taxes aren't a concern for foreign investors investing in Dubai, as they aren't subject to annual property taxes, income taxes, or capital gains taxes.
That's because once a property is purchased, owners don't pay periodic taxes, only the one-off property transaction, and registration fees. This means that investors can rent out properties and pocket their tax-free profit without worrying about additional costs, making Dubai a more lucrative investment destination.
5. Accessibility
Dubai offers more affordable properties than its counterpart cities, so foreign investors can always find something that suits their budgets. Though property prices are on the rise, there's no point in waiting for housing to become cheaper, as Dubai is just as affordable as it gets compared to its counterpart cities.
Besides, online crowdfunding platforms like SmartCrowd have made investing in Dubai real estate even more accessible these days, regardless of income level. Real estate is no longer an asset class reserved for the wealthy, meaning middle-class European nationals can invest in Dubai properties just as often as high-net-worth individuals do!
By allowing investors to purchase fractional shares of properties from anywhere in the world, whether based in Italy or France, it's possible for just about anyone to own a property in Dubai – without the hassle or paperwork!
In A Nutshell
The city's real estate landscape is ever-expanding and ever-evolving, driven by effective initiatives and growth drivers that entice people from all over the world to invest in Dubai. More recently, we're witnessing an influx of Western Europeans, namely from Italy and France, taking advantage of Dubai's real estate offerings and standing as a world-class investment hub.
Of course, there are also other factors that have helped facilitate foreign property investment, such as Expo 2020 and the emirate's successful post-pandemic strategy. As demand and property prices rise, it's expected that foreign investors from other overseas countries will also enter the Dubai real estate market in no time.
That said, if you're thinking about investing in Dubai, then now is a great time to hop on the property ladder, as the market is looking promising, with high ROI compared to global markets, along with a sustained rise in real estate prices. And what better place to start than SmartCrowd? Download our app today!
Disclaimer: This blog is intended solely for educational purposes and shouldn't be treated as financial advice. We suggest you always conduct thorough research, perform your own due diligence and consult with financial advisors to assess any real estate property against your own financial goals.