Forget Covid, it looks like the metaverse will become the new normal! The UAE has taken a leap into the future, embracing all-new technologies, like NFTs, blockchain, and AI at a rapid pace. People are spending maximum hours in the virtual world for gaming, shopping and even getting married online!
Indeed, the evolution of Web 3.0 and the metaverse is poised to transform many sectors, particularly real estate. Here's everything you need to know about the metaverse scene in the UAE and how it's set to benefit the country.
What about the Metaverse?
Simply put, the metaverse can be defined as a progression towards digitizing the physical world as we know it. It's essentially a step up from social media, encompassing elements of augmented reality to create an immersive, multi-user virtual world platform, where users can connect with others and engage in various forms of digital media within these realms.
To better understand the metaverse, we can look closely at the evolution of the web, starting with Web 1.0 in the late nineties, which was characterized by basic web pages. This initial version was followed by the current state, Web 2.0, which integrates social media networking and content creation.
The metaverse is being perceived as an integral part of Web 3.0 – the third evolution of the world wide web from its initial form, and is gaining traction rather quickly among people and businesses in the UAE, with the global metaverse industry's value projected to hit $828.95bn by 2028.
Metaverse – In the UAE
The UAE has always been at the forefront of all the latest digital technologies and innovation, and, as a result, is recognized as an ideal destination for doing business. That's why the country has ambitions to make the metaverse a reality, all to improve different aspects of our daily life and the way the city operates as a whole.
After all, a recent Accenture report found that around 84% of consumers in the UAE are spending more time online compared to pre-pandemic levels. This goes to show how the digital realm is heavily permeating our lives, blurring the lines between what's virtual and what's real.
One other aspect of Web 3.0 is that it will inevitably disrupt several sectors, through the integration of digital assets and the use of blockchain to track ownership through smart contracts and NFTs. As a matter of fact, there are already existing metaverses online in Dubai that are using blockchain in a virtual world, with breakthroughs in the NFT sector for entertainment, gaming, retail, event management, art, and real estate.
That said, the potential is limitless, and every company in the region will ultimately secure its spot in the metaverse. While some companies cannot completely shift to a digital-only experience, they will still evolve to host meetings inside the metaverse and explore new ways to engage with both new and existing customers.
So, let's have a look at the industries in the UAE that are already embracing the metaverse with open arms!
Smart Cities
Earlier this year, the Dubai Municipality announced plans to create a digital twin of Dubai in the metaverse. This futuristic version of Dubai is named 'One Human Reality' and will combine elements of virtual and augmented reality, cryptocurrency, video games, social media, and other advanced technologies, in the hopes that it will become a marketplace that is worth billions in the next few years.
In other countries, we are already seeing companies and even universities look more rigorously into the idea of building a digital twin. Similarly, South Korea's capital, Seoul, announced plans to spend $3.3bn to become a metaverse city by 2030, so people can attend government offices from the comfort of their own homes. With such huge potential, we certainly can't wait for the One Human Reality concept to come to fruition!
Future-forward Fashion
UAE fashion is certainly keeping up with all the current trends! Back in March, UAE ready-to-wear fashion house BRIAR PRESTIDGE – The Label launched a collection of digital power suits at the first-ever Metaverse Fashion Week.
Homegrown fashion retailer 'Splash' has also collaborated with Boredpuma to launch the first-ever NFT collection and collaboration of its kind in the Middle East named 'Celestial Collection'. The sustainability-focused collection features NFTs in the form of characters within the metaverse, with artwork created by Jong Sacil.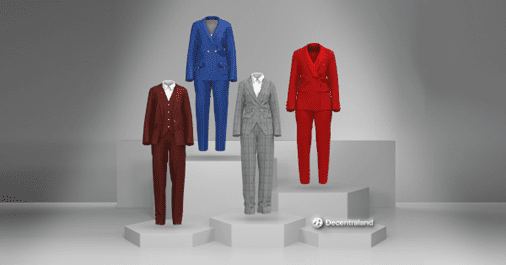 Virtual Venues
The very first crypto lounge is here! The Dubai-based lounge-restaurant 'MetaTerrace' is located at Central Park Towers in DIFC and gives a glimpse of the digital future, all while boasting a backdrop of glittering views of the Burj Khalifa. The futuristic venue has its very own VR room that provides a fully-immersive insight into the virtual realm, allowing guests to experience life in augmented reality.
Visitors will be given the option to transact and make bookings in most cryptocurrencies and blue-chip NFTs. With all the making to become Dubai's crypto hotspot, the MetaTerrace is where enthusiasts and innovators can launch their projects, host meetups, and meet like-minded individuals.
But it doesn't end there for mixed-reality venues, as you can also find award-winning Dubai burger joint, Pickl, in the metaverse! Pickl fans will be able to participate in exclusive brand-themed games and purchase virtual apparel, and Pickl-inspired NFTs, which can be redeemed for physical items, or used to customize their avatar. Plus, Pickl will be launching its very first virtual restaurant later this year, with plans to integrate Pickl in the metaverse with Pickl's real-life delivery service, so you can receive burgers at your doorstep – for real!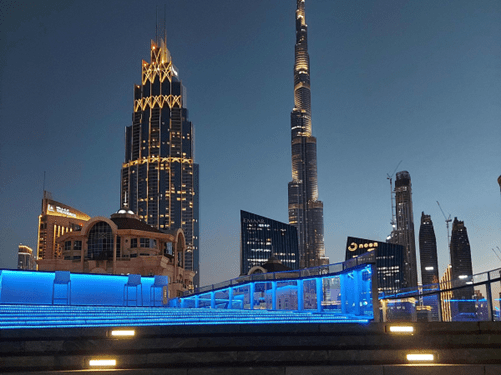 Flights into the Future
Emirates airline has announced that it will soon launch NFTs and other digital experiences in the metaverse for both its passengers and employees. Be it by selecting a seat, shopping for duty-free products, and even touring the airport, Emirates airline customers will soon be able to experience airline services in the metaverse.
Before buying their tickets, Emirates airline passengers will get the chance to enter the aircraft, select the seat, move on to the menu, and even select the food as per their liking – all on the metaverse. Afterward, they can tour the airport and visit the duty-free area to buy products and get them delivered straight home, or in the aircraft itself!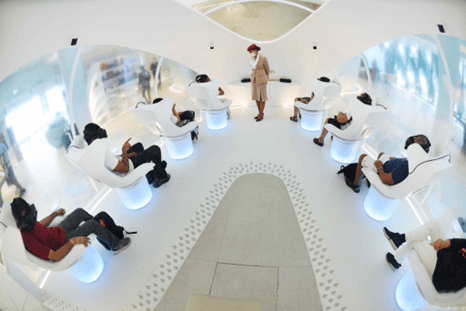 Revolutionary Healthcare
What's more, the UAE's Ministry of Health and Prevention (MoHAP) announced that it plans to launch the world's first metaverse customer happiness service center in the health segment.
This new virtual service will take customer experience to new heights by addressing customer queries digitally in the form of an interactive, sensory experience. The new offering will fulfill all needs and services without the need for customers to physically visit a customer happiness center.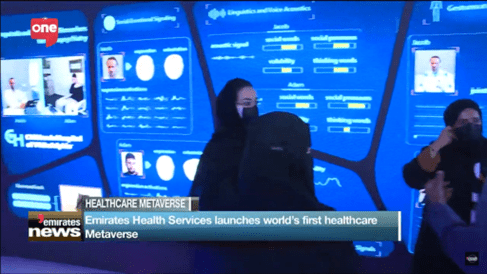 Virtual Real Estate
According to recent MetaMetrics Solutions data, real estate sales in the metaverse topped $500 million in 2021, with the sales volume expected to double this year. Now, we previously touched on virtual real estate in the metaverse, but virtual real estate in the UAE is certainly hotting up!
The country's real estate sector is standing first in line to benefit from the metaverse, as it's set to run on blockchain technology and the adoption of NFTs. Blockchain will facilitate ownership of NFT-based digital assets, which include virtual real estate, or plots of 'land', inside the metaverse.
By leveraging Dubai's investor community and the population's comfort with the concept and prospects of the metaverse, many real estate companies, including Union Square House and Damac, plan to develop and sell ultra-luxury digital properties as NFTs.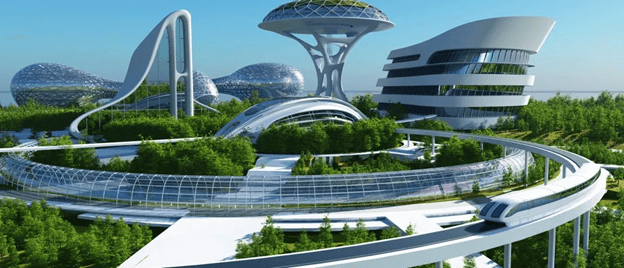 Dubai Digital Laws
To ease this transition to the virtual world, Dubai also recently passed its first-ever law on regulating virtual assets, as virtual assets can be traded in the metaverse. This new law was implemented to cement Dubai's position as a world leader in emerging technologies, like cryptocurrency and blockchain.
This law will attract investment, talent, and companies while encouraging innovation and regulation. The Dubai Virtual Assets Regulatory Authority (VARA) will be tasked with overseeing and regulating the virtual assets market in Dubai, as well as licensing virtual asset service providers, to help the digital industry evolve in a more accountable and secure way.
Key Takeaway
It isn't easy to predict what the metaverse will become in the next few years, as security and authenticity remain valid concerns on the metaverse. But what we know for sure is that the metaverse is just the tip of the iceberg, so possibilities are endless!
The UAE has proven time and time again that it's a leading global and regional hub for innovation, with local businesses showing high interest and passion for adopting cutting-edge technologies in their models, helping them expand their outreach both geographically and virtually. With projects like 'One Human Reality' underway, the adoption of the Virtual Assets Law, and the introduction of multiple blockchain-focused companies, the UAE has shown not only a ready acceptance of these breakthrough technologies but a desire to lead the way into the future.
Indeed, we could be witnessing a virtual revolution right before our eyes, which is why forward-thinking companies who are receptive to these new ideas could very well be rewarded for it. Suffice to say, this new virtual space is creating opportunities for businesses and individuals like never before.