As a thriving global metropolis that boasts a growing economy, attractive luxury lifestyle, and world-class infrastructure, Dubai has long been a hotspot for tourists and investors alike.
Now, looking ahead to 2023, there are a few specific areas in Dubai that stand out as particularly promising for investment. After all, a strategic location is key for those looking to buy property in Dubai as investors are after high rental yields, capital appreciation, and overall appeal.
From the iconic downtown district to the deluxe neighborhoods of Dubai Marina and Palm Jumeirah, we will be taking you on a tour of the best areas to invest in Dubai in 2023. So, whether you're new to the Dubai real estate market or a seasoned investor, these are the areas that should definitely be on your radar:
Business Bay
Downtown Dubai
Palm Jumeirah
Dubai Marina
Jumeirah Lake Towers (JLT)
The Greens and Views
Why these areas make for a great investment in Dubai:
Business Bay
Located just south Downtown Dubai with a prominent canal-side location, Business Bay offers tourists a unique opportunity to experience the best of what Dubai has to offer without breaking the bank, hence why it has been the most transacted area in 2022 (Source: Reidin). Being one of the fastest-developing areas of Dubai, with demand for its limited properties rising accordingly, new supply will be entering the market in 2023.
This trendy, mixed-use community is also known to be Dubai's skyscraper district, with uninterrupted vistas of the Burj Khalifa, Downtown Dubai, and the Canal, all of which can be seen from any one of the area's many rooftop getaways. Brimming with beautiful hotels like Double Tree by Hilton, Paramount Hotel, SLS, The Pullman, and Radisson Blu, there is certainly no shortage of upscale leisure offerings in Business Bay.
By offering such high-end amenities and a fast-paced premium lifestyle in a central location, Business Bay has also become a sought-after short-term rental destination as well as a major business destination, considering its close proximity to the more expensive Downtown district. Both property prices and rental rates have risen 15% and 34%, respectively, over the past year, making it a top location to buy property in Dubai.
Downtown Dubai
Downtown is the heart of the city, attracting high demand from high-net-worth individuals and foreign buyers looking to invest in Dubai. Defined by its world-renowned landmarks – the Burj Khalifa, the Dubai Mall, and the Dubai Fountain – this prime location will always remain a firm favourite for both long-term and short-term rentals in Dubai. Its luxury high-rise towers, upscale community and spectacular nightlife has made it one of the most transacted areas in Dubai, backed by its strong rental market and increasing apartment sale and rental prices (14% and 41% Y-o-Y, respectively).
With more high-net-worth individuals (HNWIs) and international executives looking to settle in Downtown, a surge in demand will continue to outstrip supply, and studios, with their limited supply, will be priced at a premium. Additionally, if you manage to buy a property in Dubai with views of the Burj, you'll generate promising returns on platforms like Airbnb. Though Downtown is naturally a pricier area, especially around Sheikh Mohammed Bin Rashid Boulevard and Armani Hotel, huge demand and high rental yields make this a great investment in Dubai.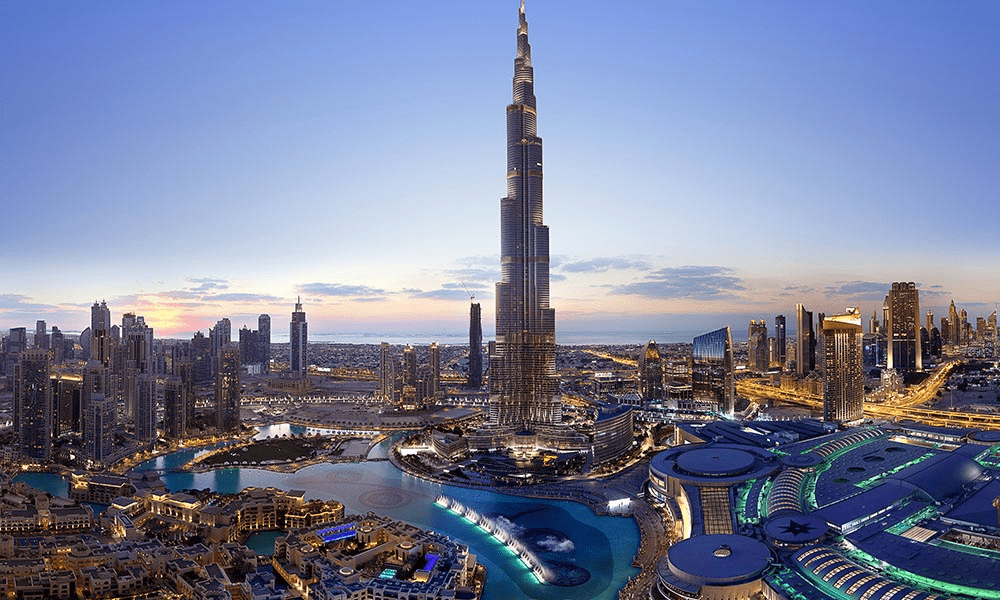 Palm Jumeirah
This palm tree-shaped man-made island is increasingly becoming one of the most popular prime areas to invest in Dubai properties. Indeed, as the epitome of everything luxury, there's no shortage of beachside apartments, bespoke villas, restaurants, entertainment venues, resorts, and retail hubs, like Nakheel Mall and The Pointe.
For that reason, Palm Jumeirah has been one of the best-performing areas for luxury real estate, as tourists and high-net-worth individuals from all over the world gravitate toward its incomparable retreat-like privacy and world-class quality. The growing demand for luxury villas, in particular, alongside its high occupancy rates touching 88%, and soaring sale and rental prices for villas (45% and 40% over 1 year, respectively) make it a promising investment in Dubai.
Dubai Marina
Situated right between JLT and JBR, this sought-after area is brimming with dining, leisure, and retail spots, where residents and tourists can enjoy close proximity to major attractions, including the nearby Walk at JBR, Bluewaters Island, and the Dubai Harbor. The Marina enjoys a stunning waterfront location, encircled by a scenic promenade that stretches 3.5km over the artificial canal. Not only that, there's easy access to the metro and tram stations which link to Downtown Dubai, Business Bay, and JBR making it the best-connected development in Dubai.
Consequently, Dubai Marina has been the most transacted area for the year in ready-sale apartments, especially in the luxury segment, and is one of the best areas to invest in Dubai premium holiday homes – as evidenced by its 87.04% occupancy rate. Dubai Marina's limited upcoming supply and increasing rental prices, 29% Y-o-Y, make it a great choice for those looking to make a valuable investment in Dubai and capitalize on the strong rental market.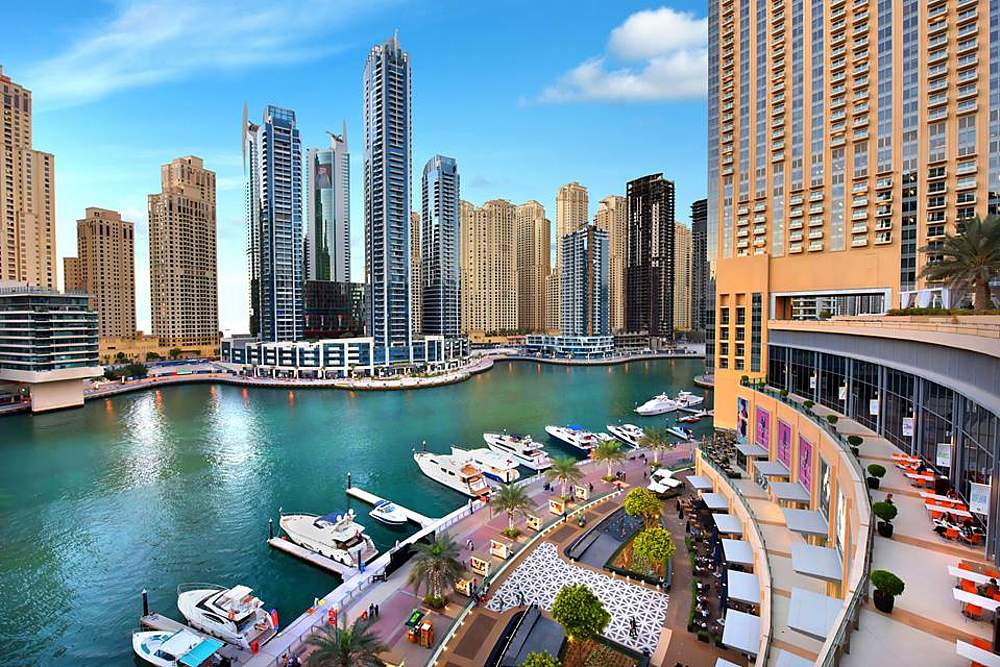 Jumeirah Lake Towers (JLT)
Built around four artificial lakes, JLT is a business hub that neighbours Dubai Marina, with the perfect blend of residential and commercial towers that cater to all budgets and property needs. Thanks to its proximity to Dubai Marina, Downtown Dubai, and other major commercial hubs, JLT has benefited from an influx of buyers seeking more affordable mid-range properties in Dubai, resulting in a high occupancy rate.
JLT also boasts apartments with waterfront views and high-class amenities, hence why rental rates have risen 27% over the past year. Additionally, JLT is a well-connected development, situated between two metro stations, Jumeirah Lake Towers and Damac Properties. Overall, JLT is known to appeal to all, with 600 retail outlets, over 300 restaurants, and cafes, 5 hotels, child-care facilities, outdoor activities, educational institutions, and much more.
JLT's increasing rental prices, proximity to major commercial hubs, and lower price tag for similar amenities in more expensive areas make it a good choice for those looking to invest in the Dubai real estate market.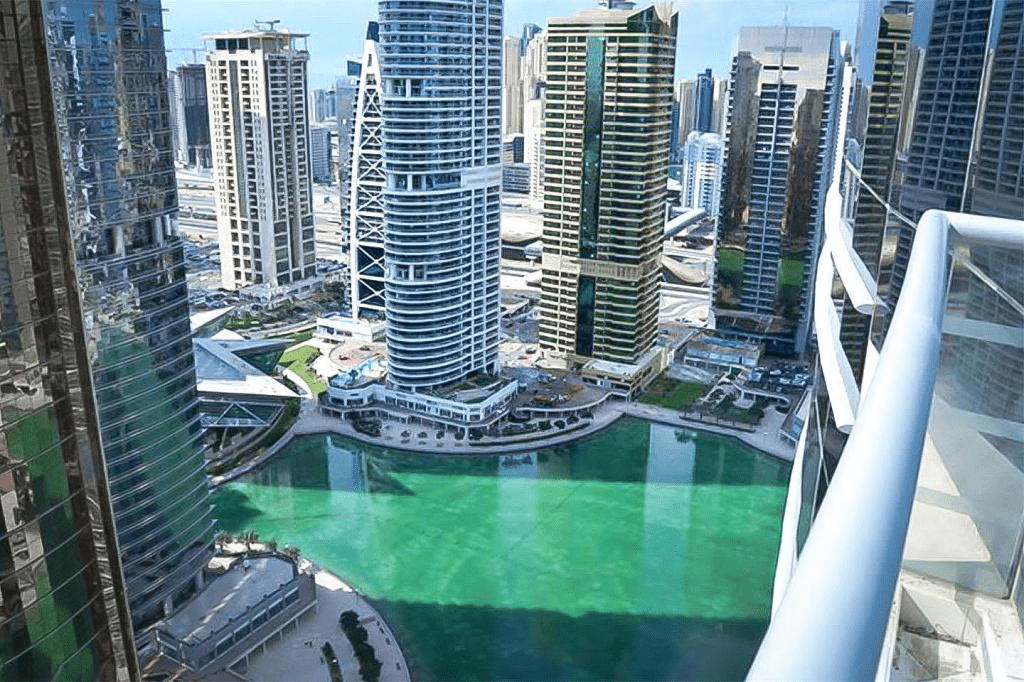 The Greens and Views
Developed by renowned developer, Emaar, as part of the Emirates Living communities, The Greens and Views are known for their high-quality construction and excellent amenities. Located near the Dubai Knowledge Park, Internet City, and Media City, these picturesque areas are conveniently nestled between the greenery of Emirates Golf Club and Barsha Heights, with a stunning lake separating The Greens and Views.
This peaceful, urban setting is a great area to reside and invest in a Dubai long-term rental, as it features leafy footpaths, beautiful waterways, shopping centers, international schools, world-class golf courses, and five-star hotels. Both areas have access to the same facilities and amenities, with The Greens being a more affordable area compared to its neighboring high-end development, The Views. With sales and rental prices increasing 9% and 18%, respectively, over the past year, along with close proximity to the Mall of the Emirates, The Greens and Views make for a great investment in Dubai.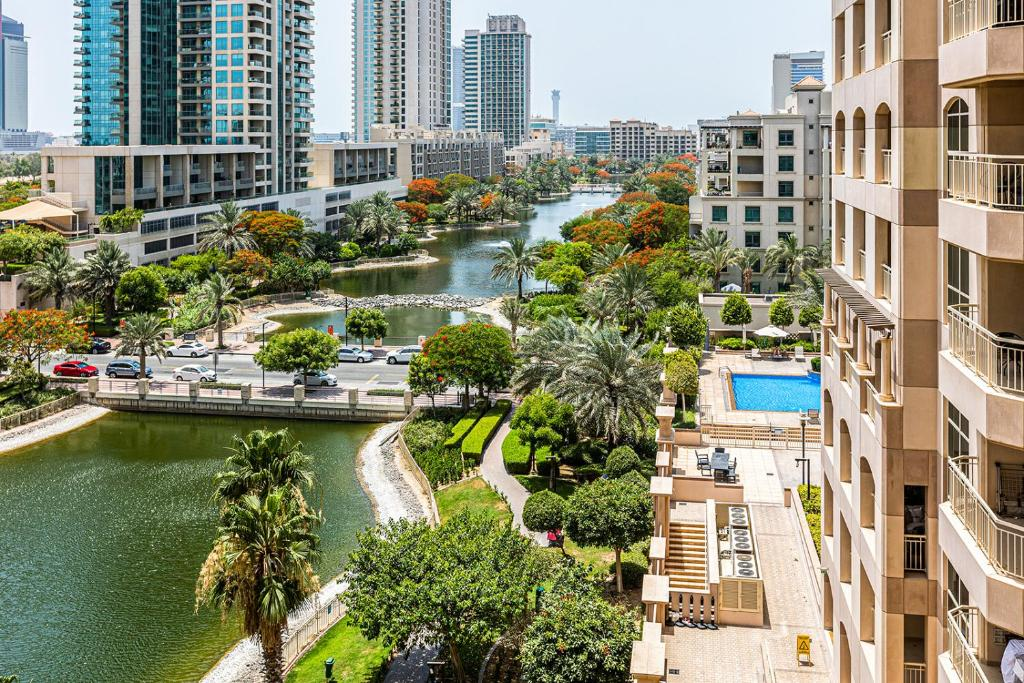 Wrapping Up
In short, the Dubai property market is looking strong for 2023, as foreign investors and HNWIs continue to drive the market, with recent initiatives further boosting the sector. Considering the great potential for growth and profit, now is an opportune time to take advantage of the rising sales and rental prices, and consider making an investment in Dubai real estate.
However, it is important to do your research, keep up to date with all the latest market trends and perform your due diligence before making any investments, carefully factoring in location, property type, and potential rental income, among other elements.
Luckily for you, SmartCrowd does all the work, so you don't have to! Our listings go through a rigorous selection process that narrows down the properties only to desirable areas that typically yield higher returns for investors. That's precisely why our properties have consistently outperformed the market. What's more, our real estate crowdfunding model allows you to invest in as many properties as you like, so you can spread your risk and diversify your portfolio with a mix of luxury and affordable rentals in Dubai.
Simply download our app now, check out our latest properties in these top areas, and start investing with as little as AED 500 only!
Disclaimer: This blog is intended solely for educational purposes and shouldn't be treated as financial advice. We suggest you always conduct thorough research, perform your own due diligence and consult with financial advisors to assess any real estate property against your own financial goals.