Just because you've taken the leap from being a lifetime renter – or even a homeowner – to property investor, doesn't mean your portfolio will be profitable. Even now, despite a thriving property market, it doesn't mean you will start generating a profit in the short term, or that you're on track to owning a multi-property portfolio – especially if you're on your own.
The reality is that roughly 20% of property investors cash out within the first year or so and almost half sell their property within five years. On top of that, of those investors who stay in the property market, about 90% never end up owning a second property. Smart investors are able to plan ahead and benefit the most from their property investments.
So, how do you succeed where those before you have failed, and become the few smart investors who commit to the property market and grows a portfolio that produces real wealth?
Success is a long road, but the property road is well worth all the detours, traffic, and open highways – at least if you stay long enough to reach the destination.
The only investors that succeed in the property market are smart investors. That's why this is your smart investor mantra to live by:
S: Strategic thinking
M: Manage your risks
A: Always invest against the herd
R: Regularly review your portfolio
T: Teamwork is essential.
Smart investors always think strategically
A goal without a plan is just a wish. Smart investors realize that failing to plan really is planning to fail. They realize that property investing is a marathon, not a sprint. They know what they want to achieve and having a plan allows them to make clear decisions that work towards their goals.
For every property they buy, it has to fulfill their strategy's criteria and it must get them one step closer to their end goal. They have a methodology and strategy for choosing the right property that relies on data, location, and characteristics, and is fuelled by timing and patience.
Patience? Timing? Doesn't sound very exciting. If you're looking for entertainment as an investor, you're not going to make much money. Investing should be boring so that the rest of your life can be exciting.
Managing your risk is paramount
There's no such thing as a risk-free investment. If you're trading stocks, the company could go under in the next quarter. If you're flipping crypto, a major country might ban cryptocurrencies or create its own. In real estate, you could own a property that isn't performing as well or could burn to the ground.
That's why you should always cover your bases. This could be making sure you don't over-leverage when purchasing your first or next property, making sure you have adequate insurance should an earthquake or fire break out, or it could even be owning another property so that all of your eggs aren't in one basket.
Smart investors also have an exit strategy in place for poorly performing properties. They know not to stay committed to a specific asset and can easily adapt their portfolio or strategy to market conditions – at least in the unlikely chance they haven't planned for that already.
It's not just about how much value each property is worth, smart investors understand that it's about their asset base, property diversity, and of course, how hard their money works for them in the long run.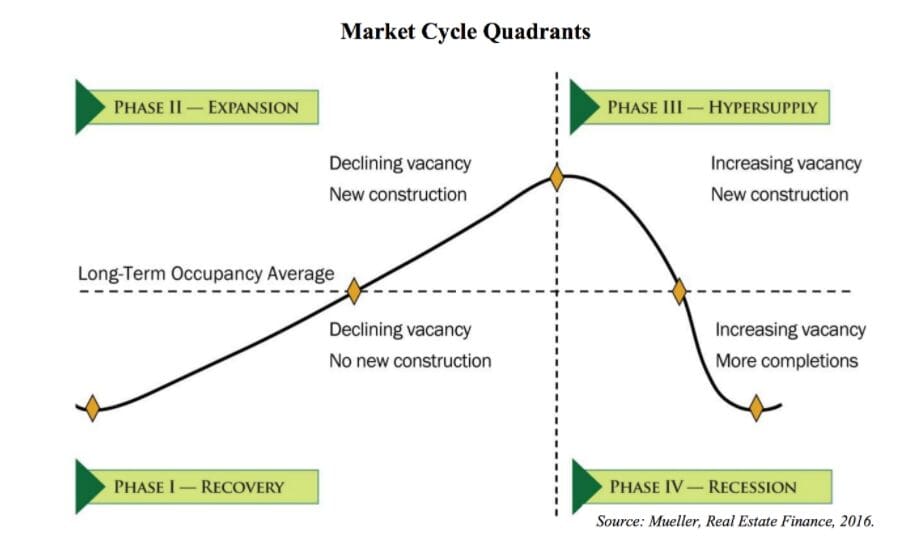 Follow the Real Estate Cycle
The property market is cyclical, there are boom and bust periods – but there's always profit to be made, or else this asset class (or any class) wouldn't have made it past the first bust period! That's why they also appreciate the power of counter-cyclical investing when the market looks rough.
Smart investors don't necessarily listen to the marketing hype around a specific area or what their buddy told them at the barbeque last week. They do their own research and due diligence or rely on trusted professionals who have done it for them. Always study the macroeconomic fundamentals of each opportunity and always have a good sense of where the market is in the real estate cycle. Stay ahead of the game and wait it out if you need to.
Regularly reviewing means regularly earning
Smart investors never forget about their portfolios. It's always up for review – to analyze its performance to see where it's trending and what can be done to make it better.
How has the property performed over the past few years? Is it reaching its performance benchmarks? What could be done to improve the property and generate a better return through added value? Is it worth riding out the slump or not? Has the market changed in any way? Is there a new renter demographic that you can target?
Always make sure you're reading blogs and books, attending webinars, studying successful real estate investors, and following the news. It doesn't mean you should immerse yourself as much as a day-trader or a crypto trader, real estate isn't a speculative asset and successful investors play the long game. However, smart investors don't get complacent.
Teamwork makes the dream work
Smart investors realize they don't have all the answers. They can't possibly wear all the hats. That's why they work in a team. Whether it's financial advisors, analysts, or accountants who can help them make the decisions necessary to bring their strategy to life and reap the benefits.
If you're a retail investor who is starting out, it can be expensive or even impossible to get a team of professionals to help manage your portfolio. At SmartCrowd, we're helping democratize the real estate market by allowing investors to purchase fractional ownership of the property through our crowdfunding platform, while also handling the property selection, purchase, management, and selling process. At SmartCrowd we work together with our investors to maximize their returns and make their money work for them! Get started on your investment journey today for as low as AED 500!