Back in the day, when someone wanted to fund a project, a company, or anything that required capital – there were limited ways to do so. A very common method was raising money from friends and family. Another option was taking on a debt when failing to completely fund the project individually.
Thankfully, a new option called crowdfunding became viable in the late 2000s!
Crowdfunding is when a large number of people pool their money together to fund a project through licensed online platforms. There are several types of crowdfunding practices. However, nowadays, crowdfunding is mostly linked to investments or private equity-based companies, especially within the UAE. And because the UAE prioritizes safety above anything else, they have set certain regulatory frameworks – tailored for the different crowdfunding platforms present in the country.
In general, crowdfunding activities in the UAE whether for charities or social causes are regulated and performed through state-based registered entities. On the other hand, debt-based funding or crowdfunding for investments is actually a new concept that is currently applied on a narrow basis – and has yet to be expanded. The following entities regulate the financial services occurring in UAE:
The Securities and Commodities Authority (SCA)
Central Bank of the UAE
Financial Services Regulatory Authority (FSRA) in Abu Dhabi Global Markets (ADGM)
Dubai Financial Services Authority (DFSA) in Dubai International Financial Center (DIFC)
Concerning the crowdfunding platforms operating in DIFC, the DFSA has launched a regulatory framework for investment-based crowdfunding platforms as such in Aug 2017 – which is considered the first-of-its-kind framework in the GCC. The purpose of this regulation is to license and protect the rights of all parties involved in particular crowdfunding activity. 
The DFSA essentially aims to create an innovation-friendly ecosystem that falls in line with UAE's government strategy. It intends on forming a roadmap to help accelerate the growth of the Fintech industry in the UAE, operating as crowdfunding platforms – while maintaining compliance regulations and protecting clients.
Rising Crowdfunding Trend
Crowdfunding has been around for many years but has become more evident lately. We have also witnessed an increase in the number of crowdfunding platforms that are based in the UAE. In fact, there are now a plethora of crowdfunding platforms across various forms, such as Beehive, Eureeca, and SmartCrowd.
Beehive is a peer-to-peer lending type of crowdfunding that allows you to get a loan directly from other individuals without a financial institution acting as a middleman, which is also known as debt crowdfunding. While Eureeca connects early-stage businesses and SMEs with investors, in exchange for equity.
Now, a major type of crowdfunding that has rapidly grown in the region lately, is real estate crowdfunding. Smartcrowd is MENA's first and largest real estate crowdfunding platform that enables you to invest in Dubai's best real estate for as low as AED500 only. With the real estate sector booming in Dubai, more individuals are seeking convenient ways, like real estate crowdfunding, to easily and quickly hop on the property investment ladder.
As we are progressing towards more advanced technology and digital means, online platforms are becoming a preferred option for many millennials. For example, with SmartCrowd, the process is entirely digital, transparent, hassle-free, and more importantly, regulated by the DFSA. Upon completing your investment and once the property becomes funded, SmartCrowd creates an SPV, Special Purpose Vehicle, to form a transparent ownership structure. The SPV acts as a separate company for investors to become shareholders in it, for the sole purpose of mitigating financial risk, in case Smartcrowd ceases to exist.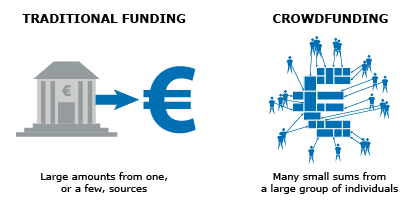 Conclusion
In short, any financial activity or service performed in the UAE is regulated either by the Central Bank, DFSA, or SCA. Depending on the business model of the crowdfunding platform, a specific entity will be responsible for regulating its activities and licensed accordingly. In other words, no crowdfunding platform is allowed to operate in the UAE without an appropriate license. This way, your money is allocated in the right place and protected. Nevertheless, you should always keep in mind that there are risks associated with any investment you take. Therefore, always perform your own due diligence and consult a financial advisor prior to investing!