With peak season fast approaching, both the holidays and Qatar World Cup will certainly be bringing short-term rentals the buzz in the coming months. The latter, in particular, is set to create a "mini-Expo effect" as the upcoming football tournament gives rise to a bumper tourism season, fuelling demand for short-term rentals and boosting the Dubai real estate market.
In fact, the Dubai short-term rental market has been rapidly growing since the pandemic, with more and more investors scrambling to invest in Dubai holiday homes. Not to mention, Dubai was crowned the most profitable Airbnb city worldwide, in light of the surging demand for holiday homes, high occupancy rates, and profitability.
So, with such promising information at your fingertips, what are you waiting for? Read on to find out the best areas to invest in Dubai holiday homes so that you, too, can seize this lucrative opportunity.
1. Downtown Dubai
With a centerpiece like Burj Khalifa that screams exclusivity, Downtown Dubai is one of the best areas to invest in Dubai holiday homes. Known to be the most prestigious address in Dubai, it's really no wonder tourists flock to marvel at the glitz and glamor in the flesh.
Consisting of exquisite apartments and penthouses located within walking distance of the Dubai Mall, tourists are surrounded by a wealth of high-end amenities and leisure opportunities during their stay. Plus, there's also a vibrant entertainment scene that tourists flock to enjoy, including the Dubai Opera, the Sheikh Mohammad Bin Rashid Boulevard, museums, restaurants, and bars – making it virtually impossible to be idle.
Besides the fact that it's a globally-renowned landmark worth ogling over, Downtown Dubai is also conveniently located for business travelers who wish to stay close to financial hubs, like the DIFC and Business Bay, while still being able to stay in Downtown Dubai to experience its utmost glory.
Though prices are on the higher end due to its limited supply, the soaring demand for the area, high occupancy rates, and favorable rental yields make this a great holiday home location to invest in Dubai, generating our SmartCrowd investors an average of 7.66% in annualized returns, versus the market average of 4.7% (Source: Reidin).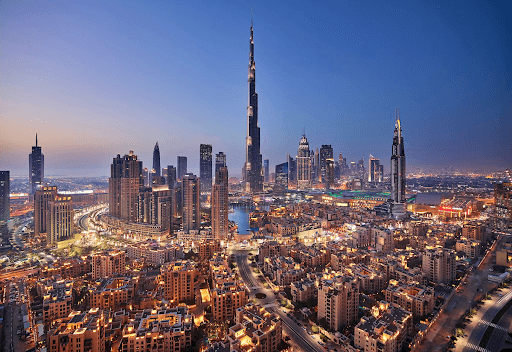 2. Dubai Marina
Dubai Marina ranks high as a holiday home hotspot thanks to its stunning waterfront location, beautiful pedestrian promenade along the manmade canal, high-rise skyscrapers with every convenience at arm's reach, and an abundance of dining options and retail outlets. What adds to Dubai Marina's appeal is its direct access to major tourist attractions, like The Walk at JBR, Ain Dubai, and the nearby Bluewaters Island.
This upscale area also features excellent connectivity, with easy public transport links, including buses, the Dubai Tram, and the Dubai Metro, connecting it to commercial hubs, like Downtown Dubai, Business Bay, and JBR.
Moreover, Dubai Marina is one of the best performing areas in Dubai's property market, specifically the holiday home market. In fact, Dubai Marina properties have generated 7.30% in annualized returns for SmartCrowd investors, exceeding the 5.3% market average. With high demand and occupancy rates touching nearly 87% on average (Source: Reidin), it's indeed one of the most sought-after markets for short-term rentals.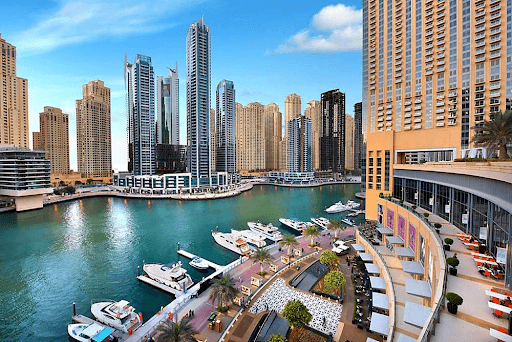 3. Palm Jumeirah
Another luxury favorite for holiday home investments is the Palm Jumeirah. This world-famous artificial tree-shaped island is one of the most versatile, world-class areas in Dubai, with high-rise towers focused on the trunk of the island and beachfront villas stretched along the fronds of the Palm.
Tourists especially love this area as it offers luxurious, retreat-like tranquility and uninterrupted access to exceptional Michelin-star restaurants, breathtaking beaches, the Atlantis water park, and two premium retail spots – Nakheel Mall and The Pointe. Additionally, the Palm neighbors major commercial hubs like Dubai Marina and JLT, with the Palm Jumeirah Monorail running through several key areas on the island.
Thanks to its unmatched serenity and lavish living, Palm Jumeirah apartments are the most in-demand in Dubai, especially considering that units there are more affordable compared to investment properties in other parts of the world offering the same luxuries.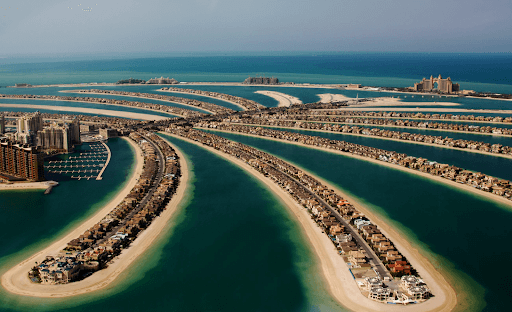 4. Jumeirah Beach Residence (JBR)
Part of the Marina district, JBR is the quintessential holiday destination comprising sun, beach, pools, watersports, and all things you'd envision for the ideal getaway. Tourists, particularly families, gravitate to JBR because of its beachfront location and connections to the rest of Dubai.
JBR is also home to Bluewaters Island, Ain Dubai, and The Beach, which is more than enough reason for tourists to want to stay in JBR. Investors would benefit from a JBR holiday home as properties in the area continue to be one of the top-performing in the Dubai property market, ranking highly due to the area's spacious and stylish apartments – minus the enormous price tags.
The picturesque area offers short-term rentals that cater to families and business travelers alike, who desire breathtaking views, a wide array of waterfront attractions, and an amenity-rich lifestyle.
5. Jumeirah Lake Towers (JLT)
The land of the lakes, JLT, is another firm favorite among tourists and investors alike due to its close proximity to Dubai Marina and JBR. A multicultural, mixed-use business hub centered around four man-made lakes, JLT blends business and leisure to deliver one of the more affordable areas to invest in Dubai holiday homes.
What's great about JLT is that it caters to all budgets and property requirements, meaning tourists can always rely on JLT being a mid-range option that offers the same amenities and community vibes as an upscale area. Not to mention, those who choose to stay in JLT are truly spoilt for choice, as they have access to an abundance of culinary outlets, bars, entertainment outlets, and recreational facilities.
The area is situated between two metro stations, Jumeirah Lake Towers and Damac Properties, and residents also have easy access to Sheikh Zayed Road. Malls like Dubai Marina Mall, Ibn Battuta Mall, and Mall of the Emirates are also located nearby. Overall, JLT's investor interest and market value for its properties are growing, becoming a highly sought-after community.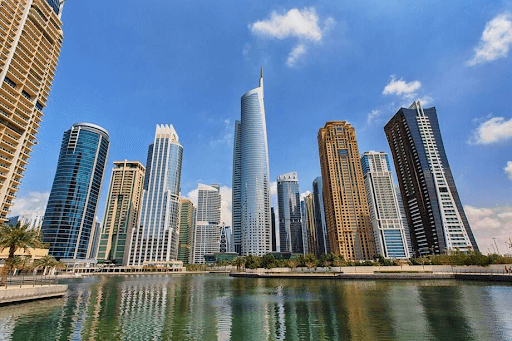 Wrapping It Up
What's impressive is that the property market has already been going from strength to strength in the face of global instability, enticing investors from all over the globe to invest in Dubai. Now, with the upcoming World Cup and the holidays just around the corner, now's a great opportunity to get a hold of a prime holiday home in one of these areas!
Since we know that holiday homes have a strong potential to generate attractive returns, SmartCrowd's got you covered! We're listing more short-term rentals in the best areas of Dubai, which you can find only on our platform. Download our app now, browse our live opportunities and invest in a holiday home today!