Who said real estate isn't liquid enough? SmartCrowd recently launched the MENA region's very first share transfer facility for trading property shares! This means that investors who wish to exit property investments early can access liquidity more conveniently than ever before. Investors also have the opportunity to purchase property shares from others on the platform – it's a win-win situation!
We couldn't be more excited and proud of this incredible achievement – not to mention its success! Since we're currently making waves in the real estate space, this blog is the perfect chance to unpack our plans and results from our first cycle.
Let's Talk Liquidity
The problem with investing in real estate is that it's viewed as an illiquid asset. For that reason, liquidity, or lack thereof, is something that's deterred potential investors from looking into the asset class. After all, liquid assets are considered essential in times of financial hardship, particularly in the case of emergencies when cash on hand is needed.
But, what exactly is liquidity? Put simply, liquidity refers to how quickly and easily an asset can be converted into cash while still retaining its value. Assets like stocks and bonds are considered highly liquid because they can be converted into cash within days. Real estate, however, takes considerably more time to convert into cash.
Just imagine the process of selling a property: finding a buyer, negotiating the price, performing due diligence, and the actual sales transaction. Not to mention, real estate often goes through periods where the market just isn't conducive to selling.
Nevertheless, it's important to recognize that liquidity comes at a cost, as the more liquid an asset is, the less its value will increase over time. In fact, liquid assets, like cash, may even fall victim to inflation and their purchasing power can gradually decrease over time. That's why some investors choose to lock their wealth into long-term investments, like real estate. Above all, it's important to remember that liquidity is a spectrum, as ultimately all investments are liquid to some extent, but some just happen to be more liquid than others.
Luckily, as a result of the ongoing innovation, cutting-edge technology, and rigorous testing at SmartCrowd, what once seemed far-fetched has officially become a reality. Our platform is paving the way for a new type of real estate – liquid real estate.
Introducing Our Share Transfer
That's where SmartCrowd's share transfer comes in. After rigorous testing to ensure the best possible experience for investors on the platform, SmartCrowd's share transfer was launched last month to give investors the chance to liquidate their shares.
Now, on our platform, we tend to recommend a 5-year holding period, though you could technically exit your investment twice a year. With our share transfer facility, however, you get the chance to list shares to gain liquidity or buy shares to gain exposure to high-performing properties every 6 months over a two-week interval (though this period may be subject to change).
The best part is that those in need of liquidity can access their funds more readily, while investors looking to increase their exposure are able to buy shares in a convenient, transparent. So, not only can you make micro-investments, but our share transfer structure offers you more control, allowing you to manage your portfolio and plan exits more appropriately.
First Cycle Performance
Our share transfer was launched on August 22, 2022, and concluded on September 2, 2022, with outstanding results! Take a look for yourself: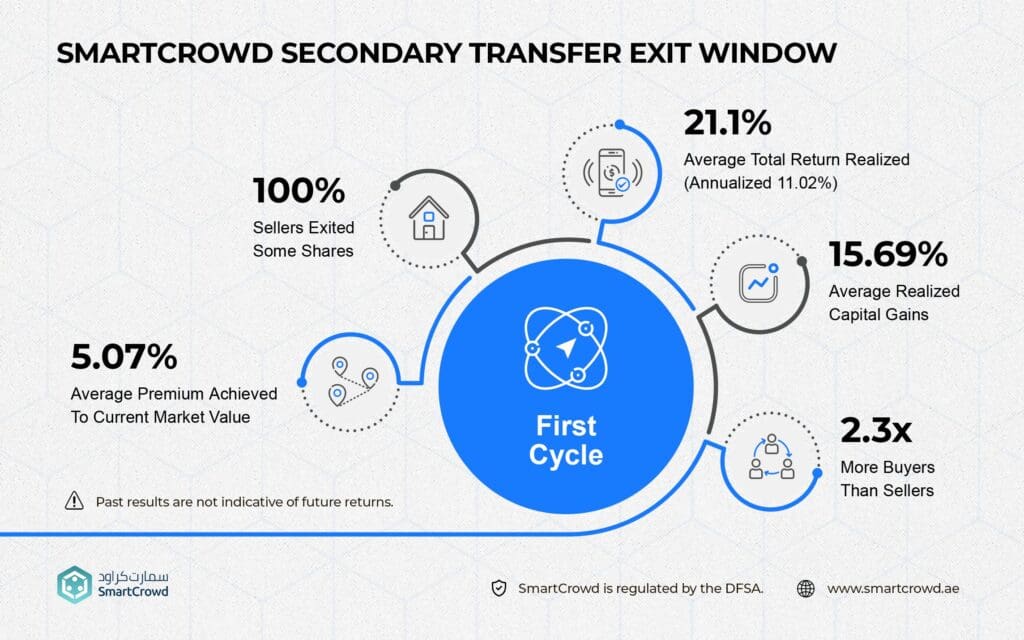 What also impressed us was not only the success of our share transfer facility but the satisfaction of those who participated. The fact that buyers outnumbered sellers was also a huge deal to us, as it reflects the unwavering confidence investors have in our offerings.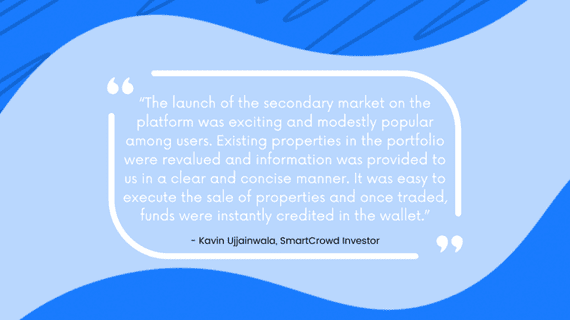 Wrapping It Up
While real estate is considered to be an illiquid asset class compared to stocks or bonds, that doesn't mean you should steer away from it! SmartCrowd is revolutionizing real estate in the MENA region and will continue to give its investors an unparalleled investing experience.
With the share transfer facility being a huge success, we're super excited that we've finally given our investors an experience to liquidate their shares, as well as to get a hold of shares in some of the best areas in Dubai. Please keep in mind that if you do decide to move forward with making real estate investments, you should only invest money that you won't need in the short term.
*As always, past results are not indicative of future returns.
Disclaimer: This blog is intended solely for educational purposes and shouldn't be treated as financial advice. We suggest you always conduct thorough research, perform your own due diligence and consult with financial advisors to assess any real estate property against your own financial goals.