We've got some Exit Tales to tell! Our "Exit Tale" series explores full property exits we've had on our real estate investment platform, shedding light on the process from purchase to profit. What's a full exit you might be wondering? A full exit involves the journey of an investor who purchases a unit, enjoys rental income over time, and ultimately sells the property, reclaiming their capital along with profits.
In this SmartCrowd Exit Tale, we explore our recent townhouse exit in the heart of Dubai's Jumeirah Village Circle (JVC): SC 109. So, did we achieve what we set out to do? Let's find out!
SC 109 – Our Jumeirah Village Circle (JVC) Gem 💎
Nestled in the heart of Jumeirah Village Circle (JVC), SC 109 is a spacious one-bedroom townhouse that caught our attention during the start of the 2020 pandemic, offering a prime example of the potential found in Dubai investment properties. With a generous 1,636 net/1,937 gross sqft layout, it offers a large bedroom with a glass-partitioned second bedroom, an open-plan living and dining area, a study, a kitchen, a maid's room, a powder room, and even a laundry room. Not to mention, two terraces and a garden to embrace the outdoors. A unique feature – a converted study on the first floor – added that extra dimension, along with extra wardrobe space.
Developed by the renowned Nakheel, Jumeirah Village Circle (JVC) is the epitome of modern family-oriented living right in the heart of new Dubai. Affordability, a tight-knit community, and unmatched convenience are its trademarks, emerging as a highly sought-after neighborhood for residents and property investors in both long-term and short-term rental markets. With three entry and exit points leading to Al Khail Road and Hessa Street, accessing Sheikh Zayed Road and Sheikh Mohammed Bin Zayed Road is a breeze.
Townhouses in Jumeirah Village Circle saw a surge in demand throughout the pandemic due to their spacious layouts.
SmartCrowd Strategy 🎯
Albeit a painful purchase during covid's "uncertain times", the unit was purchased in June 2020 for AED 980,000. Our move had a clear purpose, one that was largely driven by the unit's scarcity thanks to its unique build, along with the increased demand for greater space during the pandemic. What sealed the deal was the advantage of lower service charges for townhouses in Jumeirah Village Circle, as they were considerably lower when compared to apartment developments, ensuring the potential for more attractive returns.
Though the lockdowns naturally left us all feeling uneasy, we maintained our optimism and confidence in this asset's potential. In fact, this unit experienced a sustained appreciation after the initial pandemic-induced dip. And, despite the rental market challenges over the years, our return hovered around an admirable 7%. Over time, as market conditions shifted, yields for this unit improved, reaching our initial predicted yield of 7-8%, which was just the affirmation (and confidence boost) we needed!
The Grand Finale 🏆
Now, let's delve into the bit you're all waiting for: the results. We acquired this Jumeirah Village Circle townhouse for AED 980,000 (AED 1.06M including purchase costs) and secured its sale for AED 1.4 million (Net AED 1.36M after factoring in sales proceeds) – one of the highest transactions for this particular kind of asset in the community. This net capital gain of AED 296,000 translates to approximately 28% over 3 years, averaging almost 9% a year of capital appreciation.
Overall, this property delivered a net rental income of AED 206,524. As a result, our efforts led to a total net return of over half a million dirhams (AED 503,258), translating to 47.31% over the span of 39 months (3.25 years). This impressive achievement resulted in an annualized return of approximately 14.58%, showcasing the property's phenomenal performance. Encore, anyone?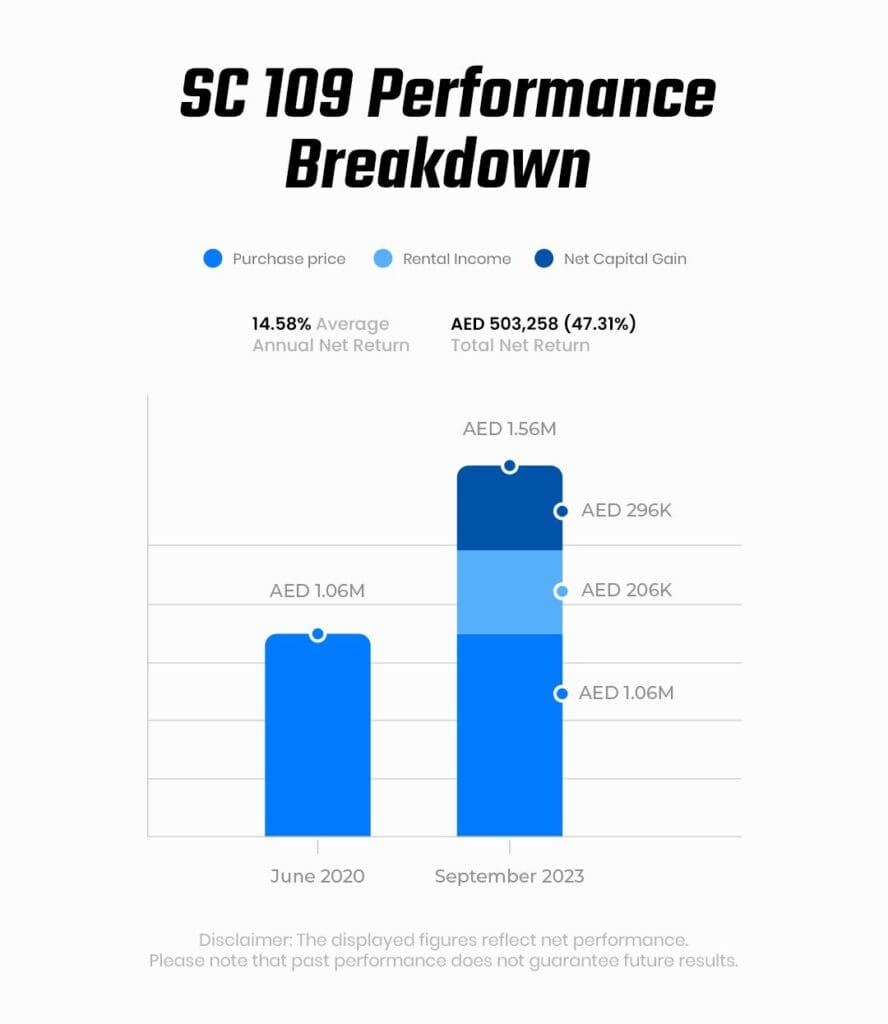 Key Takeaway
Before we wrap up this Exit Tale, here are a few valuable notes to keep in mind when making an investment in Dubai:
Balancing Act: SC 109 highlighted the importance of striking a balance between rental income and capital appreciation, contributing to a well-rounded Dubai real estate investment. It's important to consider the overall return from both a rental yield and capital gains perspective.
Resilience Wins: Market challenges, like the pandemic, demonstrated the significance of holding steady in pursuit of greater rewards.
JVC's Appeal: Jumeirah Village Circle remains a promising area for Dubai real estate investment opportunities, with a blend of affordability, convenience, and a close-knit community.
We hope this glimpse into our Jumeirah Village Circle (JVC) journey provides insights and perspective for your own future Dubai investment properties. Stay tuned for more Exit Tales!
DISCLAIMER: Please note that past performance does not guarantee future results. This blog is intended solely for educational purposes and shouldn't be treated as financial advice. We suggest you always conduct thorough research, perform your own due diligence, and consult with financial advisors to assess any real estate property against your own financial goals.