In the residential real estate investment world, things come down to two categories – short-term rentals and long-term rentals. Often, investors in Dubai assume that all roads lead to short-term rentals as the emirate is globally recognized as a tourism hotspot, however, long-term rentals are also an effective way to build wealth.
In fact, Dubai has an increasing population of expats that are searching for permanent accommodation in the emirate. So, read on to understand the benefits of owning a long-term rental, along with the best areas to invest in a long-term rental in Dubai.
Benefits Of Investing In A Long-Term Rental
As the name suggests, this type of accommodation is leased out on a long-term basis, usually for a year. Some distinct benefits of investing in a long-term rental include:
As it's a more permanent rental, long-term rentals provide owners with a stable, consistent income via rental income coming monthly or quarterly throughout the year.
Long-term rentals come unfurnished, saving money for landlords as furnishing, regular maintenance, and utility bills fall to the tenant.
Long-term leases mean less of a chance your property will be sitting vacant and not generating income. In addition, there's no need to worry about seasonality and market conditions as there is an existing tenant occupying the property.
This also means that long-term rentals usually carry far lower property management fees than short-term rentals, as the latter is associated with more frequent maintenance fees, advertising costs, and tenant turnover. Long-term rentals, on the other hand, require lower operating expenses and coverage just once a year in order to promote listings.
The 'wear and tear' on long-term rentals is also less since tenants tend to treat the property like a home rather than a hotel room.
Best Areas To Invest In Dubai Long-Term Rentals:
1. Jumeirah Village Circle (JVC)
Located right in the heart of New Dubai, JVC tops the list of best areas to invest in Dubai long-term rentals. It's a family-friendly, mixed-use community where people tend to settle for longer thanks to its high-quality yet affordable apartments, villas, and townhouses. The area remains in high demand due to its lucrative pricing, high rental yields, and prime location, where residents can enjoy a hassle-free commute to commercial hubs like the Mall of the Emirates, Dubai Marina, and Dubai Media City.
JVC features an abundance of green parks, schools, fitness centers, canals, and many modern amenities which continue to attract working professionals and families. With such attractive incentives, the area has witnessed massive growth in its long-term rental market, and the average price-per-square-foot (PSF) and rental yields are expected to further rise in the future. All in all, JVC remains a well-sought-after area for budget-conscious end-users, homeowners, and investors in Dubai and has historically delivered one of the best-annualized returns on the SmartCrowd platform.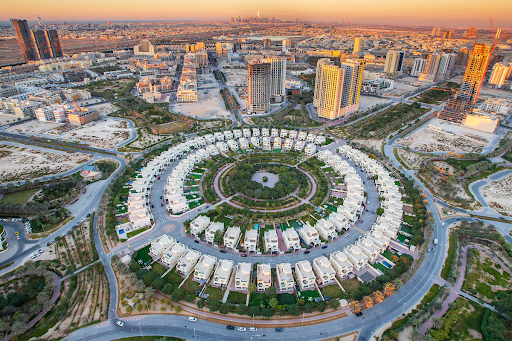 2. Dubai Silicon Oasis (DSO)
Dubai Silicon Oasis is a centrally located suburb that is peaceful yet buzzing with innovation, serving as a major tech hub in Dubai. Besides its location, what makes it a great area to invest in long-term rentals is that it offers a holistic lifestyle experience with an integrated living and working community. That said, DSO is also recognized as one of the most affordable communities in Dubai. As a result, there has been a huge surge of people, particularly first-time buyers, moving there to take advantage of the convenient amenities and reasonable price tags.
Besides its amenity-packed residential community, DSO is also home to endless commercial spaces, warehouses, and facilities, making it ideal for entrepreneurs seeking to launch and grow their businesses. Moreover, DSO is a well-connected area that remains close to leisure hotspots like Downtown Dubai, Meydan, Global Village, and Dubai Design District, and is also a 15-minute drive to Dubai International Airport.
DSO is also one of Dubai's Vision 2040 Plan centerpieces of the emirate's long-term development. This project also means DSO will go through major expansion to accommodate the growing demand for the area in the form of bachelors, young couples, and families, and it remains one of the top-performing areas for net returns in Dubai.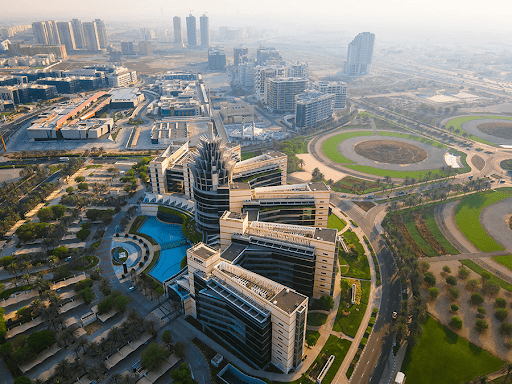 3. Mohammed Bin Rashid (MBR) City
One area that is popular in the long-term rental market is Mohammed Bin Rashid City, also known as MBR City. This expansive, eco-friendly development is a major focal point in Dubai's 2040 Urban Master Plan, set to evolve dramatically to host some of the emirate's most remarkable luxury residences, affordable units, world-class hotspots, and lush open spaces.
Strategically situated along Al Khail Road, MBR City also shares borders with major commercial hubs, including Downtown Dubai, Business Bay, and Design District. So far, the area has incorporated some popular residential projects, like Sobha Hartland, District One, Dubai Hills Estate, and KOA Canvas, and tourist attractions like the world's largest man-made lagoon and the upcoming Meydan One Mall.
Properties in MBR City are expected to be in high demand in the coming years, with strong appreciation potential, as it caters to a wide variety of end-users, particularly families. From studios in KOA Canvas to 8-bedroom mansions in District one, there's something for everyone. Given its 82.5% increase in supply expected by 2024, along with a massive influx of HNWIs entering the Dubai real estate market, price and rental yields will increase accordingly in MBR City over the next few years.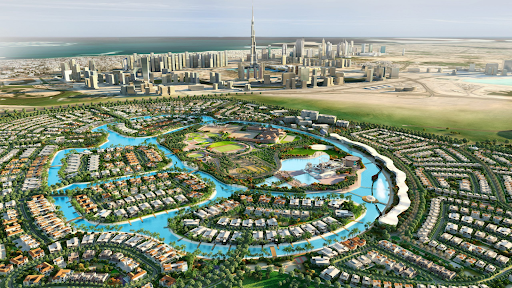 4. The Greens & The Views
Giving you a break from the hustle and bustle of the typical Dubai lifestyle are The Greens and Views. This picturesque and serene Emaar community is conveniently nestled between the greenery of Emirates Golf Club and Barsha Heights, with a gorgeous lake separating The Greens and The Views. This urban setting is the perfect area to reside and invest in a Dubai long-term rental, as it features leafy footpaths, beautiful waterways, shopping centers, international schools, world-class golf courses, and five-star hotels.
What really sets these areas apart is the true community spirit that brings together all types of residents who can choose to settle long-term in studios to 4-bedroom apartments, in buildings with a shared courtyard, communal pools, and BBQ pits. Both areas have access to the same leisurely facilities and amenities, with The Greens being a more affordable area compared to its neighboring high-end development, The Views. As the site is just off Sheikh Zayed Road, there are also direct links to Downtown, Abu Dhabi, Sharjah, and other emirates.
Long-term rentals in this area typically generate high ROIs, particularly for studios and 1-bedroom apartments, as they're convenient for couples and small families looking for a peaceful, reasonably priced unit that remains close to Dubai's main hotspots.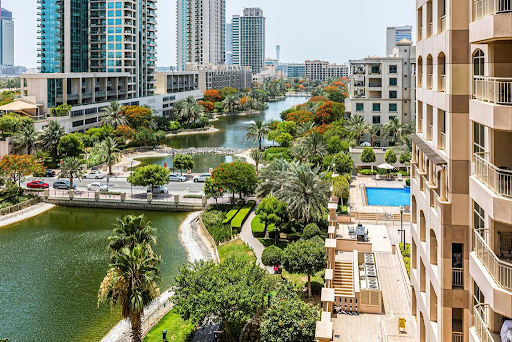 Wrapping It Up
The decision to invest in short-term or long-term rentals varies from person to person and is completely up to you as an investor. At SmartCrowd, we always encourage our users to diversify their portfolio with both rental options, which is why we offer a mix of short-term and long-term rental opportunities on our platform.
The above areas can all deliver great returns on your investment. However, if you want to reap the maximum benefits in any venture, please be sure to conduct thorough research and perform your due diligence. In the meantime, keep an eye out for long-term rental and short-term rental updates in these developments, and other major areas, on our SmartCrowd platform and social media pages!
Disclaimer: This blog is intended solely for educational purposes and shouldn't be treated as financial advice. We suggest you always conduct thorough research, perform your own due diligence and consult with financial advisors to assess any real estate property against your own financial goals.