Dubbed 'the most beautiful building on earth', The Museum of the Future is Dubai's latest architectural marvel. With its illuminating pillarless form, Arabic calligraphy-wrapped windows, and state-of-the-art finish, Dubai's Museum of the Future is a symbol of Dubai's commitment to innovation and growth.
Over the last decade, Dubai has served as a magnet for foreign investors, and the landmark is set to play a huge role in strengthening Dubai's future position and reaffirming its role as the global business hub.
With much to look forward to, this buzz is mirrored in Dubai's real estate sector, with residential prices and rents climbing at the fastest rate since 2015. If anything, the Museum of the Future is a calling for those looking to invest in Dubai overall, particularly the real estate market. So, let's explore why.
What is the Museum of the Future?
A one-of-its-kind development, the Museum of the Future is a striking torus-shaped structure conceived by Killa Design, standing at an impressive 77 meters and spread over an area of 30,000 sq m atop a hill on the city's superhighway, Sheikh Zayed Road.
Reflecting the vision of HH Sheikh Mohammed bin Rashid, the 'living museum' peeks into the world 50 years from now, exploring how society could evolve by incorporating everything from artificial intelligence to augmented reality in immersive exhibitions, themed attractions, and events. The project is a factory for visionary ideas, inviting futurists, thinkers, innovators, and the public to develop practical scientific solutions to life's greatest challenges.
The interior of the museum consists of seven floors dedicated to distinct subjects, including the future of space travel; education, climate change, and energy; as well as health, wellness, and spirituality. One floor is designed specifically for children, where they will be able to explore and solve future challenges.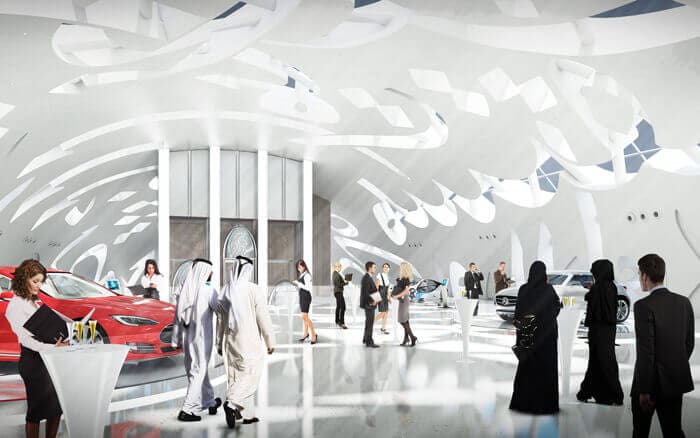 How Will MOTF Affect Investments in Dubai?
Basking in the glory of attracting people from all over the globe, Dubai's involvement in areas of interest like technology, sustainability, and healthcare, among others, has transformed it into a leading global innovation hub.
The technology-driven city has become a breeding ground for multinational companies to grow and investors to thrive. Besides growth drivers like business ownership, employment opportunities, and visa reforms, there are always constant developments that attract the masses to invest in Dubai. With the 'city of the future' aiming to make every aspect of life efficient and hassle-free, you can always expect something new and exciting, which is one of the biggest benefits of investing in Dubai.
Now, the Museum of the Future may seem like just another addition to Dubai's impressive repertoire of bold architectural and technological endeavors, yet this development is in fact a symbol of Dubai's bright future across all areas, including investments.
In the first 9 months of 2021, the emirate attracted Dh15.9 billion ($4.3bn) in foreign direct investments, as well as Dh300bn worth of property transactions made last year, the highest annual value recorded in Dubai's history. Additionally, Dubai's property market showed strong upward momentum in January, with residential prices and rents increasing at the fastest rate since early 2015. These figures are a clear indication of Dubai's position as a hotspot destination for startups, businesses, and ultimately investors.
Alongside its hugely appealing free zones and tax exemptions, as well as unparalleled exhibition spaces like Expo 2020 and the Museum of the Future, it's clear as day that the city provides the ideal ecosystem for businesses and investments to thrive. That being said, with a new real estate cycle underway, along with a forward-thinking government, strong market rebound, and attractive opportunities now may be a great time to invest in Dubai properties.
In a nutshell
The Museum of the Future is not just a global innovation landmark or cultural icon, it's a testament to making the impossible seem possible.
Beyond presenting a state-of-the-art architectural wonder to the world, the Museum's interior aims to bring together futurists, technologists, and intellectuals from all over the world. In a way, the opening of the Museum of the Future has opened the doors to many more investment opportunities to come.
Of the calligraphic quotes enveloping the structure, one translates to: "We may not live for hundreds of years, but the products of our creativity can leave a legacy long after we are gone."
Perhaps this holds true in the case of investments, after all, they are our legacy of wealth.
Disclaimer: This blog is intended solely for educational purposes and shouldn't be treated as financial advice. We suggest you always conduct thorough research, perform your own due diligence and consult with financial advisors to assess any real estate property against your own financial goals.