Every four years football fever comes back in full force as the FIFA World Cup takes the whole world by storm. In less than 3 months, Qatar will be hosting the first FIFA World Cup in the Middle East and is preparing to welcome more than a million fans.
The only complication is that many of these fans won't be able to reside in the tiny Gulf state during that month, meaning tens of thousands of them will base themselves in nearby cities – including Dubai. Though Qatar is set to score big from this tourism boom, Dubai will also be benefiting massively from this influx of football fans.
At present, we're seeing UAE hotels getting booked up at nearly full occupancy in the final months of the year, and, naturally, the Dubai property market has followed suit. Keep reading to find out what makes Dubai an attractive place to stay in between matches, along with the impact of the FIFA World Cup Qatar 2022 on the Dubai real estate market.
Dubai: A Major Tourism Hub
As Qatar's host city, Doha, deals with an accommodation crunch, many match goers plan to use neighboring regions, like the UAE, as a base to travel to and from tournaments. The UAE's tourism hub, Dubai, will particularly leverage this, as Qatar doesn't have the capacity to accommodate all visitors, and is also known to be a more conservative country.
At less than an hour's flight away, Dubai will be 'the major gateway' to the World Cup with more people expected to come through the city than Qatar. In fact, Dubai is the ideal destination for fans who wish to enjoy all of the football action in Qatar and still spend an ample amount of time in one of the most cosmopolitan cities, so they'll certainly be getting the best of both worlds.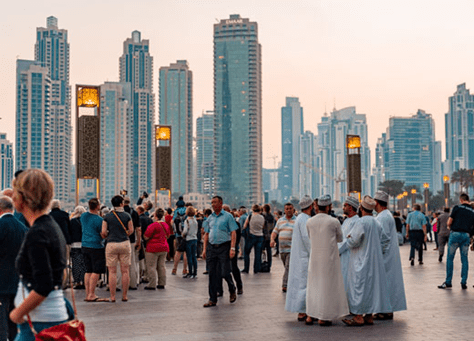 How Is Dubai Preparing For The 2022 FIFA World Cup?
Dubai's hospitality landscape is shifting to accommodate this influx of visitors as hotels witness a surge in bookings, with many even reaching 100% capacity. In fact, a new hotel built in Palm Jumeirah has been allocated specifically to football fans from across the world who plan to base themselves in Dubai and depart the 40-minute flight to Doha to watch the World Cup matches and return for their overnight stay. 
Not only has Dubai built a football hotspot on the Palm, but the emirate is setting up fan zones across the emirate dedicated to football fans. Sports tourism agencies, like Expat Sports, have been offering full travel packages to football fans, including daily match-day flights to Qatar and free shuttle buses to Dubai fan zones.
The UAE will be offering about 40 new flights to the host city, Doha. Moreover, leading airlines in the UAE, including Air Arabia and flydubai, have also announced a combined 45 flights and shuttle services for Hayya cardholders. Most recently, the UAE announced a multiple-entry tourist visa for Hayya cardholders attending the Fifa World Cup 2022, costing AED 100 ($27), with a 90-day validity from its issue date, and can be extended for another 90 days. Such incentives are sure to boost tourism to the region, leaving an economic impact beyond the event, much like Expo 2020.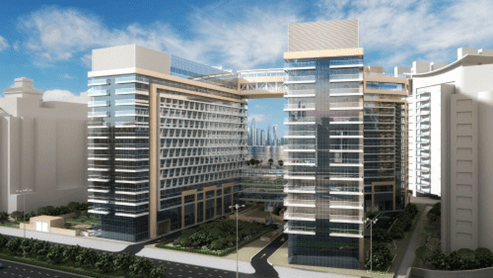 Short-Term Rental Comeback
UAE hotels aren't the only accommodation types witnessing a major uptick, as the Dubai real estate market anticipates peak season rates due to the regional tourism generated by the upcoming FIFA World Cup. For that reason, a growing number of Dubai landlords and real estate investors are switching from long-term rentals and turning to short-term leases, as the holiday home market is set to record increased demand during the FIFA World Cup in Doha.
Similar to Expo 2020 Dubai, property owners can expect higher occupancy rates and higher net returns. Not to mention, there have been significant rental hikes in prime Dubai areas, like Palm Jumeirah, Dubai Marina, and JBR, over the past 15 months, with some areas seeing increases of up to 40 percent in Q1 of 2022.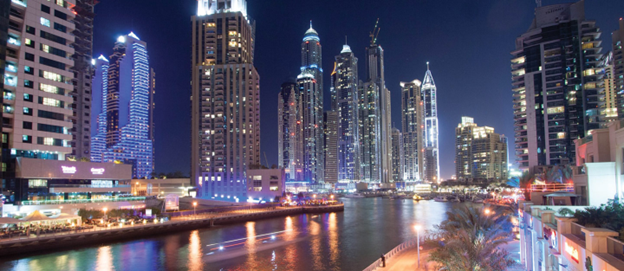 In a Nutshell
The Dubai real estate market has already experienced a promising first half to 2022, even breaking a 13-year record in May. With the FIFA World Cup Qatar 2022 just around the corner, Dubai is set to be among the biggest beneficiaries, as it's an obvious choice to reside for many World Cup spectators.
Football fans will get the chance to experience the emirate's glitz and glamour in all its glory and then easily hop over to Doha on match days thanks to the UAE's preparations ahead of the major sporting event, from fan zones to multiple-entry visas. That said, vacation rental rates are expected to skyrocket during peak season and super prime segments in Dubai will continue to bring in record numbers over the remainder of the year.
Seeing that there's a huge demand for short-term rentals and the potential to generate higher rental yields, then why not consider investing in Dubai holiday homes? Luckily for you, there's no need to put in any work when it comes to finding the perfect holiday home, as SmartCrowd does all the work for you! We're always listing short-term rentals in the best areas of Dubai, which you can find only on our platform.
Right now, we're offering you the chance to invest in our high-yielding Dubai Marina holiday home. Simply download our app, view our latest investment options, and invest in a Dubai prime short-term rental today!