This past month, world leaders met at the SEC Centre in Glasgow, Scotland for crunch talks on global warming during the UN Climate Change Conference (COP26). Over 30,000 delegates from 197 countries flocked to the two-week summit, the largest to date. Hotel chains were fully booked and holiday homeowners cashed in, with some boosting prices by over 700% to tens of thousands of pounds. During the summit, the UN Framework Convention on Climate Change (UNFCCC) announced that the UAE will host COP28 in 2023. This is a game-changer for the Dubai holiday home property market in 2023. 
What is the UN Climate Change Conference in Glasgow (COP26)?
The 2021 United Nations Climate Change Conference, more commonly referred to as COP26, was the 26th United Nations Climate Change conference, held at the SEC Centre in Glasgow, Scotland, United Kingdom, from 31 October to 13 November 2021. It was supposed to happen in 2020 but the Covid-19 pandemic caused a year-long delay.
During the event, the Glasgow Climate Pact was negotiated, which aims to stave off dangerous climate change. This was the first conference to mention coal as the biggest contributor to climate change and hundreds of countries pledged to reach net-zero emissions, move away from coal and shift towards renewable energy sources by 2030.
How did it benefit Glasgow holiday homeowners?
With tens of thousands of expected attendees, many of which are international delegates and business leaders who are looking to stay near the site and are willing to pay top dollar for it, holiday homes in Dubai stand to greatly profit during the event. Unlike long-term rentals, holiday homes have greater flexibility and can quickly adjust prices to fluctuations in demand.
Glasgow holiday homeowners were able to charge upwards of AED 84,000 for the duration of the conference, that's AED 6,000 per night! Even at more conservative rates of about AED 800 per night during the event, that's AED 11,200 earned in a span of two weeks! Dubai is also a city that has plenty to offer outside of just the conference, so the likelihood that tenants will either arrive early or stay longer is much higher as well.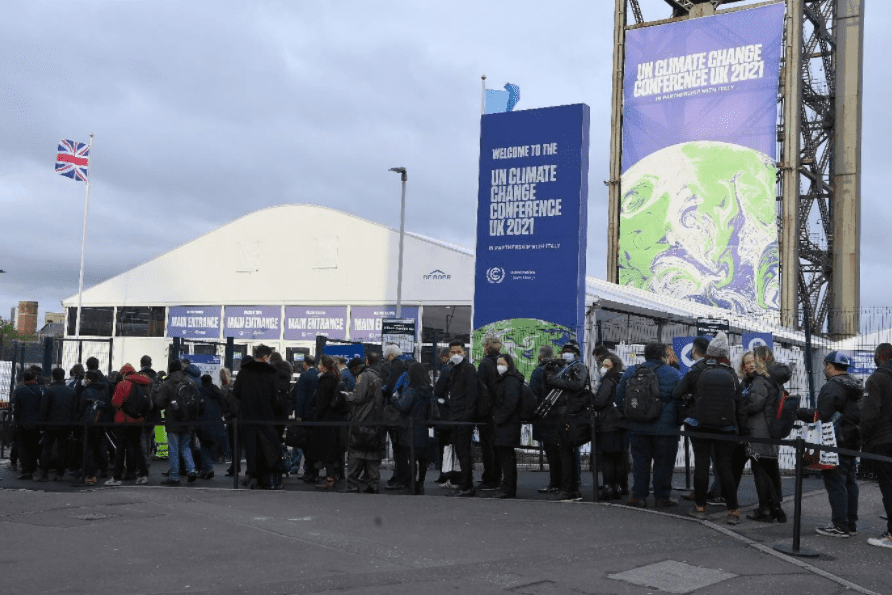 Which areas will benefit from COP28?
Areas that stand to benefit from COP28 will probably be located close to the conference. The first choice for the summit's location is obviously the Expo 2020 site, as it will be the primary conference and event hub in the UAE moving forward, plus the city's smart-city and environmentally conscious build make it a testament to the UAE's and the COP28 conferences commitment to a greener future.
As the Expo 2020 site will convert many of its areas into residency districts, holiday homes on-site will stand to benefit the most and will list for the highest rates – especially since there aren't enough hotels on-site following the conversion to host so many people at once.
So, holiday homes in the nearby Dubai South area are likely to benefit the most from the conference as it is one of, if not the, closest communities to the Expo 2020 site. It's a short 5-minute drive away and has public transport links to the site. The Dubai South area has also ranked as one of the top destinations to purchase property in the UAE as it looks to be at the centre of Dubai's development during and long after Expo 2020.
As the Expo 2020 site is deep inland, with development surrounding the area still underway, it's likely that New Dubai districts like Dubai Marina, Jumeirah Beach Residence and Jumeirah Lake Towers will also be major hotspots for COP28 attendees. The areas not only have a plethora of amenities for attendees to enjoy their stay in Dubai, but they also have direct links to public transport stations like the Dubai Metro that can take them to the Expo 2020 site within minutes, when compared to driving there or taking a cab. 
Conclusion
COP28 looks to be another major event coming to Dubai and holiday homeowners looking forward to it! At SmartCrowd, we're always thinking ahead when it comes to the properties we list on our platform, that's why we're constantly listing properties based in popular areas like Dubai Marina, JBR and Dubai South. You can invest in these Dubai properties today for as low as AED 500 with smartcrowd.ae, the first and largest real estate investment platform in the MENA region!