Choosing to invest in an international property may seem daunting at first. Even if you have invested in multiple properties before, there's still an ocean of investment opportunities elsewhere that may very well be outside your comfort zone. But, as more investors recognize the value of a well-diversified portfolio, investing in international property is definitely the way forward.
Essentially, by investing in multiple cities, and even countries, you are minimizing your portfolio risk. Of course, there are different factors to consider when investing in an international property, like the location, economy, and quality of the unit. For example, thanks to UK's strong capital growth lately, the property market in 2022 is projected to be the best year yet. So, instead of limiting yourself to one location, it's worth exploring potential lucrative real estate markets abroad like the UK.
But, why the UK?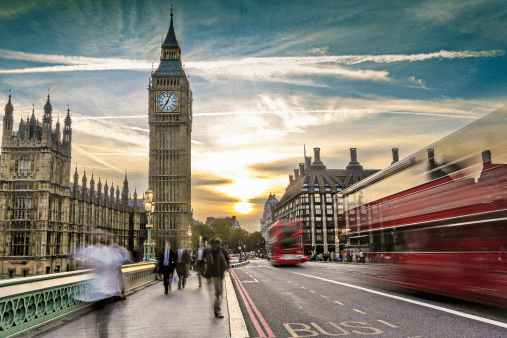 Ah, the land of perfect pairings. Fish and chips, biscuits and tea, and cheese and crackers. Now, perfect pairings aside, we know what you're thinking. Why would I choose to invest in an international property, let alone the UK property market, amid all this uncertainty?
Well, despite a turbulent past couple of years, especially with the pandemic leaving its mark in the world's global economy, the UK's property market actually remained largely unaffected and is in fact regarded as a safe haven compared to other economies.
Actually, property forecasts suggest the UK could see prices grow by 21.5% by 2025, making investing in the UK an incredibly favorable opportunity as we look towards 2022. Further to that, Foreign Direct Investment (FDI) in the UK has steadily risen over the last few years, peaking £1.5 trillion in 2018. Since then, the country has achieved a sustained 5% increase in inbound FDI projects, affirming its position as one of Europe's leading economies. 
Generally speaking, the UK, being one of the world's biggest financial hubs, offers a globally attractive, robust, and truly international economic environment ideal for those looking to expand their business, trade, and investments. With that being said, let's take a closer look at the UK real estate market and explore the reasons why to invest in a UK property.
1. Fast-growing Rental Market
The UK's rental market is driven by an expanding population, predicted to reach 74 million people in the next 20 years. As we all know too well, with an increasing population comes a subsequently strong demand for residential properties. Considering the soaring property prices across the UK, many young professionals look to rent indefinitely as they struggle to get on the property ladder.
We are also witnessing an emerging trend of older people downsizing to private rental housing. As the market becomes more competitive, rental prices are increasing accordingly, rising 3% across the UK (excluding London) over the last 12 months.
This is directly reflected in some key regional areas across the UK, where areas like the West Midlands and South East of England are forecast to see rental prices grow by up to 12.5% between now and 2023. Research also estimates that UK renters will outnumber homeowners by 2039 thanks to the UK's buy-to-Let mortgage. 
With UK rents rising at the fastest pace in 13 years, the current UK property market highlights the power of property investment in the UK, albeit challenging for renters, as it represents a prime opportunity to build steady returns in what was thought to be a time of global economic uncertainty.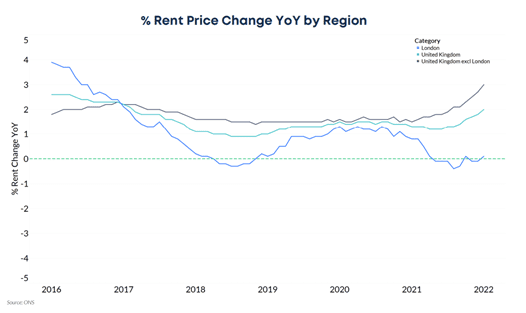 2. Undersupply of Property
Huge demand and a dwindling supply of property is a good sign for investors. As a matter of fact, the demand for UK property is the highest it's ever been and has almost doubled since pre-pandemic times. This lack of new residential supply entering the market can be attributed to supply chain disruptions, rising inflation, and a shortage of workers resulting from the covid-19 pandemic.
Additionally, the Conservative Party's housing pledge to build a target of 300,000 houses per year by the mid-2020s is thought to be 'almost impossible' at the current rate, with new supply rates actually dropping around 11% in 2020-2021 from 2019-2020 figures. Factors like brick sales figures drastically falling, alongside the growing population, means that the UK property market will struggle to meet the huge levels of demand, which will, in turn, appreciate property prices, particularly in major cities like London, Birmingham, and Manchester.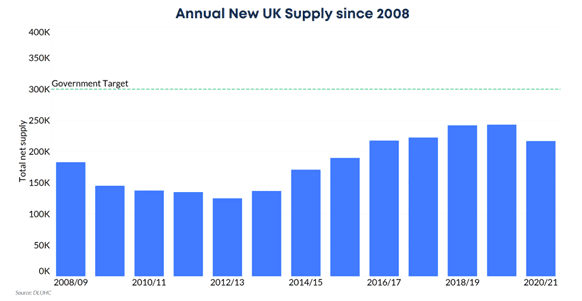 3. Long-term Property Price Growth
As a result of low supply and high demand, the UK property market is seeing price appreciation, with an estimated 13% price growth in key regional cities expected by 2026, meaning the average UK property will rise from £327,838 to £370,000.
2022 is forecasted to bring more stability to the UK property market after a record-breaking 2021. The surge in real estate activity over the past year, thanks to the stamp duty holiday, brought about a 10.8% increase in average property prices, going from £247,984 (AED 1,221,269) in December 2020 to a record-high £274,712 (AED 1,352,899) in December 2021.
The UK's key regions are forecasting above-average price growth, but many locations remain incredibly affordable nonetheless, with investors taking advantage of the lucrative opportunities.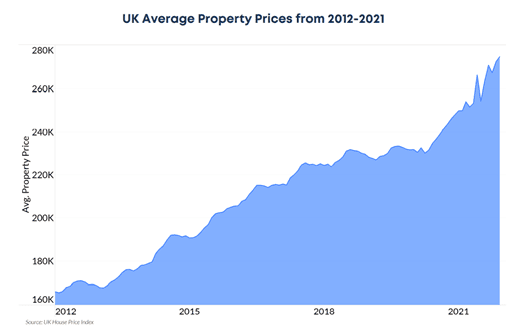 Which UK city are investors flocking to?
Thanks to its average £2,000 (AED 9,849) pcm rent, London looks like your answer here, right? Well, not quite. Traditionally, London has been a popular choice for real estate investments, but when you do the math, you'll discover that London has a major flaw, which is the cost of the property in the first place. Despite sky-high rents, after acquiring the property and accounting for fees and taxes, the average rental yield often falls well below 3%.
Considering the escalating prices over the last decade, looking beyond the capital is your best bet for lucrative returns as London will still be unable to match the rises seen in other key regional areas. With many working professionals reevaluating their living conditions due to the pandemic and consistent lockdowns, many are actually moving out of the capital.
Birmingham: The Second City
Nowadays, people are opting for more affordable and relatively nearby options like Birmingham in the West Midlands. That's right, England's 'Second City' is the largest and most populous British city outside London, with a population of over 1.1 million. A major international commercial center, dominated by the service and manufacturing sectors, the city has undergone plenty of regeneration in recent years to become an important regional hub.
Since 2016, Birmingham's property prices are up 37.4% compared to London's 14%, making it one of the fastest-growing UK cities for capital growth. Additionally, the average property price in Birmingham now stands at £213,158 (AED 1,050,377), half the average property price in London (£521,146), meaning plenty of investors are moving away from London's growing unaffordability in search for more attractive returns. With an average net yield of 6.56% versus London's 2.9% and the UK average's 3.6%, it's clear why Birmingham is thriving among investors.
Birmingham's figures are driven by high levels of inward and foreign investments, with incredible developments set to support its transformation into a world-class city, like the Big City Plan, as well as HS2, which cuts down Birmingham-London transit to just under an hour. Savills predict that Birmingham will be in one of the fastest-growing regions over the next five years, forecasting a population rise of 19.5%, price rises of 24%, and rental price growth of 12% – the latter potentially being the highest level of growth in the country.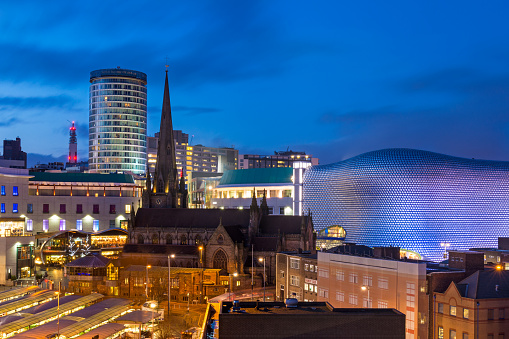 Conclusion
While investors are usually aware of the importance of portfolio diversification, many with real estate investments still exhibit a tendency to favor domestic, or more familiar, property markets instead of international ones, which is why we aim to help investors branch out.
Due to the huge demand for housing in the UK, as well as the trend of increasing rent prices and capital growth, the market is actually in better health compared to pre-pandemic times. While all sectors of the economy have been impacted by multiple lockdowns, investing in the UK property market is proving to be a reliable and resilient prospect in 2022.
Indeed, diversifying your real estate portfolio by investing in a UK property could potentially be the country's next perfect pairing. Speaking of which, how amazing would it be to rent an international property in the UK without actually being in the UK? A fast-growing rental market, low supply, and price appreciation, as well as no property tax, sounds like a winning combo to us!
So, stay tuned for the launch of our first-ever UK property. *wink*
Disclaimer: This blog is intended solely for educational purposes and shouldn't be treated as financial advice. We suggest you always conduct thorough research, perform your own due diligence and consult with financial advisors to assess any real estate property against your own financial goals.