Dubai has become an increasingly attractive destination for real estate investors and dream-home seekers globally, emerging as the leading market for luxury homes in 2023. Boasting a record-breaking 92 luxury real estate deals worth $1.7 billion in the first half of 2023 (source: Knight Frank), Dubai has outpaced major global hubs like Hong Kong, New York, and London.
In light of these phenomenal achievements, what particularly sets Dubai apart as the ultimate destination for luxury real estate investment?
Affordable Prices
Dubai presents an unparalleled opportunity when it comes to investing in luxury real estate. Despite the city's reputation for a lavish lifestyle, Knight Frank's 2023 Wealth Report demonstrates that luxury homes in Dubai are remarkably more affordable than their counterparts in other major global cities, even with a substantial 44 percent growth in real estate prices.
In a recent analysis conducted by Knight Frank, high-end residential properties valued at $1 million (AED 3.7 million) were compared across key luxury destinations worldwide. The findings revealed that Dubai offers an impressive 1,130 sq. ft. of luxury living for the same budget, surpassing renowned cities such as Monaco, Hong Kong, New York, London, Singapore, Geneva, Los Angeles, Paris, Shanghai, and Sydney. Astonishingly, these cities provide less than 480 sq. ft. of luxury property in comparison.
Such accessible price points and significant disparity in value places Dubai real estate in a league of its own, making it a superior destination for those seeking luxury living at a fraction of the cost experienced in other major global cities.
Investor-Friendly Environment
Dubai's status as an exceptional destination for investing in luxury properties is underlined by its investor-friendly environment. Renowned for its upscale communities and luxurious real estate, Dubai's laws and taxation system offer significant advantages to foreign investors. For that reason, the emirate stands as an undisputed key business hub in the region, attracting a diverse pool of real estate investors seeking a secure and profitable investment avenue.
One of the primary benefits for foreign real estate investors in Dubai is its tax-free system, alongside the lack of additional levies on property purchases. Whether acquiring luxury homes for personal use or as an investment, investors can expect streamlined transactions and hassle-free processes, a striking contrast to cities like London, Paris, and Monaco, which have implemented property tax reforms, including additional taxes on luxury property purchases for foreigners.
Moreover, Dubai's introduction of the Golden Visa program has further enhanced its appeal to foreign investors. This visa initiative grants long-term residency to eligible individuals and their families, providing greater accessibility to the Dubai real estate market.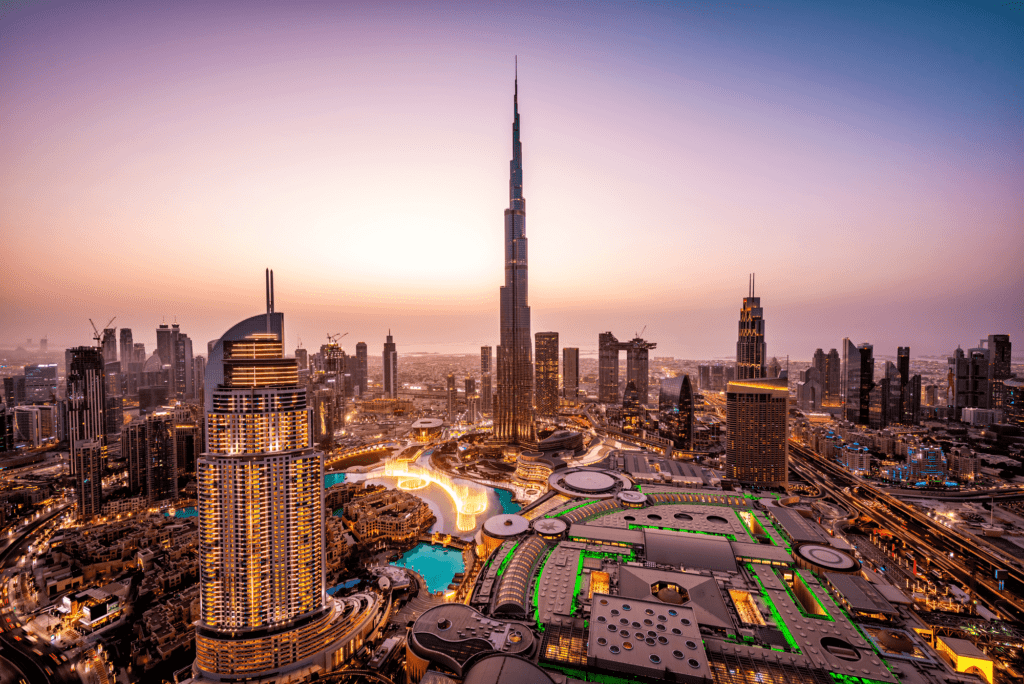 With its low-tax system and initiatives like the Golden Visa, it has never been easier to invest in Dubai real estate.
Thriving Luxury Market
Dubai's luxury real estate market is experiencing sustained growth, with market analysts projecting the luxury segment to continue driving capital value growth across mid and affordable units alike. Notably, the capital value witnessed an estimated 11 percent increase during the first half of 2023, with expectations of up to a further 10% price hike in high-end units for the second half of 2023. As a result, Dubai is poised to become the fastest-growing luxury real estate market among major global cities, surpassing the likes of Singapore and Bangkok.
This growth is evident in the soaring value of sales during the first half of 2023, reaching an impressive $3.1 billion. In 2022, prime residential real estate prices already surged by a remarkable 44 percent. The surge in demand for luxury properties has, however, led to a limited supply of high-end units, which has further propelled property values.
The Dubai Land Department (DLD) has reported a significant uptick in real estate sales transactions during the first quarter of 2023, marking a substantial 62% increase compared to Q1 2022. The surge in demand for luxurious homes is evidenced by the notable rise in the price per square foot for luxury properties. Since the end of 2020, average prime rents in Dubai have witnessed a significant increase of 62 percent, providing excellent prospects for property investors.
Millionaire Migration
Dubai's luxury real estate market has continued to magnetize the world's wealthiest individuals, who recognize the city as a premier financial haven, especially during its post-pandemic era. The allure of exclusive high-end properties, combined with a business-friendly environment and the introduction of golden visas, has elevated luxury home sales. In fact, the number of luxury home sales in Dubai has witnessed a staggering seventeen-fold increase over the past five years alone.
Branded Luxury Projects
Dubai's allure also lies in its sheer diversity, offering an extensive array of properties, including branded luxury residences. With over 40 branded luxury residential projects, Dubai boasts one of the highest numbers of such residences in the world.
From lavish villas to fully-serviced apartments and premium penthouses, Dubai is characterized by its prime property portfolio designed by world-class architects and built by renowned property developers, such as Emaar, Nakheel, and DAMAC, among others.
Which Areas to Invest in Dubai Real Estate?
The ideal areas for Dubai real estate investment differ depending on your preference for high-end apartments or villas. According to Bayut, high-end apartments in Dubai Marina stand out as the most popular choice for investors, boasting a price per sq. ft. of USD 473 (AED 1,737). Other alluring options for luxury apartments include Palm Jumeirah with USD 817 (AED 3,001) per sq. ft., Bluewaters Island with USD 1,215 (AED 4,463) per sq. ft., and City Walk with USD 598 (AED 2,196) per sq. ft., all offering excellent ROIs of over 5%.
For those seeking luxury penthouses in Dubai, the options are equally enticing. Palm Jumeirah, Bluewaters Island, Downtown Dubai, and Dubai Marina host an extensive range of penthouses with prices ranging from USD 354K (AED 1.3M) to USD 204M (AED 750M), depending on property size and your area of interest.
Other sought-after areas for luxury apartments include Downtown Dubai and Mohammed Bin Rashid (MBR) City. Overall, Dubai offers a plethora of enticing opportunities for high-net-worth individuals to invest in luxury real estate.
In Summary
With an ever-growing property market and a vast selection of luxury homes, Dubai continues to stand out as a compelling choice for real estate investment. The emirate offers world-class luxury living standards at a price far more affordable than any other cosmopolitan city in the world, along with an investor-friendly environment that attracts HNWIs from across the globe.
Simply download our app now to check out our latest luxury properties available in the most upscale communities, including Dubai Marina and Downtown Dubai.
Disclaimer: This blog is intended solely for educational purposes and shouldn't be treated as financial advice. We suggest you always conduct thorough research, perform your own due diligence and consult with financial advisors to assess any real estate property against your own financial goals.