A city that has recently been at the forefront of development and innovation, Dubai is replete with emerging investment hotspots. Teeming with a vast array of desirable, up-and-coming neighborhoods, pinpointing where to invest in Dubai can be quite the challenge.
To help you narrow it down, we've compiled 5 promising emerging areas in Dubai, offering insights as to why these are potentially attractive real estate investment opportunities.
Dubai Creek Harbor 
Dubai Hills Estate (MBR City)
Jumeirah Village Circle (JVC)
Meydan
Dubai South
1. Dubai Creek Harbour
Situated just 10 minutes from Downtown Dubai on Ras Al Khor Road, Dubai Creek Harbour is a waterfront community developed in a joint venture between Emaar and Dubai Holding. With modern waterfront living, high-end amenities, and rich heritage attractions, it's a prime up-and-coming hub to buy property in Dubai.
Notable features include the Dubai Creek Tower, set to surpass the Burj Khalifa in height, the Ras Al Khor Sanctuary, and the Dubai Hills Mall, all accompanied by unparalleled views of Downtown Dubai's skyline. Focusing on sustainability and green spaces, the environment appeals to both residents and investors, offering a luxury lifestyle at a lower cost than its neighbor, Downtown Dubai. Additionally, it boasts an efficient transport network that includes 3 bridges and direct Al Khail Road access.
Given its early stage, early buyers can benefit from its prime location and attractive rates PSF, along with its potential for lucrative returns and capital appreciation. Dubai Creek Harbor is the third most transacted area in Dubai in 2023 so far (Source: Reidin).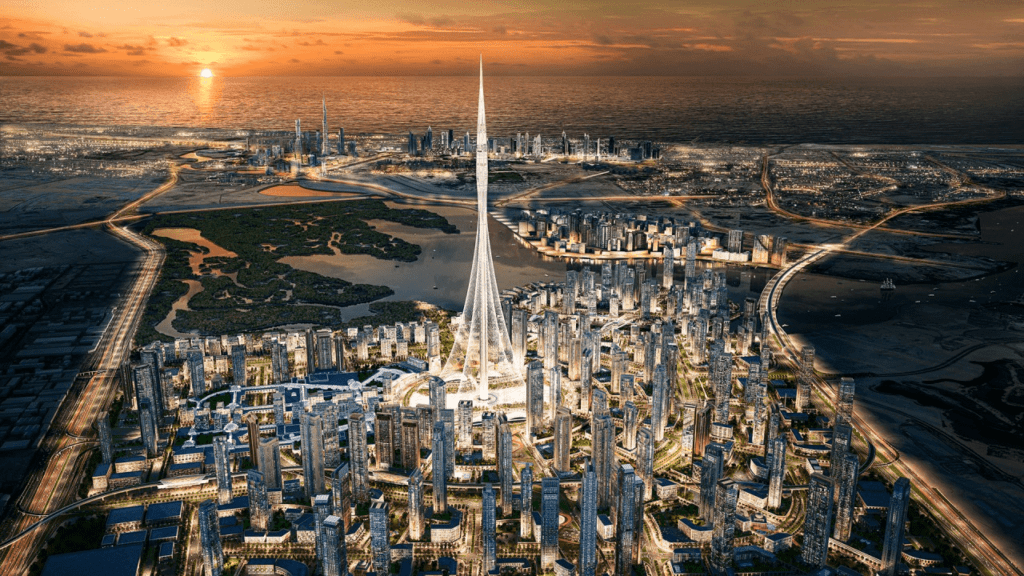 Dubai Creek Harbour is one of the fasting-growing communities in Dubai
2. Dubai Hills Estate (MBR City)
As part of one of Dubai's most anticipated communities, Mohammed bin Rashid City (MBR City), Dubai Hills Estate is a rapidly developing, well-planned residential area developed by Emaar. Renowned for its open green space and high-end residences, Dubai Hills Estate is a popular, family-friendly community highly sought-after community centered around an 18-hole championship golf course, Dubai Hills Golf Club.
As of 2023, Dubai Hills Estate proudly ranks among Dubai's top 5 transacted areas and the first in MBR city overall with 3.2K sales, a testament to its appeal. Property values within the estate have surged by an impressive 43% from their lowest point in 2020. Overall, Dubai Hills Estate offers strong potential for capital appreciation as it is a well-connected community with easy access to major highways.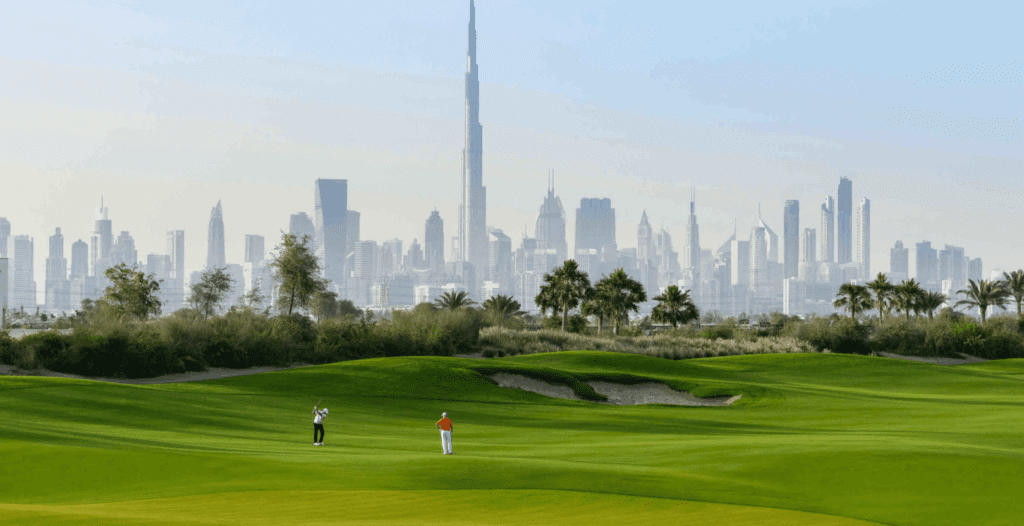 Dubai Hills Estate is a master-planned community centered around a golf course with iconic views of the Burj Khalifa.
3. Jumeirah Village Circle (JVC)
Between Dubai Marina and Al Barsha, Jumeirah Village Circle (JVC) is a self-contained suburban haven. It offers a serene yet convenient lifestyle, marked by affordability, connectivity, and quality residences for the budget-conscious buyer. With ongoing development and upcoming projects, JVC presents a compelling opportunity for investors seeking future growth.
JVC is currently the top transacted area in Dubai with 7.4K transactions. Since 2021, JVC's rental prices have surged by 43%, outpacing Dubai's overall rental growth of 41%, reflecting JVC's strong rental market appeal due to its competitive prices and high-quality offerings.
Though JVC's family-friendly reputation has solidified its status as a long-term rental preference, an 81% rise in short-term rental units from Q1 2022 to Q1 2023 highlights its appeal for holiday homes. Ultimately, its prime location, affordability, and amenities make it a hotspot for both long-term residents and transient guests, as well as for those looking to buy property in Dubai.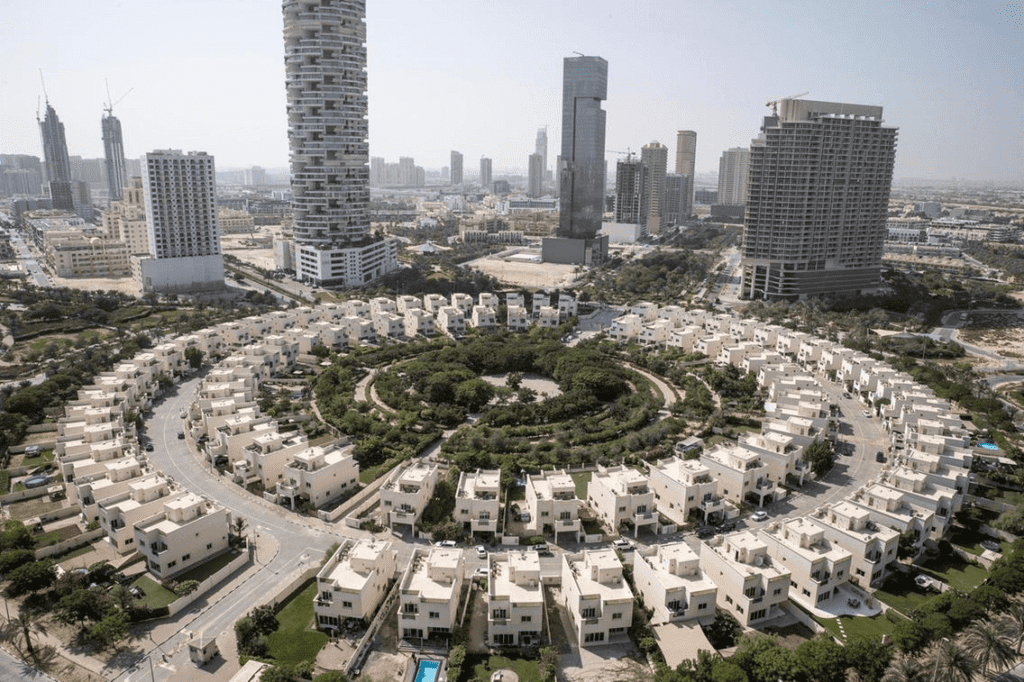 Jumeirah Village Circle (JVC) is the top-performing emerging area in Dubai.
4. Dubai South
Located near Al Maktoum International Airport, Dubai South, or Dubai World Central, is one of the biggest emerging areas in the region, focusing on urban living and connectivity. Dubai South is divided into mini-cities, spanning a range of investment opportunities spanning residential, commercial, and industrial sectors with proximity to key transport hubs, including the Dubai Metro.
This area is known for its more affordable properties, with the average transaction price at AED 600-1000 per square foot. Additionally, it's set to be an incredibly versatile community, great for both short-term and long-term rental properties, as the Dubai South expands inland to support a population of a million residents and create 500,000 jobs, including one of its highly sought-after golf-course developments, Emaar South.
As the area develops, with new infrastructure, Al Maktoum International Airport, and population growth, Dubai South looks to be one of the top property hotspots to invest in Dubai.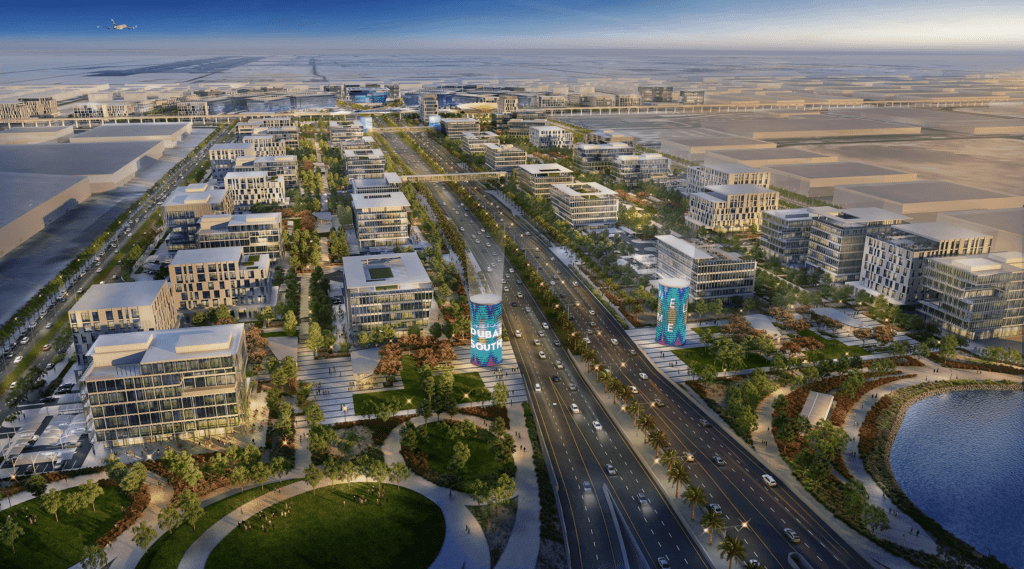 Dubai South is the UAE's largest urban projects in development.
5. Meydan
Meydan, located alongside Ras Al Khor Road and Al Ain Road, spans 40 million sq. ft, appealing to investors and residents. Beyond its iconic racecourse, it features hotels, restaurants, entertainment venues, skyscrapers, a concourse plaza, a boat house, and Meydan One Mall. It includes sub-communities like Meydan One, The Polo Residences, The Polo Townhouses, Millennium Estates, Meydan Avenue, and Meydan Heights.
With a focus on upscale living, Meydan offers diverse residential options from apartments to villas, making it a prime choice to buy property in Dubai. Combining free-zone businesses, sporting events, and homes, it's developing into a vast residential destination brimming with investment opportunities. In fact, Meydan One was also one of the top-transacted areas in 2023 with 1.1K sales.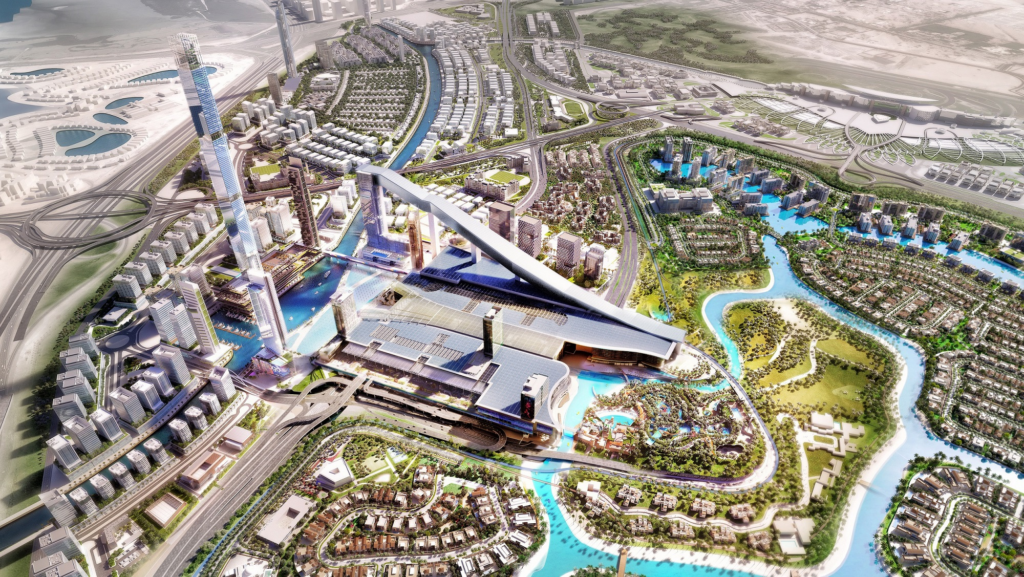 Meydan is brimming with luxury residences for those looking to buy property in Dubai
Bottom Line
These emerging areas are taking the spotlight, and rightfully so. Each of these prime locations offers unique advantages for residents and investors alike, from strategic connectivity to high-quality, innovative residences, they certainly merit a closer look for those seeking attractive investment opportunities in the Dubai real estate market.
If you're interested in some, or all, of the above areas then check them out on SmartCrowd. As a real estate crowdfunding platform, we encourage our investors to diversify their portfolios and spread their risk seamlessly. After all, that is our mission – to empower you to invest in Dubai real estate with zero hassle. So, download our app now, check out the latest properties in these growing areas, and start investing.

Disclaimer: This blog is intended solely for educational purposes and shouldn't be treated as financial advice. We suggest you always conduct thorough research, perform your own due diligence and consult with financial advisors to assess any real estate property against your own financial goals.