With its luxurious supply of upscale apartments and lavish villas, finding somewhere affordable to buy property in Dubai seems like an impossible task, doesn't it?
As expensive and unattainable as the City of Gold may appear, you can still find Dubai properties to invest in regardless of your budget. Thanks to a strong post-pandemic rebound, various visa reforms, new economic policies, and 100% ownership rules, it's now easier than ever for anyone to live and invest in Dubai.
Now, we're well aware that not all of us can afford to break our bank on properties in, say, Dubai Marina or Downtown Dubai, but finding a neighborhood that balances affordable rents, high-quality infrastructure, attractive amenities, and a good community atmosphere isn't so out of reach, either.
Don't believe us? Well, check out our list below of 5 budget-friendly areas to buy property in Dubai – you might just find your next investment in the UAE!
1. Jumeirah Village Circle (JVC)
Located in the heart of 'New Dubai', JVC is an affordable mixed-use hub home to over 2,000 residential units, comprising an eclectic blend of state-of-the-art apartments, spacious villas, and townhouses.
It's one of the most popular Dubai areas to buy freehold properties, especially villas, for budget-conscious homebuyers, as it's a family-friendly urban community connected by an abundance of green parks, modern amenities, and canals. Given the lack of congestion, as well as its close proximity to city centers like Dubai Marina, Internet City, and JLT, commuting to other major parts of Dubai is incredibly hassle-free.
JVC is also a sought-after area amongst investors due to its attractive prices, high rental yields, and prime location, offering some of the best investments in the UAE. Apartments in the area have an average ready transaction price of AED 832 psf. Over the past year, the area has witnessed significant growth in its market, with JVC apartment sales prices increasing by 7.2%. Rental price was also up 13% across all bedrooms, as well as a 9% increase in studios.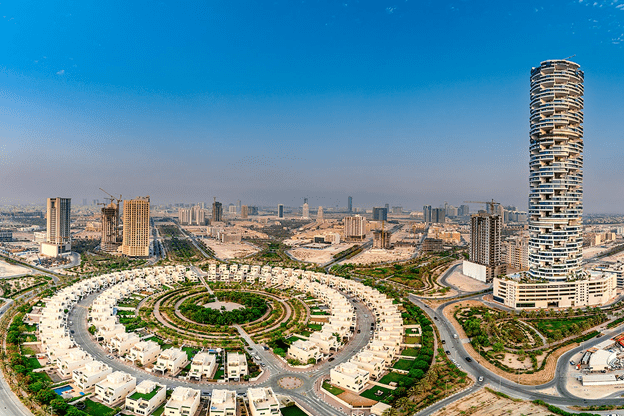 2. Dubai Silicon Oasis (DSO)
DSO is a peaceful suburb centrally located amidst the bustling city, right at the E311 and E66 intersection. Buzzed with innovation, the 7.2-square-kilometer development is transforming into Dubai's technological hub and is set to be one of the main urban centers in Dubai's 2040 Master Plan.
DSO also operates as a free-trade zone, offering the latest in-house business services, while also acting as an incubator for tech start-ups. With endless commercial spaces, warehouses, and facilities, DSO is ideal for entrepreneurs seeking to launch and grow their businesses.
What's great about DSO is that it seamlessly integrates working and living spaces, offering a wide array of amenity-packed residential towers and gated villa communities available to rent, buy or lease at a reasonable price tag. Besides being only a 15-minute drive to Dubai International Airport, other nearby commercial hubs include International City, Downtown Dubai, and Global Village, making it a well-connected community.
DSO greatly suits the needs of those seeking affordable residential options, as well as first-time buyers searching for the best investment in Dubai's up-and-coming real estate market. Since it's a fast-growing area, more investors have entered the area market to capitalize on high yields, as DSO remains one of the top-performing areas for net rental yields in Dubai.
Though sales prices fell during the first half of 2021, DSO's January 2022 median prices have exceeded 2021 levels, with an improvement in rental rates. The area's average ready transaction price is AED 604 psf across all apartments. As DSO is a relatively mature community, DSO has little to no upcoming supply this year, meaning properties are priced at a premium rate – a good sign for investors!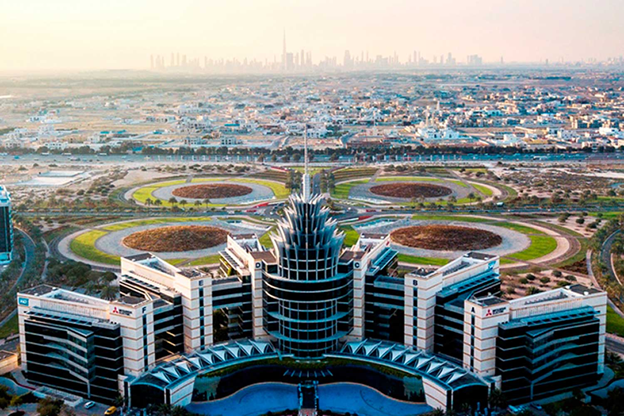 3. Dubai Production City (IMPZ)
Dubai Production City, formerly known as IMPZ (International Media Production Zone), is a mixed-use development in Dubai located off Sheikh Mohammed Bin Zayed Road, redefining the concept of holistic living.
This well-rounded suburban community merges residential, business, and leisure options for an enhanced quality of life at a reasonable price. Dubai Production City also operates as a freezone, catering to media production companies.
Units for rent in Dubai Production City, particularly studio apartments, offer great value for money, due to their great amenities, quality, and freehold ownership. As a result, the area is experiencing unprecedented growth in its population, with the demand for properties, particularly studios, rising steadily, giving investors the perfect opportunity to start property investments in Dubai.
IMPZ property prices have also appreciated by 4.5%, with a ready transaction price averaging at AED 729 psf, whilst typically offering an above market average net yield. Plus, the area's new supply is also not expected till 2023, so healthy demand for units persists.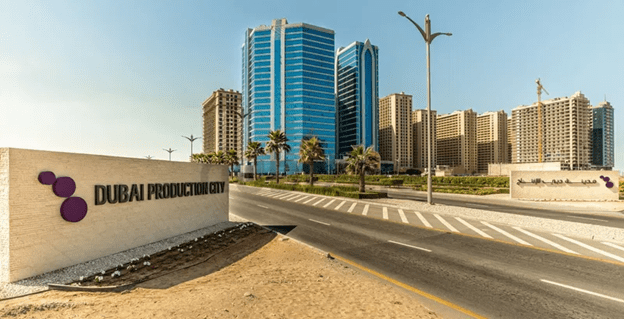 4. Dubai Sports City (DSC)
DSC offers an immersive approach to urban living, emerging as a budget-friendly favorite among investors.
As the name suggests, it's a sports-oriented neighborhood with good schools, sizable apartments, great road connectivity, and a large number of sports venues. DSC is fit for those wanting to maintain a sport-centric lifestyle as the area hosts a number of parks, footpaths, jogging tracks, and biking lanes.
With some of the cheapest freehold offerings in the real estate market, from residential to retail, commercial, and sports facilities, this community has everything that one can ask for. Location-wise, DSC is also situated by Al Khail Road and Hessa Street, providing quick access to the other major parts of Dubai.
Properties in DSC have an average ready transaction price of AED 633 psf. Despite it being a pretty steady market with no significant growth recently, DSC nonetheless remains an incredibly affordable place to invest in Dubai with great yield rankings across all bedrooms.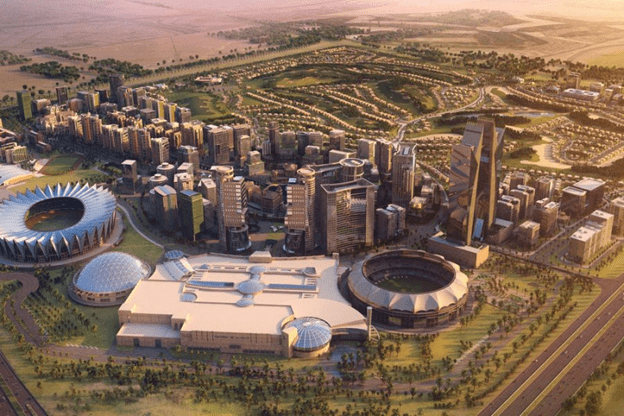 5. International City
Located in the Al Warsan region of Dubai, International City usually tops the list of most affordable areas in Dubai – and for good reason. Its key feature is its European country-style architecture with a charming neighborhood feel, divided into 10 localities named after a country, reflective of its vibrant multicultural community.
From schools to supermarkets, medical facilities, restaurants, and cafes, etc, the 800-hectare area has no shortage of modern amenities and attractions. Additionally, International City has great transport links with several bus stations, as well as access to Dragon Mart.
International City is also the largest residential area in Dubai comprising a total supply of around 37,000 units, with an average ready transaction property price of AED 439 psf. Though there's been very little increase in prices, International City is still the top-performing area in terms of gains across all bedrooms and studios, with an impressive 6.4% net rental yield.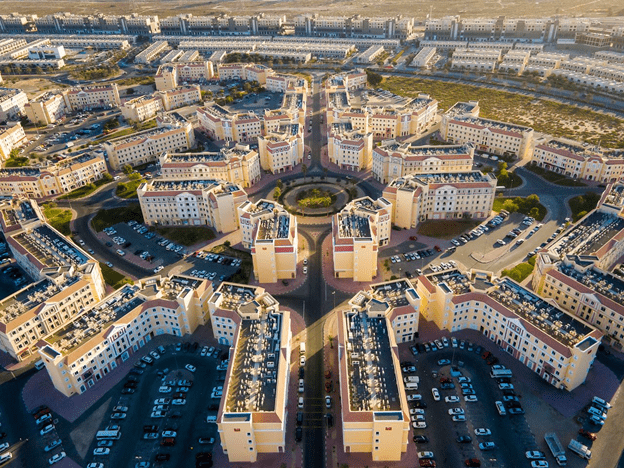 Final Say
Despite its legacy as one of the most expensive cities in the entire world thanks to its luxury living, world-class shopping malls, glitzy nightlife, and towering skyscrapers, Dubai nonetheless does have hidden gems for those frugal-minded buyers.
Each of the neighborhoods listed above boasts great amenities at affordable costs. Point is, there's no need to break your bank if you're looking for the best investment in the UAE. With 2021 giving the property market a much-needed boost, perhaps now is the time to consider investing in Dubai.
In fact, real estate crowdfunding platforms are making investing easier than ever before. For example, SmartCrowd allows you to invest in any of the listed properties from anywhere, regardless of your income. The platform always has pre-vetted properties, catering to a variety of investment needs. Not only that, you can invest in Dubai properties for as low as AED 500, so you don't have to be Richie Rich to get a hold of them!
Disclaimer: This blog is intended solely for educational purposes and shouldn't be treated as financial advice. We suggest you always conduct thorough research, perform your own due diligence and consult with financial advisors to assess any real estate property against your own financial goals.