Are your wealthy hedge-fund friends jetting off to Dubai, too? It started with the Russian elite looking for a sanction-free sanctuary to park their crypto cash. And now, a distinct breed of millionaire has emerged in Dubai: the ultra-rich, laptop-toting digital nomad. 
In this blog, we'll follow this millionaire migration, honing in on the digital nomad demographic, and explore how you can capitalize on this wave of high-net-worth individuals. 
What's Driving this Millionaire Movement?
No, it's not just about the year-round sunshine, palm-lined beaches, or tax-free salaries. With an anticipated influx of 4,500 millionaires to the UAE in 2023, the decision to relocate to Dubai is a fairly easy one. 
From its strategic location to its unrivaled global appeal, Dubai has swiftly grown to be the ideal place to live, work, and invest. Albeit young in comparison to major global metropolises like London, New York, or Hong Kong, Dubai's luxury real estate market offers exceptional value for money, boasting lower property rates PSF compared to luxury hubs. Add stability, a business-friendly ecosystem, and various initiatives, like the Golden Visa, and the appeal in Dubai real estate becomes even more evident. 
At present, the city is heavily soaking up real estate investments from this huge influx of HNWIs. As per a 2023 Knight Frank report, global high-net-worth individuals (HNWIs) are expected to pour $2.5bn into Dubai real estate. Their target? Luxury real estate in hotspots like Downtown Dubai, Palm Jumeirah, and Dubai Hills Estate. Within this particular HNWI demographic is the ultra-rich remote worker, fondly known as the digital nomad.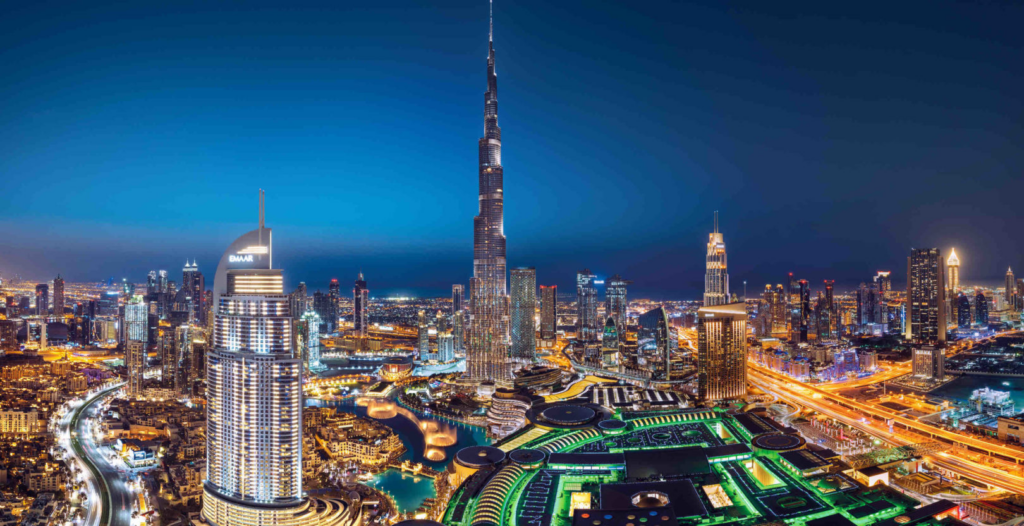 Downtown Dubai has remained a top choice for property investment as it continues to attract global millionaires.
Wait, Who Exactly are the Digital Nomads?
Post-pandemic, one thing was for sure: Remote work was here to stay. Flexibility, location mobility and WFH (work from home) became buzzwords, with working professionals yearning for an escape. This gave birth to workcations, ushering in the era of the executive nomad.
In fact, Dubai was one of the first cities in the Gulf to embrace this growing demand for a digital nomad lifestyle, introducing its digital nomad visa scheme in March 2021. With Dubai attracting a growing talent pool, the city's emerging fintech and financial services sectors are also proving to be powerful magnets for executive nomads. 
These savvy digital nomads are typically dual-income individuals with no kids, often tagged as "Dinkies", who particularly gravitate towards high-end residences in Downtown Dubai, close to DIFC, or in Dubai Marina for proximity to Dubai Media City and Internet City.
Enter the Digital Nomad
Indeed, Dubai has emerged as the top destination of choice for remote workers from across the globe, scoring 34.18 points on the Savills Executive Nomad Index, which grades 20 of the world's most desirable destinations based on their appeal and ease of access for long-term remote workers. 
Specific indicators included:
Prime Residential Rents
Air connectivity
Climate
Quality of Life
Internet Speed
Dubai's booming business and fintech sector, coupled with a tax-free setting, excellent quality of life, and Golden Visa incentives, has become a magnet to this ever-expanding tribe of digital nomads. With most co-working spaces at nearly 100% capacity, Dubai's status as a top digital nomad destination is affirmed. Not to mention, Dubai also shines in connectivity, with Dubai International Airport, leading in global international passenger traffic. Additionally, Dubai's investment in digital infrastructure, coupled with the world's fastest mobile internet speeds in the UAE, firmly secure Dubai's top ranking for digital nomads.

Savills' Digital Nomad Index has ranked the above cities in terms of appeal.
So, How Can You Benefit?
It's simple. While the new-age millionaires chase Wi-Fi signals for their laptops in Dubai, this is your chance to capitalize on this wave and invest in Dubai real estate. Thanks to significant demand from ultra HNWIs, Dubai's luxury real estate market has reached record highs, with an 11.2% increase in prime property value across Dubai, far surpassing the average increase of 1.1% across 30 major global cities (Source: Savills Research).
Given that Dubai is geared towards exceptional growth, attracting and retaining millionaires has become almost second nature. Property investment platforms like SmartCrowd allow real estate investors to easily buy property in Dubai and earn rental income from anywhere, at any time. Best of all, there is zero paperwork or property management involved.
Ready for action? Download our app now, explore our latest properties available, and set your sights on some of the most sought-after communities in Dubai for property investment opportunities, including upscale areas like Dubai Marina, Business Bay, Downtown, and beyond.