Right now, is probably one of the best times for you to invest in Dubai real estate if your investment horizon is at least 5 years. But you can't just rush in and pick up any deal you find, you have to buy the right kind of asset. Real estate investments can be tricky. For this reason, it is advised you complete your due diligence on the overall current activity of real estate investments and top performing properties in Dubai. 
Let's be honest, we would all love to invest in things that appreciate in value. But if that were easy, everyone would be doing it. The truth is we humans do not think or act rationally. Instead of an investing philosophy most people rely on hope. But for you to generate value from real estate investments, they must come down in price. This creates an opportunity for you to take advantage of. But you need to be prepared, both physically and mentally. Because it is much easier to invest your money when things are on the up and up, but it takes real courage to put your money into assets that have suffered double digit declines.
The reality is, it's probably one of the best times to invest when things have corrected and come down in price. That is where value is found. Value investing is finding thigs that appear underpriced – are undervalued by the market. That's exactly whats happening right now in the Dubai real estate investment market. 
What Are People Looking For in Real Estate Investments?
We believe such opportunities are present in the dubai property market right now. In the last 6 months the world has changed leading to massive changes in people's behavior and preferences. In terms of real estate investments, people are preferring larger spaces to accommodate a home office or a home school space. People are also preferring outdoor spaces such as patios/balconies and yards within a community with facilities. Furthermore, people are more open to living further away from cities as working from home is becoming more acceptable. This in turn is leading to less commuting to work every day. This is very different from the demand dynamics of the recent past were people preferred to live in cities looking for shorter commutes.
Is Supply Really Outstripping Demand?
The narrative in the Dubai property market has been right, supply has outstripped demand leading to downward pressure in real estate prices. Buts its critical to look below the surface. Excess supply will lead to lower prices if demand can't keep up. But if the supply for specific type of units is limited and the demand high can lead to increase in prices even if the overall market might be suffering. We are starting to witness just that. According to Reidin research, there are currently 152,364 units under construction with majority of those units to be delivered next year in 2021. Per historical results the actual realization rate is well below 50% meaning that these 152,364 will take a few years to complete.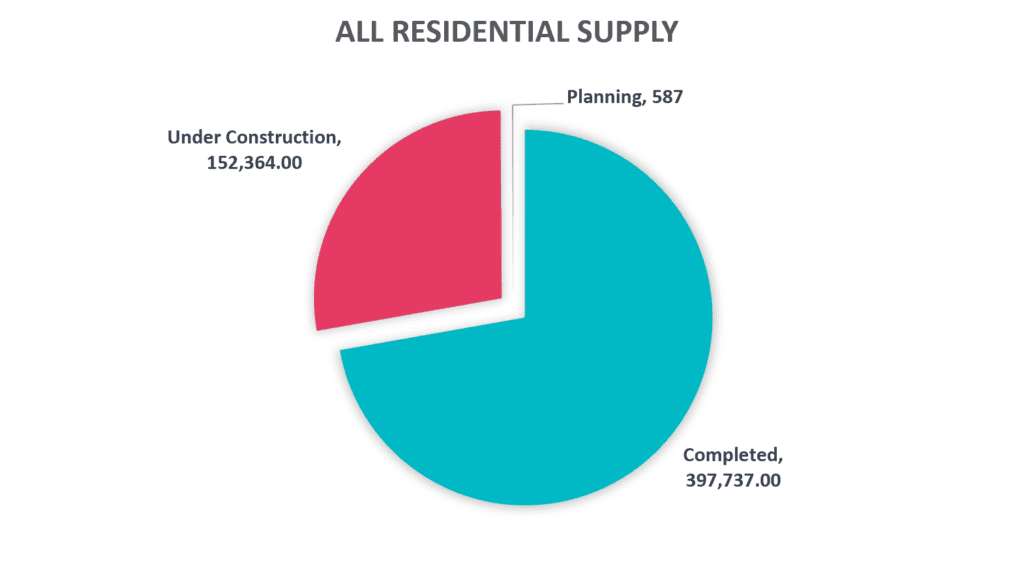 Are Prices Starting To Increase?
Of the 152,364 units under construction only 26,323 are villas, approximately 17% of the expected supply. 17,711 villas are expected to be delivered next year but due to recent pandemic and historical realization rate the actual delivery of units will most likely be lower.  Since the lockdown back in April 27% of all transactions have been for villas. It's clear that the demand for villas has increased, and supply is limited leading to a rise in villa prices. We have already started to witness that particularly for 2- and 3-bedroom affordable villas under AED 2.2. million.
Supply peaked almost 3 years ago as shown below.  Which means if demand further increases it could lead to a rapid price increase. Demand overall has taken a hit in recent months but the demand for 2 to 3 bedroom villa/townhomes has really picked up especially with rents coming down. Demand can rise much faster than supply as it takes time to build new communities. We are confident demand will rebound much quicker than expected. But before we get into what will lead to demand increase, let us see how the villa prices performed after the last crisis and how quickly they bounced back.
How Quickly Did We Rebound Last Time?
For our analysis we looked at the data among the most popular villa communities; Springs, Meadows, Arabian Ranches, Palm and JVC. As you can see below, since inception, prices in each of these communities have increased substantially.
What is remarkable is how quickly the price increased form the last cycle bottom in 2010.
This demonstrates that demand can rise much faster than supply. In the above chart it shows that villa supply had peaked in 2007 just prior to the financial crisis and there were hardly new project launches during 2009-2012. With increase demand and limited supply, the prices increased substantially in a very short period.
Clearly the rapid increase in supply from 2013-2017 put pressure on pricing as shown below.
It might appear you would want to run in the opposite direction, but as we said before, this is precisely where value is found for real estate investment. The prices have corrected substantially and are now close to replacement cost meaning it will be more expensive to buy land and build new homes than buy them at current value. Sure, there can be further downside but its limited compared to the upside (refer to historical data above).
With supply peaked, the demand is what will drive the prices. We are already starting to witness increases in price, rent and transaction volume. We have already demonstrated the change in preferences that is leading to an increase demand. Furthermore, the government has introduced many structural reforms that will lead to further increases in demand and boost real estate investments. The most exciting reform is the most recent one targeting remote professional workers.
Working from home might be a fad that might die but working from anywhere is a new trend. UAE is a great place to attract these professionals since it is a tax-free jurisdiction with good quality of life and is very affordable compared to other metropolitan cities. Furthermore, it has a great geographical advantage where a 6-hour flight can cover 2/3rd of the world. And with the time difference, professionals can easily serve both east and west. Also, a major confidence booster is how well the UAE has handled the COVID-19 pandemic compared to the rest of the world. Where most of the western world is going back into lockdown, the UAE is opening up. There are many challenges in the western world that will lead many to migrate to places like the UAE. We are already starting to witness that through various conversations. You don't hear this narrative in the media because negativity sells really well. For long term investors, it's a great opportunity to park your money in assets that can appreciate in value and the best part is if you can earn 4-6% annual return while waiting for that to happen. Thanks to all these constructive changes, Dubai real estate investments have witnessed an uptick in the market. 
Where Is The Value
From a real estate investment perspective, we view 2-3 bedroom townhomes as great opportunities in upcoming and mature communities like Al Waha villas, Dubai South, Emaar South, Springs & Meadows. In the newer communities there are very unique 2-3 bedroom townhomes which are single story homes. What's really attractive about them is that service charges for these units are very low (3-6 AED / sft) as there is limited common area, no elevators etc to maintain. Lower service charges protect your real estate investment as your carrying costs are very low. They also make it very attractive for first time home buyers as the overall cost of ownership would be much lower than buying an apartment where service charges can be as high as AED 14-16/sft. For a 1,400 sqft unit that can be a difference of AED 14,000!
Imagine you had invested in Dubai real estate after the Global Financial crisis in 2011 when prices had rapidly decreased. Since then the prices rebounded and peaked in 2014 and in many places the prices as still above the 2011 market. More importantly in the last 9 years, you would have earned attractive yields and if you were a foreign investor, you would made even better returns when you factor the strength of USD/AED.
A similar opportunity is being presented to you now. The question is are you going to take advantage of it. You might not have AED 1 million to buy a townhome, but you can certainly participate in the one on MENA's prominent real estate investment SmartCrowd platform with as little as AED 5,000.
Al Waha
Townhouse
Net Dividend Yield: 7.75%
Minimum Investment: AED 5,000
View Investment
Nowe Live