Over the past year, Dubai has become a magnet for international real estate investors. The UAE government's successful lockdown campaign and vaccination roll-out, along with its transformational visa reforms, has enabled the city's real estate sector to skyrocket. One of the biggest winners, in terms of real estate investment, has been Business Bay. Bayut ranked it as one of the most popular neighborhoods to purchase apartments in Dubai in its 2021 Market Report, thanks to its central location, amenity density, and high-quality property builds.
Central Location
Located right next to Downtown Dubai, Business Bay is known for its cosmopolitan, face-paced lifestyle, attracting a huge population of young professionals and families working in Downtown Dubai, Jumeirah, and the DIFC. The area is also incredibly central, with direct access to not only commercial, leisure, and tourist amenities but also that of Downtown Dubai – with iconic landmarks like the Burj Khalifa, DIFC, and Dubai Mall just minutes away. 
Highly Transacted market
This is why it has consistently been in Reidin's top five most transacted areas in Dubai, with almost double the transactions in the past year than Downtown Dubai and Dubai Hills Estate. It's currently second to Jumeirah Village Circle, which is primarily known for being a residential hub for families, both large and small. Business Bay on the other hand has been able to cater to young professionals, families, and tourists – which is why its population has increased by 200% from 7,370 in 2015 to 21,497 in 2020.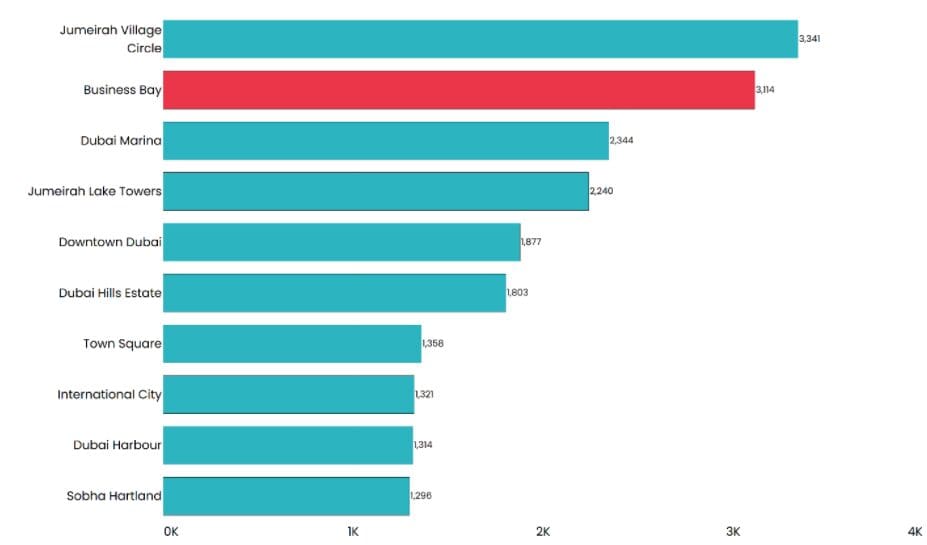 In-Demand Area to Own 
Business Bay's property market is white-hot. Property prices in the area are up 10% on average since the beginning of 2021 and are up 6% on average in the past quarter – which is why it's not only the 2nd most transacted area in the city but also the 3rd most in transaction value with AED 4.6 billion in 2021 so far.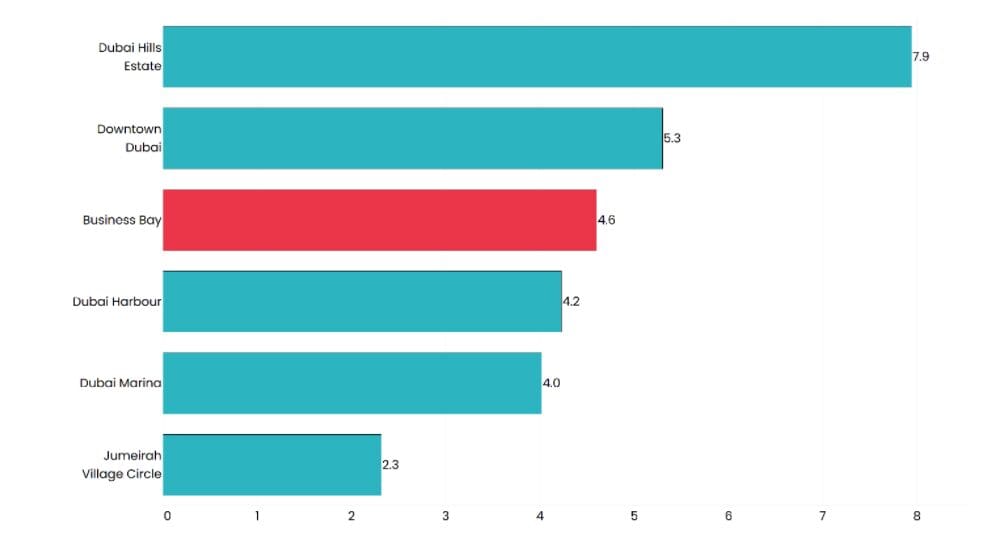 A Holiday Home Hidden Gem
Business Bay has also proven itself to be not only a great option for long-term rentals, as mentioned above with its migration boom but also as a holiday home destination. It's at the center of the city, it has views of the Burj Khalifa, it has a modern landscape and architecture, and is surrounded by amenities like restaurants, hotels, and more. Tourists are getting virtually the same value they would get if they stayed in Downtown but at a lower cost! This applies to investors as well as average prices in Business Bay are far less than in Downtown Dubai, which is one of the most in-demand areas in the UAE, let alone the world. 
Business Bay: A Winner
These are just a couple of reasons why Business Bay looks to be the next big hit in the Dubai property market. We haven't even touched on the fact that Expo 2020 is underway and international businesses are looking to set up shop in the UAE, with Business Bay being among the top of their lists for offices and living space for employees. The area's surrounding region is also rapidly developing, with the likes of Dubai Design District and Creek Harbour set to become major leisure and commercial hubs in the future. 
So, what are you waiting for? You can invest in areas like Business Bay and more today with smartcrowd.aefor as low as AED 500!