It's safe to say that investors these days are navigating a turbulent global economy, one that is still yet to fully recover from the Covid-19 pandemic. Not to mention, inflation is at a record high, adversely impacting the performance of traditional assets, like stocks, bonds, and cash, and, in turn, investment portfolios.
That's where tangible, inflation-resistant assets, like gold and real estate, come in. During periods of economic instability, both assets typically help lift your portfolio and support your investment strategy, but the question is – which is the better investment?
Well, real estate has the potential to generate monthly passive income, making it a known way to earn steady returns. On the other hand, gold, though more volatile, offers much higher liquidity than real estate.
That said, the answer isn't so straightforward, as it ultimately depends on several factors, such as your investment objectives and time horizon. So, in this blog, we'll explore these two inflation-resistant assets and outline their pros and cons, so you get a better picture of which asset to invest in.
Gold – Pros:
Gold belongs to the commodities market, falling under the precious metals category, but, because of how valuable it is, it takes first place, miles ahead of silver and copper, and has been used as currency, jewelry, decorative items, and other artifacts for centuries. Now, what's great about gold (and precious metals, in general) is that it's a physical asset, meaning you can see it, touch it, and you could even taste it if you wanted to (Chocolate mousse with edible gold leaf, anyone?).
Point is, gold is seen as a safe haven during financial crises, as it's a commodity that tends to hold its relative value, or even grow in value, offering a better alternative to leaving hard-earned cash lying in the bank as inflation erodes its purchasing power. This adds a strong element of stability and, not to mention, diversification to your portfolio.
Also, gold has long been considered a hedge against inflation and economic downturn, as it isn't correlated with paper money. Finally, gold is portable, and can be easily bought or sold, making it a liquid asset, which is convenient if you need to access cash quickly.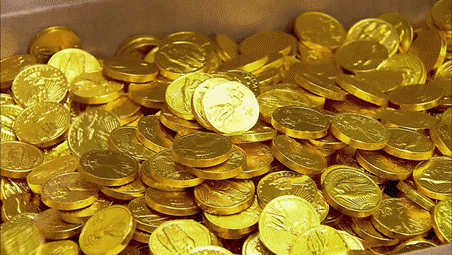 Gold – Cons:
First things first, you don't necessarily buy gold because you want to grow your wealth. You buy gold because you want to preserve it. So, unlike stocks or real estate, gold does not generate income. This means that you would need to sell your gold in order to make a profit – which only happens when it appreciates in value.
Gold is also subject to demand and supply pressures, with its price fluctuating by the day. This makes it a more volatile asset, so it's important to carefully analyze the gold market before investing your money. Finally, as gold is a physical asset, you'd need to find a place to store it, which can be costly.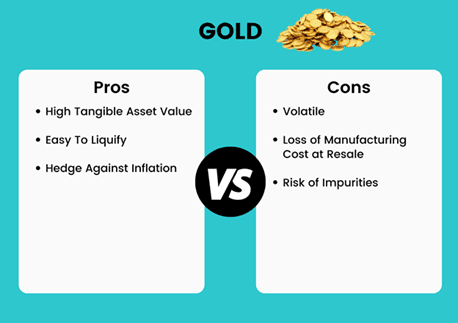 How To Invest In Gold:
Investing in gold is one of the most reliable forms of investment, so if your goal is to preserve your money, then investing in gold is a solid option. You can invest either by purchasing physical gold or on paper.
Physical gold like bullion coins, bars, and jewelry are assets that can be physically held. Paper gold involves future contracts, ETFs, or mining stocks, and is usually traded without the physical gold. These are often meant for short-term profits and quick liquidation, have lower premiums, and are far riskier for beginners to invest.
Moving On To Real Estate…
Real Estate – Pros:
Real estate investments can build significant wealth, particularly if you diversify by investing in multiple passive income properties. Unlike stocks and bonds where things are out of your control, real estate offers something that other assets can't: cash flow that is directly correlated to your own decisions, as you have full authority the minute you acquire the property.
What also sets real estate investments apart from other options is that not only do they provide more steady returns, but also capital appreciation, and no property tax when you invest in Dubai. Real estate is also known to be a strong hedge against inflation that historically yields healthy returns, as rents and property prices move in proportion to inflation.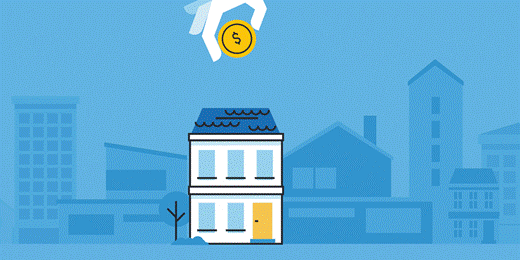 Real Estate – Cons:
The main con associated with real estate investments is that the asset offers low liquidity, as it's not as easy to sell properties if you need money or just want to cash out. This also makes it a long grind, as it may take years to see significant results. In addition to that, real estate requires time – it needs management, maintenance, and, well, a lot of patience!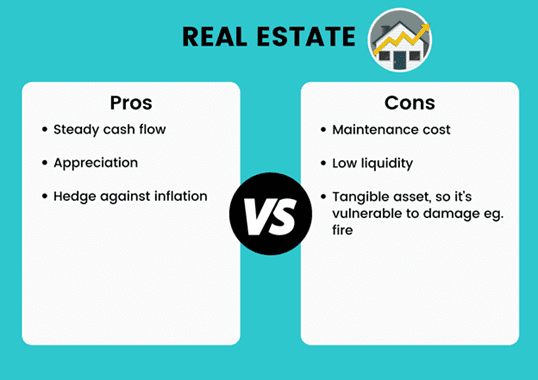 How To Invest In Real Estate:
You could invest in real estate through real estate investment trusts, or REITs, which are similar to mutual funds. So, instead of stocks, the trust invests in commercial real estate without buying the actual property. However, if you would like to invest in a physical property, residential real estate is often the place to start. You could convert this investment into a long-term or short-term rental, depending on what generates passive income consistently. Further, real estate is a unique asset class as it offers a variety of investment options, meaning there is something for everyone, especially when you invest in Dubai.
Now, we know that running around to buy a rental property may not be the ideal option for most investors right now, but luckily for you, there are even easier, more affordable, and hassle-free ways to invest in properties through fractional ownership. Investors can own shares in rental properties from as little as AED 500 by using real estate investing platforms, or REIPS, like SmartCrowd, all from the comfort of their home – and in less than 5 minutes! The best part is that our UAE crowdfunding platform, in particular, handles all the paperwork and property management for you, so all you have to do is put your money to work, sit back and watch it grow!
The Final Showdown – Real Estate Vs Gold
Gold or real estate? Real estate or gold? Well, if you're able to, then why not invest in both?! At SmartCrowd, we advocate building a diversified portfolio as, especially in this uncertain economy, a multi-asset strategy can help hedge your portfolio against inflation and minimize potential losses. So, it will always work in your favor to spread your portfolio risk since if one asset takes the plunge, another may very well benefit under inflationary pressures.
In that regard, investing in gold or real estate can be a great idea as each constitutes part of a well-balanced portfolio. Real estate creates a steady income stream via rental returns, hedges against inflation, and offers price appreciation. On the other hand, gold's inherent value and limited supply make it a safe haven against currency markets and inflation, as its value is preserved, and it's also relatively easy to buy or sell, offering fast liquidity.
That said, investing in gold or real estate is a commitment no matter what. If you're looking to invest in Dubai, then evaluate your goals over both the long and short-term, analyze your risk appetite and study local market trends before selecting an investment. Referring to the pros and cons above will hopefully help out in making a decision between the two – though we always encourage investors to diversify!
Interested in learning more about current market trends, investment strategies, UAE crowdfunding, and all things Dubai real estate? Then head over to our blog, visit our YouTube channel or follow us on social media. If you want to become a real estate investor, simply download the SmartCrowd app, browse the Dubai investment properties on our platform and invest – it's that simple!
Disclaimer: This blog is intended solely for educational purposes and shouldn't be treated as financial advice. We suggest you always conduct thorough research, perform your own due diligence and consult with financial advisors to assess any real estate property against your own financial goals.