Nestled in the heart of Dubai's booming real estate landscape, Business Bay might not boast the glitz and glamour of some of its flashier counterparts, but it certainly knows how to make its presence known. What was once primarily recognized for its more corporate allure has now evolved into a thriving mixed-use community, rivaling the likes of NYC's Manhattan.
Dubbed the best-selling neighborhood in 2022 according to data released by the Dubai Land Department (DLD), Business Bay has continued to attract significant attention in 2023, with a notable surge in transaction volumes. Racking up nearly 4.8K sales during the first half of 2023, Dubai's central business hub has officially claimed the third position in transaction volume rankings, trailing Jumeirah Village Circle (JVC) and Dubai Marina, respectively. 
So, what is the catalyst behind Business Bay's appeal, rendering it an ideal choice to invest in Dubai?
Business Bay: At a Glance
Standing tall amidst a skyline adorned with colossal skyscrapers, Business Bay offers a diverse range of condo options, with many featuring scenic canal views. The neighborhood's urban landscape is complemented by an array of top-tier restaurants and access to world-class shopping centers, including the Dubai Mall.
Offering an iconic view of the Burj Khalifa, Business Bay seamlessly captures the urban buzz of Dubai's downtown life, as it intertwines with the tranquility found along the canal, inviting leisurely strolls, cycling, and rollerblading activities. As the sun sets, dusk unveils a breathtaking vista where illuminated towers stand against a sun-kissed backdrop – a picture-perfect moment.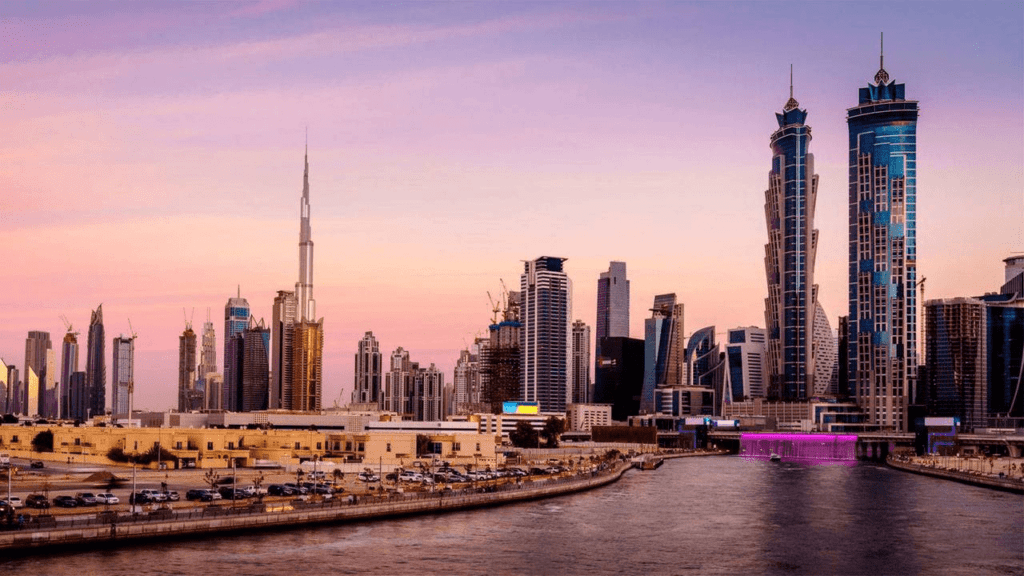 Business Bay was the top-transacted area in 2022 and has been upholding this momentum in 2023
Exploring the Catalysts Behind Business Bay's Soaring Demand:
The community primarily attracts working professionals and young families, lured by the blend of vibrant urban living and serene, spacious retreats. Here are the pivotal factors taking its demand to new heights: 
Location, Location, Location. 
Adjacent to Downtown Dubai with a more affordable price point, Business Bay thrives as a mixed-use hub with unmatched connectivity. Its proximity to Downtown Dubai, the Dubai Mall, and the Dubai Water Canal has undoubtedly contributed to its appeal. Business Bay stands as a city within a city, strategically situated off Sheikh Zayed Road and bordered by the Dubai Design District.
2. Diverse Real Estate Investment Opportunities.
Real estate offerings in Business Bay span a wide spectrum. From family-friendly two-bedroom apartments to opulent five-bedroom residences boasting magnetic canal views, the options are plenty. Notably, it has become a hotspot for branded residential developments, with names like Binghatti's Bugatti Residences and Dorchester Collection's Lana Residences leaving their mark.
3. Room For Luxury.
Business Bay has set a new benchmark for upscale living, offering an array of luxurious amenities that rival the world's finest. In recent times, a shift towards luxurious offerings has become evident, as high-end dining spots, trendy nightlife, upscale retail outlets, and world-class hotels continue to sprout like never before.
Globally acclaimed hotel luxury giants, like The St. Regis and the JW Marriott Marquis Hotel Dubai, reflect Business Bay's commitment to maintaining world-class experiences. Dining options are equally impressive, with restaurants such as ROKA, Katsuya, Prime68, and BASTA!, each adding their own delectable touch. What's more, the proximity to Dubai Mall means that you can indulge in everything your heart desires to the fullest extent.
A Promising Outlook
Truly a dark horse, Business Bay has stood as a silent yet potent performer in Dubai's post-pandemic real estate scene. Rental rates have surged by an impressive 55% since January 2020 compared to Dubai's average of 30%, while property prices have also experienced a substantial growth of 30% over the same period (Source: Reidin). 
Ultimately, what sets Business Bay apart is its adjacency to Downtown Dubai coupled with its more accessible price range, making it an attractive area to invest in Dubai. Holding the distinction of being the most transacted area in 2022, Business Bay continues to rise in prominence. Its growing appeal lies in budding upscale residential developments, accompanied by an expanding array of luxury retail and dining spots.
From its captivating canal-side views to its strategic location and luxurious amenities, this community presents a compelling investment opportunity. If you're looking to invest in Dubai real estate, then visit our property browse page, where you can invest in high performers like Business Bay, and more, with SmartCrowd.
Disclaimer: This blog is intended solely for educational purposes and shouldn't be treated as financial advice. We suggest you always conduct thorough research, perform your own due diligence and consult with financial advisors to assess any real estate property against your own financial goals.