Dubai is home to some of the world's most iconic communities, all of which boast their own luxury skyscrapers, impressive amenities, and bustling social scenes. One prominent community is Dubai Marina – a meticulously planned, picturesque district that is the largest residential area in Dubai. 
Characterized by its abundant residential towers, waterfront promenade, and elite yachts, Dubai Marina is an incredibly well-sought-after area that residents, tourists, and investors gravitate to. So, besides the obvious, what is it about Dubai Marina that makes it a firm favorite among investors?
Area Summary
Before we dig into what draws investors to Dubai Marina, let's take a quick glance at the area. Nestled right between JLT and JBR, Dubai Marina is located along Sheikh Zayed Road in the southwest part of Dubai and is one of the best-performing areas in the city's luxury segment, particularly in the UAE's bustling holiday home market.
Developed by Emaar Properties, Dubai Marina is a predominantly apartment community and is home to over 200 mixed-use residential towers, villas and townhouses. The area is mainly known for its waterfront views, riviera-style design, state-of-the-art building facilities and a range of leisure attractions.
Now, what do property investors specifically love about Dubai Marina?
1. Connectivity
A key feature of Dubai Marina is the area's excellent connectivity via the large canal that spans over 3.5km. Aside from that, there's easy access to the metro, tram and bus stations which run through Downtown Dubai, JBR and Business Bay, making it the best-connected development in Dubai.
That's why young professionals and small families tend to settle in Dubai Marina because of strategic location and easy access to such major commercial hubs, making it an ideal area to invest in Dubai. So, whether you're looking to soak up the sun at JBR or attend business meetings in the DIFC, then Dubai Marina is the place to be!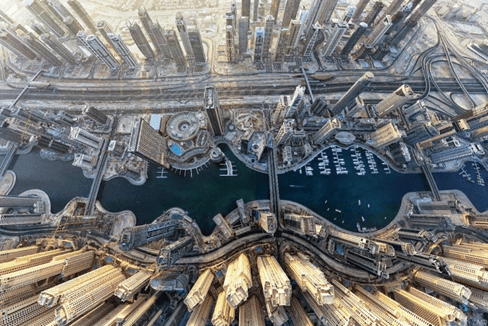 2. World-Class Attractions
Dubai Marina is known for its vibrant leisure scene centered around its scenic promenade and breathtaking waterfront views, hence why tourists (and investors) gravitate to the area. Dubai Marina features its very own top-notch dining, leisure, and retail spots, such as Dubai Marina Mall and the Dubai Marina Mall Yacht Club.
Plus, residents and tourists can also enjoy close proximity to nearby tourist attractions, including The Walk at JBR, Ain Dubai at Bluewaters Island, and the Dubai Harbor.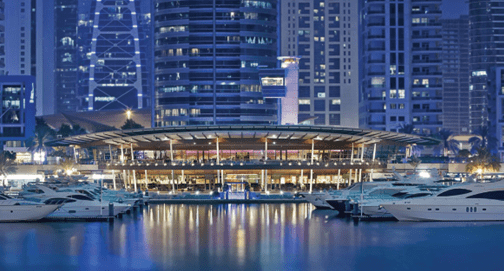 3. Tourist Hotspot
Over the past few years, Dubai Marina has become a major tourist hotspot in Dubai, as the area tends to draw in visitors looking to stay in high-rise skyscrapers close to all the major world-class attractions. Now, what do tourist hubs lead to? A rise in holiday homes! As a result of being a tourist's paradise, Dubai Marina has actually become one of the premier markets for holiday homes.
In fact, it's pretty common for Dubai Marina investors, in particular, to follow a short-term rental structure with their properties, renting them out as holiday homes on holiday home provider sites, like Airbnb. This allows investors to take full of advantage of Dubai Marina's attractive location and reputation as a tourism hotspot in the Dubai real estate market.
Not to mention, Dubai Marina holiday home rates are much more affordable compared to other major global cities that offer the same amenities, like New York and London, which is yet another enticing attribute to both tourists and investors alike.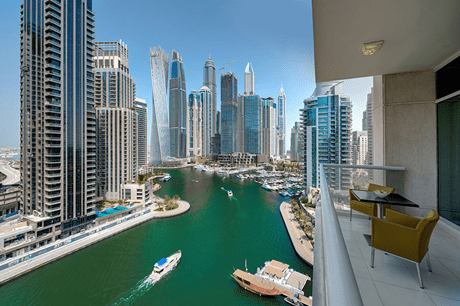 4. Low Supply, High Demand
Being a well-established area, Dubai Marina has limited upcoming supply, maintaining its position as one of Dubai's thriving areas in the property market. Naturally, with low supply comes soaring demand, as evidenced by Dubai Marina's high occupancy rate of 87.1%.
In 2021, Dubai Marina ranked first in property sales transaction volume with 7,968 transactions valued at over Dhs28.6bn. This goes to show that it's an incredibly in-demand area for rental units which investors favour. Studios in particular are priced at a premium as there's limited supply, and this is reflected in their price increase over the years.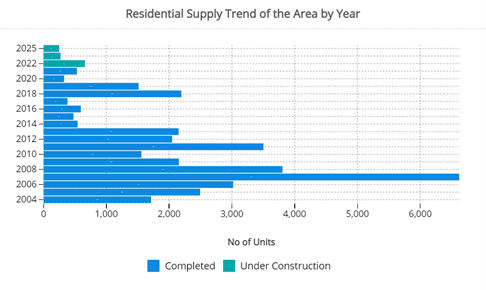 5. High ROI 
Ultimately, what would attract any investor to an area is a high return on investment! Dubai Marina averages rental yield returns of between 5-6% annually, which makes it one of the more lucrative areas in the world to own property as an investor when compared to ROIs in cities like Hong Kong or New York, which return yields between 3-4%. Not to mention, Dubai Marina is one of the best-performing areas on SmartCrowd, generating average annualized returns of 8.22%, versus an average market return of an estimated 6.1%.
As one of the most desired areas for both tourists and residents to live, investors can expect their properties to not only generate high rental yields year-on-year, but they can also increase their property resale value over time, thanks to its popular location and the strategic plans in place for Dubai Marina. In fact, due to strong demand, Dubai Marina rents have risen by 23%, benefiting Marina investors.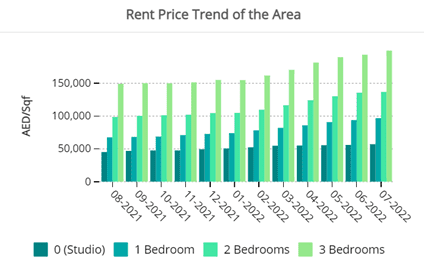 Bottom Line
What truly makes Dubai Marina a standout area to invest in Dubai is the fact that it's perfect for both residents and tourists, and caters to a wide variety, from the young working professional to your standard nuclear family. Its central location, world-class attractions, high demand, reputation as a tourist hub and strong ROI entice investors from all over the globe.
As an investor, when you opt for a property in Dubai Marina, you are choosing to invest in one of the finest areas in the whole emirate, filled with towering residential skyscrapers, beautiful waterfront walkways and leisure options galore.
That's why people invest in Dubai Marina, especially the more premium studios and 1-bedroom apartments. With ever-growing short-term rental popularity and an impending tourism boom sparked by the Qatar World Cup, now is a great time to consider a Dubai Marina property. You can even become a Dubai Marina property owner from as little as AED500 and earn monthly dividends in just a few simple steps by downloading the SmartCrowd app!