If there's one place in the world that redefines luxury living, it's Dubai. From its manmade Palm Islands to the towering Burj Khalifa, Dubai has witnessed its fair share of impressive developments, and now, it's taking luxury living even further with its branded residences.
Branded residences have recently gained significant traction in Dubai, cementing its position as the world leader in branded properties with over 40 such residences.
In this blog, we'll take a closer look at branded residences and address the question: Are they a smart investment in Dubai, or just a passing fad?
What are Branded Residences?
Branded residences represent exclusive residential complexes developed and managed by world-renowned luxury brands. They showcase top-tier infrastructure, impeccable design, and a myriad of amenities all in an effort to seamlessly integrate prestige and comfort.
Such residences often partner with leading entities, including Fortune 100 companies and luxury hospitality groups, to develop residences ranging from upscale villas to apartments. Primarily, Dubai's branded projects result from collaborations with luxury brands like Versace, Armani, Bvlgari, Fendi, Just Cavalli, and Bugatti, to name a few.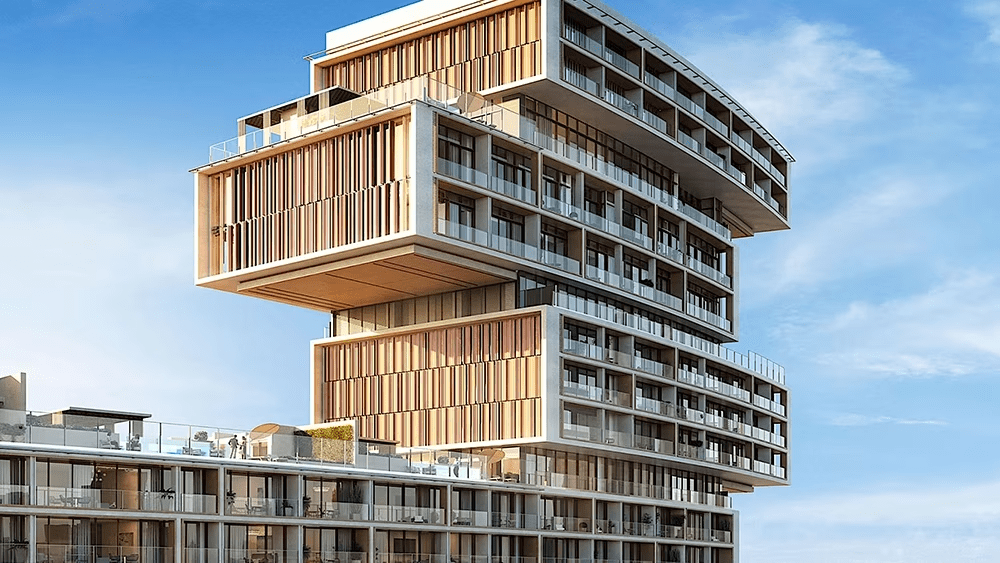 Palm Jumeirah's Atlantis The Royal is one of the first 'Super Prime' global branded residences in Dubai.
Why Invest in a Branded Residence?
Because that's where the money's at. According to Knight Frank's Destination Dubai report, developed in collaboration with YouGov, a surveyed group of ultra-high-net-worth individuals with a combined spending power of US$2.5 billion and a net worth of US$3.2 billion has expressed a fervent interest in Dubai.
Globally, 52 percent of these individuals showed a strong inclination to invest in Dubai's branded residential properties this year. Remarkably, this figure surges to an impressive 69 percent for individuals possessing a personal wealth exceeding $10 million.
From an investment viewpoint, branded residences present a distinctive opportunity. By melding the exclusivity and prestige of five-star hotels with the comfort and privacy of homes, these residences resonate with the burgeoning community of High-Net-Worth Individuals (HNWIs) making Dubai their haven.
Key Factors in the Appeal
Intrinsic Brand Value
Branded real estate is set apart due to prestigious, high-visibility names that resonate with a very niche clientele seeking luxury experiences, aided by the brand's strength and reputation. Not to mention, with such status comes an important element: loyalty. In Dubai, there's a sizeable base of brand enthusiasts willing to pay extra to demonstrate their allegiance to a brand.
Service and Security
Branded residences excel in delivering top-tier service tailored to each resident's preferences. Investing in Dubai's branded residences also offers peace of mind through expert management overseeing security and maintenance.
Rental Opportunities
A premium brand typically translates to premium rental income. Branded short-term rental properties can generate up to 25% more returns than standard rentals.
High Resale Price
Due to their prime locations and features, branded residences in Dubai tend to hold their value well compared to non-branded developments, as they command a premium price, typically between 25 to 35% more than non-branded projects, and therefore strong capital appreciation upon resale. Moreover, the exclusivity and scarcity of such properties further protect their value.
Market Overview of Dubai's Branded Residential Market
Today, Dubai boasts the highest number of branded residences globally, from luxury hotels like The Address Hotels and Resorts to fashion houses like the Downtown Armani hotel residences, meeting the ever-growing demand for luxury real estate. A Savills report projects a 72% growth by 2030, showcasing remarkable sector growth.
Property prices within branded residences surged nearly 8% from 2018 to 2020, with an average price of around AED 2,700 per square foot in 2022. With 17,000 branded residence units currently in operation, set to increase with 5,000 more units in upcoming years, the branded real estate market in Dubai is evident.
The Bottom Line
Whether you're looking to buy a property or invest in Dubai real estate, there's no denying that these branded residences offer a compelling opportunity. Generally, luxury branded properties in Dubai offer investors a package deal they can't find elsewhere – marketing, security, rental opportunities, and greater capital appreciation compared to regular properties.
However, like any other form of real estate, investing in or purchasing branded residences in Dubai does come with a few risks, primarily the premium purchase price and additional costs associated with high-end amenities and services. Other than that, the remaining risks associated with branded residences are similar to those of any other property.
So, with such a strong supply pipeline, branded developments are definitely an investment avenue to consider! If you think investing in Dubai's branded residences seems like an implausible idea, platforms like SmartCrowd are making entry into this growing segment more accessible through real estate crowdfunding.
Disclaimer: This blog is intended solely for educational purposes and shouldn't be treated as financial advice. We suggest you always conduct thorough research, perform your own due diligence and consult with financial advisors to assess any real estate property against your own financial goals.